Roll forming is a metal working process in which sheet metal is gradually bent into a desired cross-sectional profile through a series of roll stations. Stud and track roll forming machines are used to form studs and tracks from coiled steel which are used in wall framing and curtain wall systems in the construction industry.
Overview of Stud and Track Roll Forming Machines
Stud and track roll forming machines transform flat strips of sheet metal into studs and tracks with specific cross-sectional dimensions by passing them through a series ofpasses with contoured rollers. This continuous and automated process forms the strips into 'C' or 'U' shaped channels through cold roll forming without using heat.
Here are the key details about stud and track roll forming machines:
Function: To produce studs and tracks from steel coil in different sizes as per specified profile and cross-section
Working: Cold roll forming of sheet metal by progressively bending along a linear path through a series of rolls
Process: Coiled steel sheet is fed through a series of roller stations to gradually shape it into desired form. The number and contour of rollers determines the final shape.
Key Components: Uncoiler, feed rollers, breakdown rollers, finishing rollers, reform rollers, pre-punched holes station, shear and cut-off, stacker
Drives: Electrical servo motor drives for each roller station
Automation: Fully automatic with controls for speed, feed and cutoff
Materials: Galvanized steel, stainless steel or aluminum coils of thickness 0.5 mm to 3 mm
Productivity: Up to 100 m/min forming speeds depending on thickness
Profiles: 'C' shaped studs, 'U' shaped tracks, 'L' , 'Z' or custom profiles
Sizes: Thickness 0.5 mm to 3 mm, width up to 300 mm, web height up to 300 mm
Applications: Walls, curtain walls, roof trusses, steel frames for buildings
Benefits: High speed, superior quality, consistency, reduced waste, low operation cost
Types of Stud and Track Roll Forming Machines
There are two main types of stud and track roll forming machines:
| Type | Description |
| --- | --- |
| Stud and Track Combo Lines | Machines with flexibility to produce both studs and tracks on the same line as per application by quickly changing the rollers |
| Dedicated Stud or Track Lines | Machines designed to produce only one profile i.e. either studs or tracks with fixed configuration of rollers |
Key Differences:
Combo lines offer flexibility but lower productivity of around 60-70 m/min
Dedicated lines have higher output of up to 100 m/min but can make only one profile
Combo lines need quick tooling changeover; dedicated lines have fixed tooling
Combo lines take up more space; dedicated compact and less costly
Choose dedicated lines for mass production; combo lines for smaller volumes
Main Components of Stud and Track Roll Forming Machines
Stud and track roll forming machines consist of a series of roller stations or stands for shaping the material, along with uncoiling, feeding, cutting and stacking mechanisms.
| Component | Function |
| --- | --- |
| Uncoiler | Holds the coil of sheet metal and feeds it into the roll forming line |
| Feeding Mechanism | Controls the feed speed and force of the strip into the rollers |
| Breakdown Roller Station | Forms the initial U or C shape profile with horizontal top and bottom rolls |
| Finishing Roller Stations | Further shaping of the profile to exact dimensions with contoured rolls |
| Pre-punching Unit | Punches holes in web of the profile as per design |
| Shearing and Cutoff | Cuts the continuously formed studs and tracks to required lengths |
| Stacking | Collects the finished cut pieces |
| Electrical Cabinet | Houses the electrical panel, PLC controls and HMI |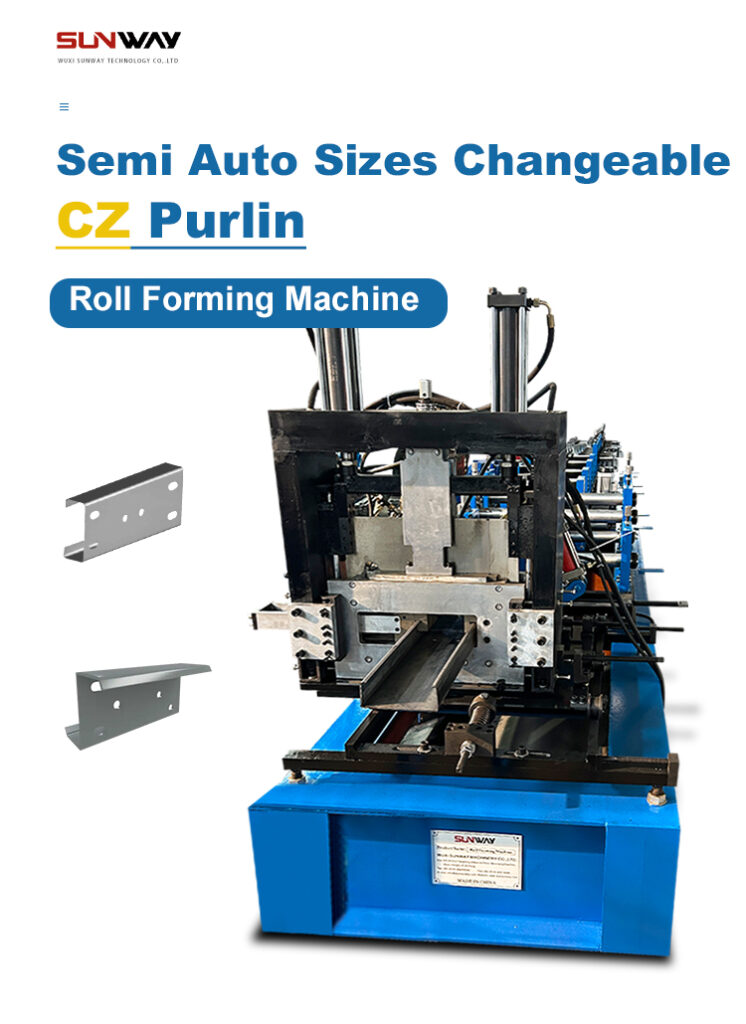 Typical Specifications and Design Standards
Stud and track roll forming machines are designed as per application requirements and standards. Below are typical specifications:
| Parameters | Typical Values |
| --- | --- |
| Forming Speed | Up to 100 m/min |
| Material Thickness | 0.5 mm to 3 mm |
| Strip Width | 50 mm to 300 mm |
| Roller Stations | 10 to 16 |
| Roller Material | Alloy steel or titanium alloy |
| Roll Diameter | 100 to 300 mm |
| Roll Height | 50 to 100 mm |
| Power Required | 15 to 30 kW |
| Machine Weight | 8000 to 15000 kg |
| Machine Size | 15m x 3m x 3m (LxWxH) |
The profiles, dimensions and sizes of studs and tracks are as per standards like AISI S200, AS/NZS 4600, EN 14195. Hole patterns follow standards like TEK screw patterns.
Applications and Uses of Studs and Tracks
The major applications of studs and tracks include:
| Application | Use Details |
| --- | --- |
| Wall Framing | Used as load bearing and non-load bearing interior and exterior walls |
| Curtain Walls | Mullions and transoms for structural glazing facades |
| Ceiling Framing | Main and cross tees for suspended ceilings |
| Roof Trusses | Top and bottom chords, webs of metal roof trusses |
| Mezzanine Floors | Joists for raised access floors in buildings |
| Acoustic Barriers | Vertical posts and channels for noise control walls |
Other applications include mezzanines, racking systems, security partitions, agricultural buildings, prefabricated structures etc.
Studs and tracks work as framing components that form the structural skeleton by acting as vertical studs, horizontal tracks, bracings and furring channels. They are assembled on site using screws, bolts or welding.
Comparison of Stud and Track Roll Forming Machine Manufacturers
There are many leading manufacturers across the world producing stud and track roll forming machines. Here is a comparison between the top players:
| Company | Location | Production Rate | Roller Type | Controls | Coil Size |
| --- | --- | --- | --- | --- | --- |
| ACL Machines | Italy | 80 m/min | Pyramid+ | PLC+HMI | Max 1500 kg |
| Metform | Turkey | 100 m/min | High torque | PLC+HMI | Max 2000 kg |
| Formtek | USA | 90 m/min | Titanium alloy | CNC | Max 2500 kg |
| Everest | China | 70 m/min | Alloy steel | PLC | Max 1000 kg |
| Shandong. | China | 60 m/min | Alloy steel | PLC | Max 1500 kg |
Key differences:
European companies like ACL and Metform provide higher speeds, torque and production
American and European manufacturers offer more advanced controls and automation
Chinese companies provide cost-effective solutions with lower speeds and capabilities
Top brands like ACL, Metform command a premium for their quality and output
Choose as per output rate, coil size, profile complexity and budgets
Pricing Details of Stud and Track Roll Forming Machines
The price of stud and track roll forming machines depends on the production speed, line configuration, automation features, brand and location. Here is an overview:
| Speed (m/min) | Type | Automation | Price Range |
| --- | --- | --- | --- |
| Up to 40 | Mechanical/Semi-auto | Basic | USD 150,000 – 250,000 |
| 40 – 70 | Semi-automatic | Medium | USD 200,000 – 350,000 |
| 70 – 100 | Fully automatic | Advanced | USD 300,000 – 500,000 |
| 100+ | High speed | Sophisticated | USD 400,000+ |
Price drivers:
Production speed and output requirements
Level of automation – manual, semi or fully automatic
Roller material and profile complexity
Additional features like hole punching
Reputed European/American brands command higher pricing
Buying complete lines costs more than purchasing components
How to Select Your Stud and Track Roll Forming Machine Supplier
Choosing the right stud and track roll forming machine supplier is crucial to get equipment that meets the needs, with good after-sales service. Here are tips on selection:
Factors to Consider
Technical expertise and experience of supplier
Production speeds and output rates required
Quality of machining, components and finishing
Options for automation and control features
Roller design for profile shape needed
Coil size and thickness to be handled
Quick changeover between profiles if needed
Installation support and training provided
Maintenance programs and service quality
Spare parts availability and supply logistics
Overall purchasing and operating costs
Reviews and reputation through customer references
Evaluation Steps
Define production volume and profile requirements
Research options from online directories and trade shows
Shortlist suppliers based on capabilities and reviews
Check certifications, site visit if possible
Review detailed quotes from multiple vendors
Evaluate after-sales service and long term support
Negotiate pricing and payment terms
Select supplier offering best value overall
Choosing the right partner greatly influences machine performance, lifetime, and the total cost of ownership. Invest time to make the best choice.
Installation and Operation of Stud and Track Roll Forming Machines
Proper installation and operation procedures are vital for optimizing performance of the stud and track roll forming machine. Here are the guidelines:
Installation
Prepare level, vibration-free foundation as per floor load
Position machine as per layout drawings, anchor securely
Install infeed and outfeed tables at correct height and angle
Connect electric power, pneumatic and hydraulic lines
Install safety guards for pinch points and moving parts
Integrate cut-off saw if separate from main machine
Test run empty machine and check functioning
Operation
Follow manufacturer's instructions manual for startup sequence
Load coil of specified material and properties on uncoiler
Set speed, feed, cutoff and other parameters
Adjust gauges and sensors, program control as needed
Run machine without stock to check rolls are turning correctly
Feed test material through entire machine and debug
Start production run when machine makes components correctly
Monitor line during operation, adjust settings if needed
Perform regular maintenance during breaks
Safety
Wear protective gear like helmets, safety shoes when operating
Keep hands away from roller housing and material flow areas
Stop operation if unexpected vibration, noise or other issues occur
Follow lockout tagout procedures during maintenance or repair
Proper installation combined with disciplined operating practices will result in years of optimal performance. Training from supplier's technicians is highly recommended.
Maintenance of Stud and Track Roll Forming Machines
Regular preventive maintenance is essential for trouble-free operation and maximum line productivity. Below are maintenance guidelines:
| Activity | Frequency | Details |
| --- | --- | --- |
| Roller inspection | Daily | Check for damage and wear |
| Fastener check | Daily | Ensure tightness |
| Lubrication | Weekly | Grease bearings and chains |
| Hydraulic system | Monthly | Check fluid, fill if needed |
| Pneumatic system | Monthly | Drain moisture, check for leaks |
| Electricals | Monthly | Check connections, cables |
| Roller change | Yearly | Replace as per wear and reroll |
| Gearbox oil | Yearly | Change oil |
| Linear guides | Yearly | Inspect and lubricate |
Tips for Maintenance
Maintain logbook to track maintenance history
Replace worn rolls to maintain profile quality
Keep spare inventory of wear parts like chains, bearings
Train inhouse team or get annual service contract
Schedule major overhauls after 3-5 years as needed
Follow manufacturer's maintenance manual
With scheduled maintenance and overhauls, the machines can deliver over 20 years of reliable production. This lowers the total cost of ownership over the life of the equipment.
Advantages and Benefits of Stud and Track Roll Forming
Stud and track roll forming machines offer several benefits that make them advantageous for manufacturers:
Benefits
High production speeds up to 100 m/min
Quick changeovers between sizes and profiles
Consistent and uniform profile dimensions
Reduced material waste due to precision forming
Low operating costs compared to other processes
Minimal need for secondary finishing processes
High uptime and productivity due to automation
Ability to form complex and customized shapes
Just in time production with small coil inventory
Safer working compared to fabricating studs manually
Low noise levels compared to other metal working processes
Provides finished components ready for installation
Produces lightweight but high strength building components
The automated and continuous operation allows roll forming lines to produce high volumes with less manpower cost effectively. This makes it ideal for mass production applications.
Limitations and Challenges of Stud and Track Roll Forming
While providing many benefits, stud and track roll forming also poses some limitations and challenges as outlined below:
Limitations
Not economical for low production volumes
Substantial initial capital investment required
Complex profile changes require roll tooling changes
Limited to using coil feed stock, cannot use sheets or blanks
Size limited by maximum coil width that can be handled
Adjustments needed when changing material thickness and grade
Professionals needed for operation, maintenance and repairs
Require separate punching process for punching holes
Not suitable for small-scale manufacturers
Challenges
Achieving profile tolerance and hole alignment as per standards
Troubleshooting breakdowns and line disruptions
Managing quick changeovers between different profiles
Handling coils without surface damage and tape residue
Maintaining consistent shape over long production runs
Training operators to run the line optimally
Automation and precision quality control at each stage is necessary to overcome these limitations.
Choosing Between Roll Forming and Fabrication of Studs/Tracks
Roll forming and fabrication are the two main methods used for producing studs and tracks. Here is a comparison between roll forming and fabricating them:
| Parameter | Roll Forming | Fabrication |
| --- | --- | --- |
| Process | Cold forming through progressive roller stations | Cutting sections from sheets and structural fabrication |
| Setup time | Low with quick changeovers | High with multiple processes |
| Cycle time | Very low due to continuous operation | Higher due to batch nature |
| Labor | Lower due to automation | Higher due to manual processes |
| Output rate | Very high up to 100 m/min | Low 10-20 m/min |
| Quality | Consistent, good tolerances | Variable, depends on operator skill |
| Secondary work | Minimal finishing required | Milling, grinding, hole punching needed |
| Cost | Lower due to high productivity, low labor | Higher due to multiple processes |
| Flexibility | Limited to profiles the rolls can make | Very high, any shape can be fabricated |
Key Considerations:
Roll forming optimal for long and continuous production runs
Fabrication suitable for low volumes or custom profiles not possible through roll forming
Roll forming has faster delivery with minimal finishing work
Fabrication requires skilled workers for quality and consistency
Roll formed studs and tracks offer superior structural performance
For long production runs, roll forming is the preferred process with its speed, quality and cost benefits. But fabrication provides the shape flexibility for custom profiles.
FAQ
Q: What are the typical production rates for studs and tracks?
A: Production rates vary from 60 to 100 meters per minute depending on the machine speed, thickness up to 3mm, and profile complexity. Fully automatic lines can produce up to 100 m/min.
Q: What thickness of coils can be roll formed?
A: Coil thickness between 0.5mm to 3mm can be typically roll formed. The yield strength is usually around 550 MPa.
Q: What shapes other than C and U can be formed?
A: Advanced roll forming lines can produce L, Z, C, Omega and custom shapes. Hat shaped profiles are also possible.
Q: What motors are used to drive the roll forming machine?
A: Stud and track lines predominantly use AC servo motors that allow precise speed control for each roller station.
Q: What are the typical maintenance needs?
A: Roller inspection, lubrication, hydraulic/pneumatic systems checks, fastener tightening, roll replacement when worn out.
Q: How quick are the changeovers between different profiles?
A: On combo lines, changeovers take 15-30 mins depending on number of rolls to be changed. Fixed profile machines have longer change times.
Q: What is the typical line layout?
A: It starts with the uncoiler, followed by feeding unit, breakdown section, pre-punching if needed, finishing stands, cut-off press and then stacker.
Q: What kind of training is required to operate these machines?
A: Comprehensive classroom and on-the-job training by technicians is recommended. Operators need training in machine setup, operation, safety and maintenance.
Q: What factors affect the total price of the roll forming line?
A: Speed, coil size handling capability, automation features, changeover design, and optional accessories impact the pricing. Brand and location influences price.
Q: What are the end applications for studs and tracks?
A: Main applications are wall framing, curtain walls, mezzanine floors, roof trusses and suspended ceiling grids. They form the structural skeleton for buildings.