Roll forming is a metal working process in which sheet metal is progressively formed into a desired cross-sectional profile through a series of consecutive bending operations. Roll forming machines are used to create uniform, high-precision metal parts with complex cross-sections at high speeds.
Cheap roll forming machines provide an affordable option for small to medium factories and workshops to adopt roll forming technology without costly investments. This guide covers everything you need to know about cheap roll formers from types, working principles, key components, specifications, applications, installation, operation and maintenance.
Overview of Cheap Roll Forming Machines
Roll forming machines can be expensive, with advanced industrial models costing upwards of $500,000. However, various manufacturers offer budget roll forming machines in the range of $10,000 to $50,000 targeting small and medium enterprises.
While these cheap roll formers have limitations on maximum rolling width, thickness, speed and precision compared to premium models, they offer an economical solution for low to medium volume production. They are ideal for small workshops and factories looking to adopt roll forming in-house for the first time.
Cheap roll forming machines use the same working principles and processes as industrial roll formers. The key difference is in build quality, precision, durability and automation features. However, with proper operation and maintenance, cheap roll formers can deliver quality parts for small batch manufacturing.
Key Benefits of Cheap Roll Formers
Low capital investment – Allows small businesses to adopt roll forming without high cost
Versatility – Ability to create varied custom profiles with quick rolling die changeovers
High productivity – Forming is a continuous operation with high outputs
Material savings – Low material wastage compared to other processes
Simple operation – Easy to operate after minimal training
Compact size – Small footprint suitable for tight spaces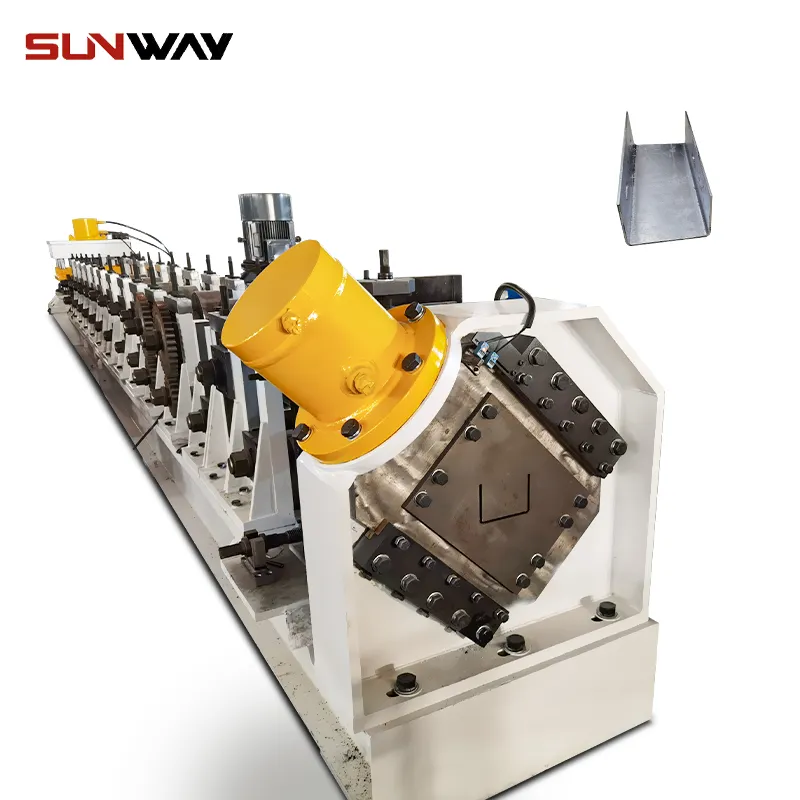 Types of Cheap Roll Forming Machines
There are two main types of cheap roll forming machines:
Manual Roll Forming Machines
As the name suggests, manual roll formers involve manual feeding and part offloading. An operator has to feed the sheet metal coil into the machine and collect formed parts from the other end. These are the most basic and affordable roll forming machines.
Features:
Entry-level pricing from $10,000
Smaller footprint
Simpler mechanical design
Manual controls for basic operations
Lower production rates
Limitations:
Labour intensive operation
Inconsistent feeding affects output
Higher risk of safety incidents
Frequent operator intervention required
Semi-Automatic Roll Forming Machines
Semi-automatic roll formers automate the material feeding process but still require manual offloading of formed parts. These represent a good middle-ground offering faster production with lower labour.
Features:
Pricing from $15,000 to $50,000
Automated coil loading and feeding
Touchscreen controls for programming
Higher output of up to 10 m/min
Reduced labour requirements
Limitations:
Still batch style production
Part offloading is manual
Size limits on coil payoff and formed parts
Limited programming flexibility
Working Principle of Roll Forming Machines
The working principle involves gradually bending the sheet metal strip through consecutive sets of rollers until the desired cross-section is formed.
The key processes are:
Sheet metal coil is loaded into a payoff reel
The strip is fed into the forming section
Forming rollers progressively bend the strip
Cutting blades shear finished parts to length
Formed parts are offloaded manually or automatically
The longitudinal bending happens gradually as the material passes through each roller station. The rolling dies apply precise bending force to incrementally form the profile.
Correct roller design along with precise gap spacing between top and bottom rollers is crucial for profile accuracy. The rollers can create a wide range of geometries like C & U channels, angles, square and rectangular tubes etc.
Key Components of Roll Forming Machines
Cheap roll forming machines have simplified designs but include these key components:
Coil Payoff: Holds the sheet coil and feeds strip into the rollers through a decoiler
Forming Section: Consists of several roller stations for bending the metal into profile
Roller Stations: Each station has a top and bottom roller for incremental bending
Rolling Dies: Shaped dies mounted on the rollers to form the profile
Cutting Unit: Shears the finished parts to desired length after forming
Controller: Controls machine speeds and operations. Can be basic or touchscreen.
Frame: Provides a rigid platform and mounts for components
Drives: Electric motors and gearboxes driving the rolling shaft
Specifications of Cheap Roll Formers
Here are typical specifications of cheap roll formers:
| Specification | Capability Range |
| --- | --- |
| Maximum Rolling Width | 800-1500 mm |
| Minimum Rolling Thickness | 0.3-0.5 mm |
| Maximum Rolling Thickness | 1.5-2 mm |
| Rolling Speed | 6-10 m/min |
| Maximum Coil Weight | 1-3 tons |
| Maximum Part Length | 3-6 meters |
| Rolling Accuracy | ±1 mm over 3 m length |
| Power Supply | 220V/380V, 3 Phase |
| Motor Power | 3-7.5 kW |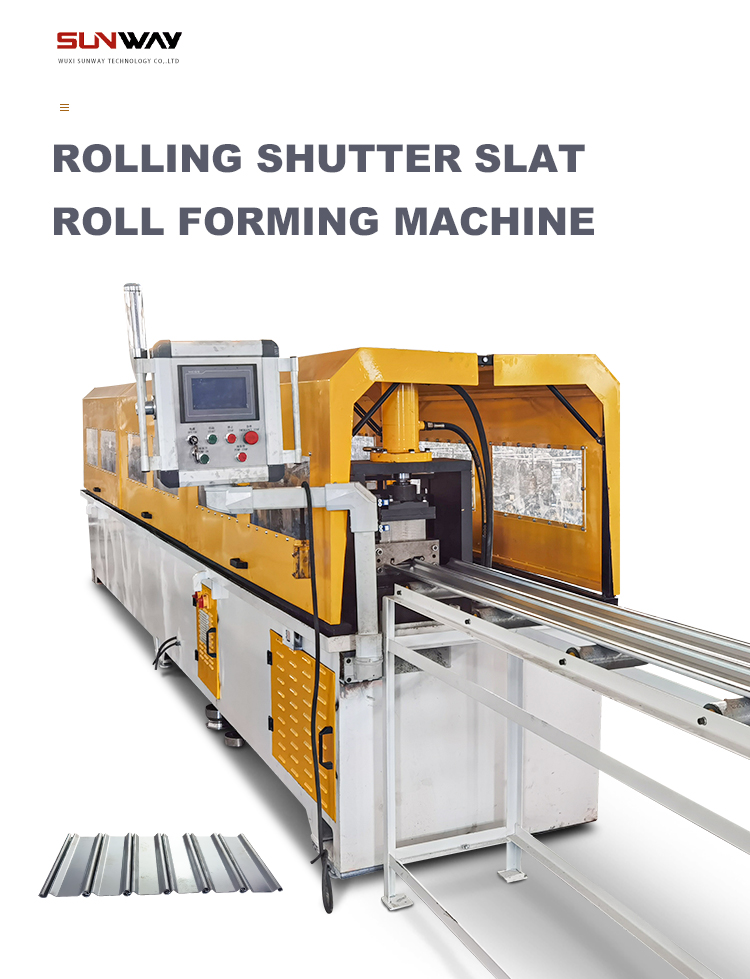 Applications and Suitable Industries
Cheap roll forming machines are suitable for producing metal parts up to 10 tons per month including:
Solar panel frames – C & U channels
Roofing and siding – Standing seam and other specialty profiles
Structural sections – Angles, tubes, open channels
Furniture tubing – Square and rectangular tubes
Agricultural parts – Corrugated and trapezoidal sheet metal
Automotive components – Brackets, small chassis parts
HVAC parts – Heat exchanger fins, ventilation ducts
Suitable industries include:
Small job shops
Furniture and appliance manufacturing
Solar equipment manufacturers
HVAC contractors
Agricultural equipment OEMs
Custom metal fabricators
Automotive aftermarket suppliers
Installation and Handling of Roll Forming Machines
Proper installation is key to achieving high forming quality and output from cheap roll formers. Here are some guidelines:
Install on a flat leveled concrete floor for stability
Bolt down the machine securely to prevent movement
Leave adequate space around for loading coils and unloading parts
Level roller shafts properly and eliminate any skew
Position electrical panels for easy access
Provide sufficient power supply, at least 20% over requirement
Arrange coil payoffmand formed part exit for efficient workflow
Ensure machine is easily accessible for operation and maintenance
The machine and components should be handled carefully during transportation and installation using lifting straps, avoiding knocks or damage. Engage experienced riggers and technicians for installation.
Operation of Cheap Roll Forming Machines
While cheaper roll formers are designed for easy operation, proper worker training is still essential. Key operating steps include:
1. Preparation
Check electricals, mechanisms, lubrication and alignments
Program machine settings and speeds
Stage sheet coil, slitting machine, part catcher
2. Loading coil
Bring coil to payoff using coil car
Mount coil on mandrel ensuring tight fit
Feed strip end through machine
3. Initial setup
Adjust decoiler tension and angle for smooth payout
Set cutting blade gap for clean shearing
Jog machine and check formed profile without load
Establish stable rolling speed
4. Production
Run machine in automatic mode monitoring operation
Periodically check profile accuracy with gauges
Adjust feeding tension and speed if issues arise
Oil and clean forming rollers as needed
Offload finished parts from exit end
5. Coil changeover
Prepare next coil while existing runs out
Stop machine when coil is exhausted
Remove depleted coil from payoff
Mount next coil and thread strip into machine
Restart rolling after resetting tensions
6. Shut down
Stop machine when production completed
Clean machine and clear any scrap
Turn off electricals and perform visual inspection
Address any issues for next production run
Maintenance of Cheap Roll Forming Machines
Regular preventive maintenance is key to prolong the productivity of cheap roll forming machines. Key maintenance activities include:
Daily:
Clean rollers, clear scrap and keep area tidy
Check alignment of shafts, gears, rollers
Lubricate bearings, shafts, gears as needed
Monitor noise or temperature rise of motors
Weekly:
Inspect electrical, hydraulic and pneumatic systems
Check machine foundation bolts for tightness
Verify cutting blade sharpness and gap
Monitor wear on bearing housings, seals
Test emergency stop button functioning
Monthly:
Thorough clean inside cabinets, conduits
Check belt tension, vibrations and pulley alignment
Inspect rollers for wear and parallelism
Test all machine safety interlocks and sensors
Verify electrical contactor, breaker condition
Check hydraulic system leaks if applicable
Yearly:
Complete inspection of all parts, structures
Schedule preventive maintenance from OEM
Replace any severely worn components
Calibrate sensors, controllers and instruments
Update machine software/firmware if needed
Regular maintenance as per above schedule and OEM guidelines will minimize unplanned downtime and keep overall TCO low.
How to Choose a Cheap Roll Forming Machine Supplier
When selecting a supplier for cheap roll forming machines, consider these factors:
Product Quality
Use proven designs for robust performance
Quality components – motors, bearings, hydraulics
Precision machined parts and alignments
Good track record and client reviews
Customization
Flexibility to customize for profiles
Quick turnaround on design changes
Experience with varied applications
Easy programming and set up
Services
Installation, commissioning support
Operator training provided
Maintenance contracts offered
Local presence for prompt service
Pricing
Clear breakdown of pricing
Reasonable spare parts rates
CAM software tools included
Shipping, taxes, duties handled
Reliability
Quick response to issues
Sufficient regional inventory of spares
Established supply chain for components
Financial stability of supplier
Choosing the right supplier can help maximize the value and return on investing in cheap roll forming machines.
Pros and Cons of Cheap Roll Forming Machines
Pros
Low capital investment cost
Quick set up and changeovers
Simple operation and maintenance
Compact footprint suitable for small shops
Ability to create varied custom profiles
Higher throughput than other processes
Reduced material waste versus cutting or stamping
Cons
Limited thickness and width capacity
Lower maximum rolling speeds
Reduced precision and accuracy
Frequent manual adjustment required
Higher skill needed for complex profiles
Not ideal for very high volume production
After-sales support may be inadequate
Cost Analysis of Cheap Roll Forming Machines
Here is an overview of the typical cost factors for cheap roll forming machines:
Pricing Range:
Manual machines: $10,000 to $30,000
Semi-automatic machines: $20,000 to $50,000
Key Price Drivers:
Maximum rolling width capacity
Level of automation
Maximum rolling speed
Type of motor and drives
Overall build quality and durability
Typical Base Pricing:
Manual 1000 mm machine: $15,000
Semi-auto 1300 mm machine: $35,000
Additional Cost Items:
Design of rolling dies: $2,000
Shipping and taxes: 10-15%
Installation and commissioning: $2,000
Training: $1,500
Spare parts kit: $2,000
Total Cost of Ownership:
Machine cost
Operating costs – labour, power, maintenance
Cost per piece produced
Overall ROI
Cheap roll forming machines allow even small workshops to adopt roll forming at reasonable upfront investment. When operated optimally, they offer low cost per piece and rapid ROI.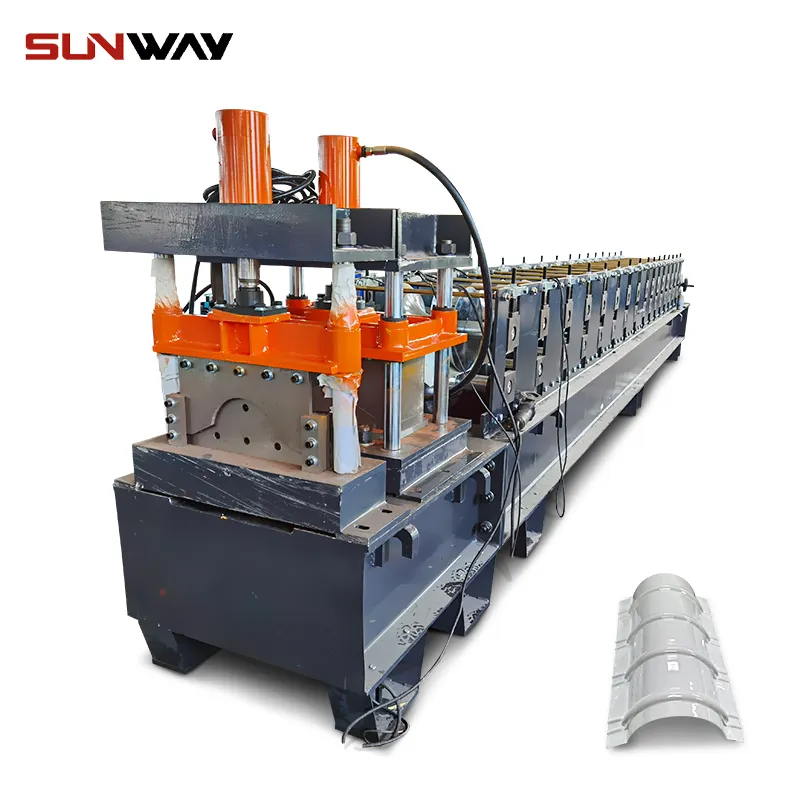 FAQs
Q: What thickness of sheet metal can cheap roll forming machines handle?
A: Cheap roll formers can typically process sheet metal from 0.3 mm to 2 mm thickness. Maximum thickness capacity depends on machine rating.
Q: Are cheap roll forming machines easy to operate?
A: Cheap roll formers are designed for easy operation with manual controls or touchscreen programming. Quick die changeovers facilitate profile adjustments. Workers require 1-2 weeks training to become proficient.
Q: What safety precautions are important for roll forming?
A: Key safety aspects are – enclose danger areas, use safety interlocks, ensure proper electrical grounding, provide operator training, implement lockout/tagout, supply personal protective equipment.
Q: How quick is the ROI when using cheap roll forming machines?
A: Depending on volumes, the typical ROI period for cheap roll formers is 9-15 months. Optimizing production planning, operations and minimizing downtime is key to rapid payback.
Q: What regular maintenance is critical for roll formers?
A: Vital maintenance includes lubricating rollers, inspecting alignments, checking electrical and hydraulics, cleaning scrap, monitoring wear on bearings, pulleys, blades. This prevents unplanned outages.
Q: What design support is required for custom profiles?
A: The supplier's engineering team can provide profile design services based on product drawings. CAD software creates roller layouts and die profiles for precision forming.
Q: What factors affect productivity of roll forming lines?
A: Key factors are consistent material feeding, forming accuracy, line speed optimization, reliable part discharge, minimized coil changeover time, preventive maintenance and skilled operators.
Q: How does roll forming compare to other metal forming processes?
A: Roll forming offers higher production rates versus pressing or stamping. It has lower tooling costs than stamping and provides superior quality compared to brake forming. Material savings are higher over cutting or machining.
Q: What are some innovations in roll forming technology?
A: Recent innovations include inline process monitoring, quick die change systems, servo-motor driven rolls, advanced software for simulation and control, variable speed lines, and integration of secondary operations.