A glazed roof tile roll forming machine is an important equipment used for manufacturing interlocking roofing tiles with a protective glazed coating. This guide provides a comprehensive overview of glazed roof tile roll forming machines covering their working, types, applications, specifications, selection factors, installation, operation, maintenance and more.
Overview of Glazed Roof Tile Roll Forming Machine
A glazed roof tile roll forming machine is designed to transform metal coils into formed interlocking roofing tiles which are then coated with a glazed finish.
What are Glazed Roof Tiles?
Glazed roof tiles are interlocking roof covering tiles with a ceramic glazed coat finish. The glaze provides a protective, waterproof and decorative finish on the formed metal roof tile.
Working Principle of Glazed Roof Tile Roll Forming Machine
A glazed roof tile roll forming machine takes metal coil as input and converts it into formed roofing tiles by passing through consecutive roll forming stations. The profiles tiles are then spray coated with glaze before cut-off and stacking.
Key processes:
Coil sheet feeding
Progressive roll forming into roof tile profile
Application of glaze coat on tiles
Cutting individual tiles as per length
Stacking of finished tiles
Advanced machines allow quick changeover to different tile sizes and profiles.
Types of Glazed Roof Tile Roll Forming Machines
Glazed roof tile roll forming machines are available in different configurations:
Based on Automation
Manual
Semi-automatic
Fully-automatic PLC controlled
Based on Production Speed
Low speed: Up to 10 m/min
Medium speed: 10 – 30 m/min
High speed: Above 30 m/min
Based on Tile Types
Interlocking flat tile profile
Interlocking roman tile profile
Custom tile profiles
Based on Glazing Method
Manual spray glazing
Automatic roller/curtain glazing
Fluorocarbon glaze coatings for durability
Based on Processing
Roll forming only
Roll forming + glazing line
Roll forming to palletizing integrated system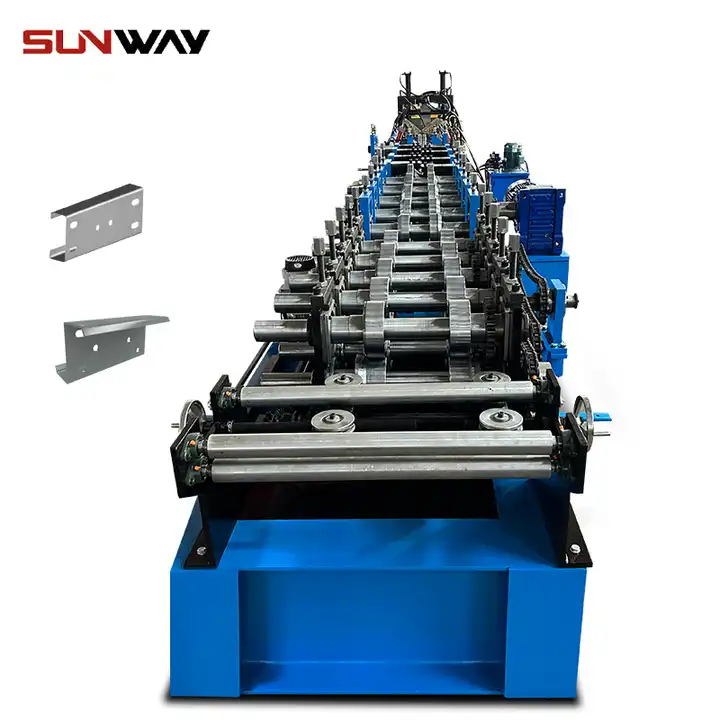 Applications of Glazed Roof Tiles Produced by Roll Forming
Glazed roof tiles made by roll forming find application in:
Residential roofing for houses, villas, apartments
Commercial buildings like offices, shops, lodges etc.
Warehouses, barns, garages roof covering
Re-roofing and replacement of old roofing tiles
Temporary structures and exhibition shed roofing
Decorative roofing accents and housing elements
Roof rainwater drainage and guttering elements
Glazed tiles offer durability, decorative finish and waterproofing for roofing needs.
Glazed Roof Tile Roll Forming Machine Specifications
Glazed roof tile roll forming machines are available with different specifications based on output and production needs:
| Specifications | Typical Range |
| --- | --- |
| Production Speed | 10 – 50 m/min |
| Tile Width | 300 – 1000 mm |
| Tile Thickness | 0.35 – 1 mm |
| Coil Width | Up to 1250 mm |
| Coil Thickness | 0.30 – 0.8 mm |
| Forming Stations | 16 – 24 |
| Power Consumption | 15 – 40 kW |
| Voltage | 380V, 50Hz, 3 Phase |
| Machine Weight | 8000 – 15000 kg |
| Machine Size | 10 – 25 m Long x 3 – 4 m Wide |
These parameters can be customized as per specific production requirements.
Design and Working Standards
Glazed roof tile roll forming machines need to adhere to certain design standards:
Robust steel frame construction with precision leveled forming beds
Hardened roll tooling for extended service life
Multi-axis powered decoiler for smooth feeding
Independent AC drive motors for controlled forming
Automatic edge milling and punching stations
Hydraulic system for tile pressing and punching
Adjustable forming stations for quick size changeovers
Safety guarding for operator protection
Suitable framing arrangements should be provided for glazing application modules.
Here are some tips for choosing a good glazed roof tile roll forming machine manufacturer:
| Parameters | What to Look For |
| --- | --- |
| Experience | Number of years in business, proven track record |
| Production | In-house manufacturing with quality control |
| Customization | Ability to customize machine to needs |
| Quality | Advanced automation for consistent quality |
| Certification | ISO 9001, CE certifications |
| Service Support | Installation, commissioning and operator training |
| Cost | Competitive pricing and payment terms |
| Inventory | Ready models available for faster delivery |
| Location | Distance for logistics and service support |
Check sample tiles from machine for quality assurance
Ensure availability of spares, service support
Compare cost, production rate and delivery time
Inspect machine manufacturing facility if possible
Choose a reputable manufacturer for reliability
This helps get high performance glazed roof tile roll forming machines as required.
Installation of Glazed Roof Tile Roll Forming Machine
Proper installation is important for smooth functioning of a glazed roof tile roll forming line:
Prepare level concrete foundation as per layout drawings
Position the machine components using cranes/forklifts
Assemble the roll forming sections, decoiler, pressure unit as per drawings
Install the tile pressing, punching and embossing stations
Connect the electrical motors, controls, hydraulics per manual
Wire up the electrical switches, drives and sensors
Install safety guarding around the moving components
Check lubrication levels on all gear systems
Test run the machine and make adjustments as required
Correct installation as recommended by the manufacturer is critical.
Working and Operation of Glazed Roof Tile Roll Forming Machine
Working a glazed roof tile roll forming machine involves these key steps:
Pre-Operation Checks and Settings
Check electrical wiring, hydraulics, lubrication
Set up decoiler brake tension as per tile gauge
Adjust rollers in each station for proper material flow
Set cutting length based on tile size
Adjust glazing spray nozzles as per tile width
Test glaze pump, valves, spray headers for readiness
Clear any material scrap or residues in the line
Starting the Machine
Turn on the machine drives in jog mode
Start the decoiler to feed the metal coil through stations
Gradually increase production speed to set levels
Initiate glazing spray system and set paint pressure
Adjust trim knives for edge cutting if needed
Check tile quality and optimize forming gradually
Initiate auto stacker once line is stabilized
During Operation
Monitor line for any jams, noise issues and stop if arising
Conduct periodic quality checks on tile dimensions
Ensure proper lubrication on all moving components
Monitor the coil diameter and plan decoiler coil change
Inspect glazing nozzle spray pattern and coverage
Touch up tile surface finish if required
Clear any accumulated scrap or tiles from the line
Shut Down
Stop the decoiler and allow material to clear the line
Switch off the glazing pumps and blow out the lines
Gradually reduce speed to zero and shut off drives
Clean the machine thoroughly before next use
Following recommended procedures is key for optimal functioning.
Maintenance of Glazed Roof Tile Roll Forming Machines
Regular preventive maintenance activities ensure continuous working of the glazed roof tile roll forming line:
| Activity | Frequency | Method |
| --- | --- | --- |
| Cleaning | Daily | Remove tile and glaze buildup, dust, scrap |
| Inspection | Daily | Check for leaks, abnormal noise |
| Lubrication | Weekly | Grease bearings, gears, apply chain lube |
| Roller Inspection | Monthly | Check contour wear, replace if needed |
| Drive Inspection | Monthly | Check chains/belts tension, adjust/replace |
| Hydraulics | Quarterly | Check cylinders, pipes for leakages |
| Electrics | Half-yearly | Check loose connections, insulations |
| Calibration | Yearly | Calibrate pressure sensors, controllers |
Maintain daily, weekly and monthly preventive schedules
Schedule longer maintenance during shutdowns
Keep sufficient spares like rollers, seals, belts in stock
Train technicians on equipment maintenance procedures
Track machine hours run and maintenance logs
Proper maintenance improves equipment life and avoids downtime.
Troubleshooting Common Issues in Glazed Roof Tile Roll Forming Machines
Some common issues faced in glazed roof tile roll forming machines are:
Issue
Possible Causes
Solutions
Coil jamming
Improper decoiler brake setup
Worn rollers
Edge damage
Adjust decoiler brake
Replace worn forming rollers 
Use edge trimmed coils
Tile distortion
Improper roller gaps
Station misalignment
Reset roller gaps
Realign forming section levels
Glaze dripping
Improper spray pressure
Nozzle clogged
Adjust glaze pump pressure
Clean nozzles
Machine vibration
Loose foundation bolts
Misaligned gearbox
Tighten foundation bolts
Realign gearbox and shafts
Hydraulic oil leak
Seal damage
Hose breach
Identify and replace damaged seal
Replace breached hose
Analyzing root causes and fixing deficiencies can resolve common machine issues.
Some ways to improve productivity from glazed roof tile roll forming machines are:
Optimize line speed by reducing bottlenecks
Schedule quick size changeovers to maximize production runs
Automate downstream processes like stacking and packaging
Ensure consistent quality of input metal coils
Train operators on standard operating procedures
Perform regular preventive maintenance to minimize downtime
Use IoT sensors for remote monitoring and diagnostics
Analyze downtime reasons and address weak spots
Keep sufficient spares inventory to reduce downtime
Upgrade machine with latest automated features
The right initiatives can significantly improve the productivity of glazed roof tile roll forming lines.
FAQs
Q: What is the production capacity of these machines?
A: Production capacity depends on speed and profiles – typically around 400-800 tiles/hr for medium speed machines.
Q: What are the regular maintenance activities required?
A: Maintenance involves cleaning, lubrication, inspection & replacement of rollers, seals, belts, chains as per schedule.
Q: What is the typical accuracy achieved on these machines?
A: Advanced machines with servo control can achieve dimensional accuracy up to ±0.5 mm and angular accuracy up to ±1°.
Q: What consumables are required during operation?
A: Metal coils, glaze paint, lubricants, hydraulic oil, spare parts like belts, seals are required.
Q: What is the typical lifespan of these machines?
A: Around 15-20 years lifespan can be achieved with proper maintenance.
Q: What factors affect the pricing of these machines?
A: Speed, automation level, tile size range, and optional accessories impact the overall cost.
Q: What is the typical power consumption?
A: Power consumption is typically 15-40 kW depending on the machine size and configuration.
Q: What installation support is provided?
A: Manufacturers provide installation guidelines, drawings, technicians support and operator training.
Q: What is the typical delivery time?
A: Ready standard models take 1-2 months while customized machines take 3-4 months delivery time.
Conclusion
The glazed roof tile roll forming machine is an efficient equipment enabling automated production of interlocking roofing tiles with protective glazing in various sizes. This guide has provided a comprehensive overview of all relevant aspects of glazed roof tile roll forming machine selection, installation, operation and maintenance to maximize productivity and product quality.