Roll forming is a metal forming process used to form metal sheets, strips, coils or blanks into various profiles or shapes. Tishken is a leading manufacturer of high quality roll forming machines used for production of metal components with complex cross-sections. This guide provides a detailed overview of Tishken roll forming machines, their types, technical specifications, applications, advantages, installation and operation.
Overview of Tishken Roll Forming Machines
Tishken roll forming machines are engineered for efficient and precise forming of metal into custom profiles for various applications. Here is a quick look at key details:
Product – Roll forming machine
Manufacturer – Tishken, USA
Main Components – Uncoiler, feeder, pre-cut station, rolling mill, cutoff press
Drive Types – Mechanical, Servo, Hybrid
Speed – Up to 400 feet/min
Metal Thickness – 22 ga to 1 in
Metal Type – Carbon steel, stainless steel, aluminum
Profile Types – Simple C, Z, U, L profiles, complex profiles
End Uses – Solar panel frames, door frames, roofing, cladding, racking, enclosures
Tishken uses advanced technology and robust construction to maximize productivity, efficiency, precision and flexibility for high volume roll forming production.
Roll Forming Technology by Tishken
Tishken rollers and tooling are engineered for superior performance and durability. Key technologies include:
High speed precision planetary drives for smooth operation
Helical gearing for reduced noise and vibration
Hardened rollers with polished finish for reduced friction
Quick change roller box design for fast roller changeovers
Precision machinedComponents – No uncoiler, feeder, pre-cut station, rolling mill, cutoff press and other components
Construction and Design
Tishken roll formers feature all-welded steel construction and a modular frame design for strength and rigidity. Machines are designed for:
Heavy duty industrial operation
Quick and easy maintenance
Operator safety
Minimum downtime
They utilize robust mechanical drives and industrial electric motors to handle large material load. Control panels feature customer friendly touchscreen HMI for easy monitoring. Precisely engineered components allow tight tolerances and consistent output.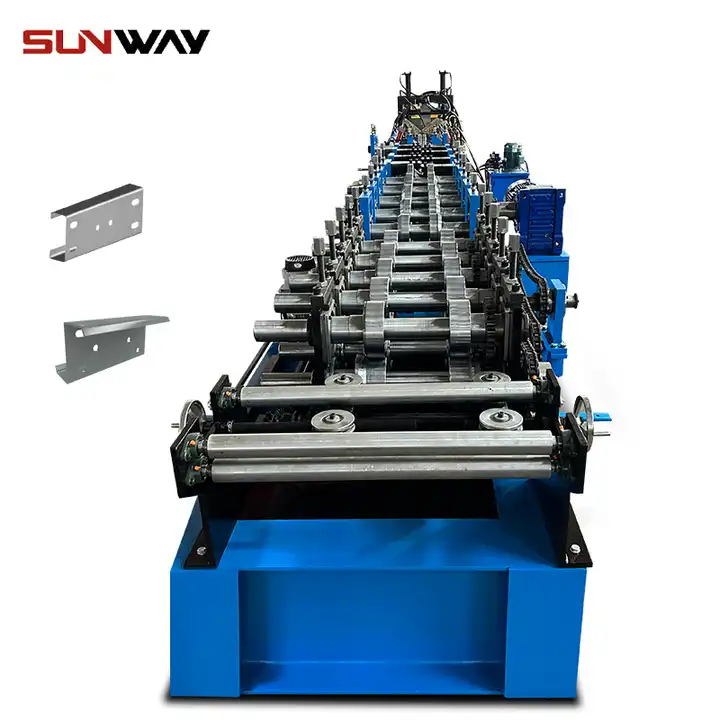 Tishken offers a wide range of roll forming machines and customized configurations to suit specific production needs:
Roll Former Types by Drive
| Roll Former Type | Details |
| --- | --- |
| Mechanical Drive | Geared AC motors and chain drives |
| Servo Drive | Servo motors for each roller station |
| Hybrid Drive | Servo motors for key stations, geared for others |
Roll Former Types by Configuration
| Type | Description |
| --- | --- |
| Compact | Basic roll former with 10-12 stations |
| High Speed | Higher speeds up to 400 ft/min |
| Heavy Duty | For thick material up to 1 inch |
| Double Head | Dual lanes for high volume |
| Custom | Fully customized for special profiles |
Specialty Roll Forming Machines
| Machine | Description |
| --- | --- |
| Folder | Folds profile edges |
| Rotary Punch | Punches holes inline |
| Hydraulic Press | Cutoff and end finishing |
| Auto Stacker | Automatically stacks finished parts |
Tishken engineers analyze product design requirements and recommend the right equipment configuration for optimal productivity.
Roll Forming Machine Specifications
Tishken roll forming machines are available in different specifications based on speed, size, material thickness, drive type and other parameters as highlighted below:
Size and Speed
| Spec | Details |
| --- | --- |
| Production Speed | Up to 400 feet/min |
| Roller Size | 6 in to 26 in diameter |
| Forming Length | 10 ft to 60 ft |
| Material Width | 18 in to 80 in |
Material Thickness Capacity
| Thickness | Description |
| --- | --- |
| 22 gauge to 16 gauge | Typical for flashing and panels |
| 16 gauge to 7 gauge | Standard for door frames, racks |
| 7 gauge to 1 inch | Heavy duty range |
Driveline Components
| Component | Details |
| --- | --- |
| Motors | 5 HP to 20 HP AC motors |
| Gearbox | Helical or planetary type |
| Chains | ANSI roller chain drives |
| Bearings | Heavy duty tapered or spherical roller |
Electrical Specifications
| Feature | Description |
| --- | --- |
| Control Voltage | 24 VDC for servo/VFD drives |
| System Bus | Ethernet/IP or DeviceNET |
| Motor Control | VFD or servo drives |
| Safety Features | E-stop, guarding, alarms |
Customized configurations outside standard specs are available. Engineering team analyzes requirements and recommends optimal machine design.
Tishken roll forming machines are versatile and can produce components for wide range of applications:
By Industry
| Industry | Typical Applications |
| --- | --- |
| Solar | Solar panel frames, mounting structures |
| Construction | Roofing, siding, door frames |
| Automotive | Racks, brackets, chassis parts |
| Appliances | Washing machine tubs, housings |
| Aerospace | Aircraft interiors, enclosures |
| Agriculture | Greenhouse frames, livestock equipment |
By Product
| Products | Description |
| --- | --- |
| Door frames | Roll formed door jambs |
| Roofing | Standing seam panels |
| Cladding | Insulated metal panels |
| Racking | Pallet rack uprights |
| Enclosure | Electrical or equipment housings |
From simple profiles like angles and rails to complex custom shapes, Tishken roll formers can produce components for virtually any application.
Roll Forming Process Basics
Understanding the roll forming process helps appreciate machine design and productivity parameters:
Coiled metal sheet or strip is fed into the roll former
The strip passes through consecutive rolling stations
Each station progressively forms the material through a series of rolling dies
Stations can perform processes like punching, notching, cutting
The fully formed profile is cut off at the end
Material is formed gradually without extremes of stress/strain
Benefits of roll forming:
Highly productive continuous process
Consistent quality and tolerance
Efficient material utilization with low waste
Flexibility to change profiles with quick roll change
Allows complex custom shapes
A key metric is feet of material produced per minute. Robust machine design by Tishken allows maximizing production speeds.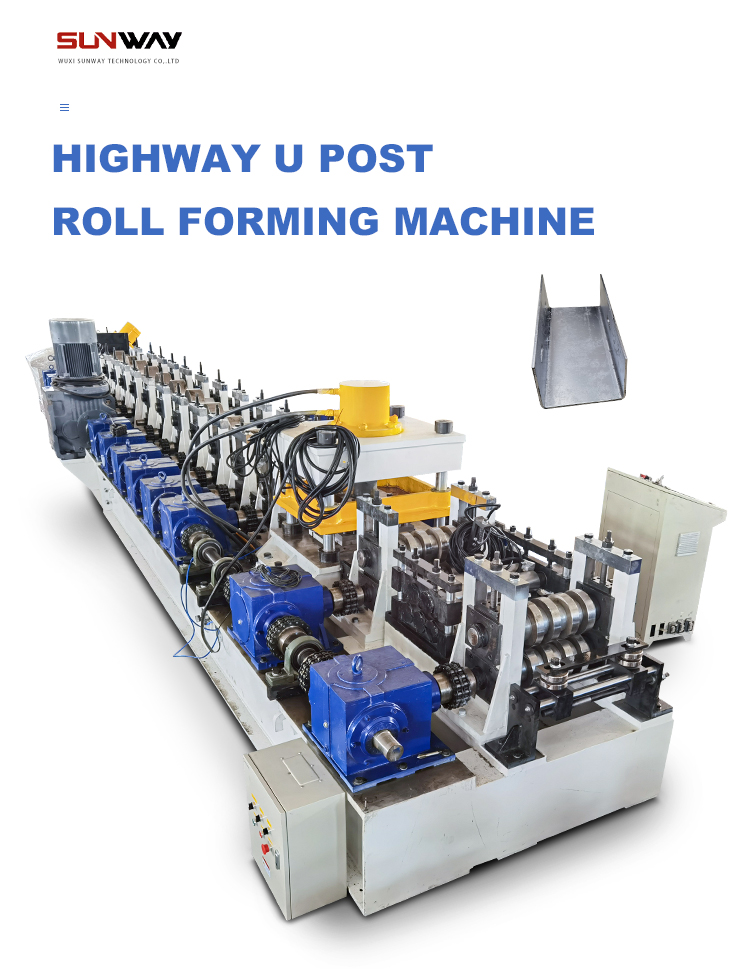 Tishken roll forming equipment offers significant benefits to profile manufacturers:
Maximized Productivity
High speed production up to 400 feet/min
Quick roll changes in 45 minutes
Easy operator control through touchscreen HMI
Low maintenance due to quality components
Minimum downtime for changeovers or maintenance
Superior Part Quality
Advanced roller box design for precision forming
Consistent tolerances within +/- 0.005 in
Excellent surface finish
Uniform mechanical properties by gradual forming
No scratches or defects from material handling
Flexible and Versatile
Produce simple or complex custom profiles
Easy programming of different profiles through HMI
Various configurations from 10 ft to 60 ft long
Handles 22 ga to 1 in material thickness
Suit different production volumes
Cost Effective Solution
Compact footprint saves factory space
Energy efficient drives reduce operating costs
Streamlined material utilization with low waste
High productivity lowers cost per piece
Made in USA quality with total support
When choosing a roll forming machine, Tishken offers productivity, quality, flexibility and cost effectiveness all in one robust, reliable system.
How to Choose a Roll Forming Machine Supplier?
Choosing the right roll forming machine supplier is critical for production efficiency and end product quality. Here are key factors to consider:
Company Overview
Many years of roll forming experience
Full in-house manufacturing capabilities
Strong reputation in metal forming industry
Financially stable long-term partner
Machine Design and Construction
Rugged all-welded steel frame construction
Brand name industrial components
Precision engineered for quality and tolerance
Designed for high productivity
Safety integrated into design
Range of Equipment Offered
Standard and custom roll formers
Specialty machines like folder, punch, etc.
Line integration capabilities
Entry level to heavy duty machines
Technical Expertise
In-house engineering department
Assist with tooling design
Experience with various profiles and metals
Provide design and product development support
Customer Service and Support
Responsive sales and service team
Programming support and training
Timely technical support and maintenance
Readily available spare parts
Installation and start-up assistance
As an industry leader, Tishken excels in all above parameters providing a complete production solution.
Comparing Tishken with Competitors
Tishken faces competition from other established roll forming manufacturers along with some smaller regional players. Here is how Tishken compares on key criteria:
| Criteria | Tishken | Competitor A | Competitor B |
| --- | --- | --- | --- |
| Years in Business | 60+ | 40+ | 25+ |
| Manufacturing Facility | 130,000 sq ft | 100,000 sq ft | 60,000 sq ft |
| Product Range | Standard + Custom | Mainly Standard | Only Standard |
| Max Speed | 400 ft/min | 300 ft/min | 250 ft/min |
| Max Thickness | 1 inch | 0.5 inch | 0.75 inch |
| Construction | All-welded steel | Some fabricated | Mostly fabricated |
| Driveline | Helical gearing | Some chain drives | Chain drives |
| Design Experience | All profiles | Mainly standard shapes | Standard shapes |
| Technical Support | Full engineering team | Limited | Limited |
| Spare Parts | Large inventory | Average inventory | Long lead times |
Tishken clearly leads competitors on parameters like speed, thickness capacity, construction quality, design experience and customer support. Tishken's all-welded heavy duty construction also ensures longer equipment life versus fabricated machines.
While Competitor A also has good capability, their max thickness capacity is lower at 0.5 inches only. Competitor B has lower maximum speed of 250 ft/min and limited design experience beyond standard profiles.
Roll Forming Machine Pricing
Cost of a roll forming machine depends on its size, configuration, speed, material capacity and other features. Here is an overview of price range:
Standard Roll Forming Machines
| Machine Type | Price Range |
| --- | --- |
| Compact Mechanical | $75,000 to $150,000 |
| Servo Hybrid | $150,000 to $250,000 |
| Heavy Duty | $200,000 to $400,000 |
Custom Roll Forming Machines
Prices start from $250,000
Can exceed $500,000 for large custom machines
Geometric complexity, size, material thickness, speed determine price
Per piece price reduces with higher production volume
Return on investment from productivity and operational savings
Additional Equipment
| Item | Price Range |
| --- | --- |
| Tooling | $10,000 to $50,000 |
| Hydraulic Press | $30,000 to $100,000 |
| Decoiler | $10,000 to $50,000 |
| Stacker | $5,000 to $15,000 |
Key Price Factors
Type of drive: Servo > Mechanical
Size: Line length, roller diameter
Speed: 300+ fpm costs more
Material thickness capacity
Complexity of profile shape
Additional secondary operations
Tishken provides customized quotations based on client production needs and budget. Their team analyzes the application and recommends the optimal equipment specification.
How to Install a Roll Forming Machine
Proper installation is vital for smooth operation and maximum production. Here are key steps:
Site Preparation
Prepare suitable foundation – concrete or steel structure
Allow clearance around machine for material and maintenance access
Have electric power supply available per machine requirements
Set up proper grounding, separate from welding machines
Ensure sufficient compressed air supply and piping
Receiving and Handling
Unload components carefully using forklifts, cranes etc.
Place machine components as per installation drawings
Use appropriate chains, straps, lifting eyes for handling
Assembly
Bolt machine frame, stands, and bases as marked
Install drive motors, gearboxes, and chain drives
Mount forming rollers and roller boxes
Install electrical cabinets and wire system
Connect hydraulics, air supply and other utilities
Commissioning
Check all anchors, mounts and clearances
Verify electrical, controls and drives
Test run empty to confirm smooth operation
Load initial tooling and material
Debug any issues before production run
Taking time to properly install the roll former as per guidelines pays off through years of reliable production.
How to Operate a Roll Forming Machine
Operating a roll forming machine requires proper training and adherence to protocols for efficient, safe production. Key steps:
Safety Checks
Ensure all guards and doors are in place
Confirm E-stop, pull cords and other safety devices function
Check electrical panel has no loose wires or issues
Ensure no oil leaks
Verify pneumatic pressure and air lines
Inspect material feeding path for obstructions
Use lockout procedures during maintenance
Startup
Turn on main power and control power
Set line speed through HMI panel
Jog machine to verify correct rotation
Set hydraulic pressure for cutoff
Thread material through machine
Running Production
Monitor strip feeding and tracking
Listen for any abnormal sounds
Watch formed profile for defects
Periodically check roller wear
Ensure smooth material flow to downstream processes
Changeovers
Save existing production parameters
Remove existing tooling safely
Install new tooling for profile per drawings
Adjust machine settings like speed, feed length etc.
Run machine empty then re-thread material
Verify first pieces meet specifications
Shutdown
Stop feeding material into machine
Allow running material to clear out
Turn off main power and control power
Clean machine and clear off cut pieces
Close and lock electrical panel and doors
Proper operation procedures maximize output while minimizing safety risks, defects and downtime.
Maintenance of Roll Forming Machines
Regular preventive maintenance is key for trouble-free operation of a roll forming machine. Standard activities include:
Daily Maintenance
Quick visual inspection of machine
Check oil levels
Verify pneumatic pressure
Test emergency stop
Ensure guides and stripper plates are tight
Remove metal debris and dirt
Lubricate chains, bearings and gears
Weekly Maintenance
Thorough cleaning of machine
Inspect electrical wiring and connections
Check chain/gearbox alignment
Verify drive key tightness
Test coolant flow on gearboxes and motors
Monthly Maintenance
Check roller wear and refinish contacting surfaces
Inspect gear teeth for wear or cracks
Verify alignment of shafts, sprockets and gears
Grease bearings and sliding surfaces
Check fluid quality and change if required
Annual Maintenance
Disassemble gearboxes for inspection and re-lubrication
Inspect and replace worn sprockets or chains
Recondition or hard-chrome worn rollers
Review safety devices, guards, E-stops
Calibrate sensors, encoders and instrumentation
Proper maintenance improves safety, reduces downtime, and increases productivity. Tishken provides detailed preventive maintenance schedules for all equipment.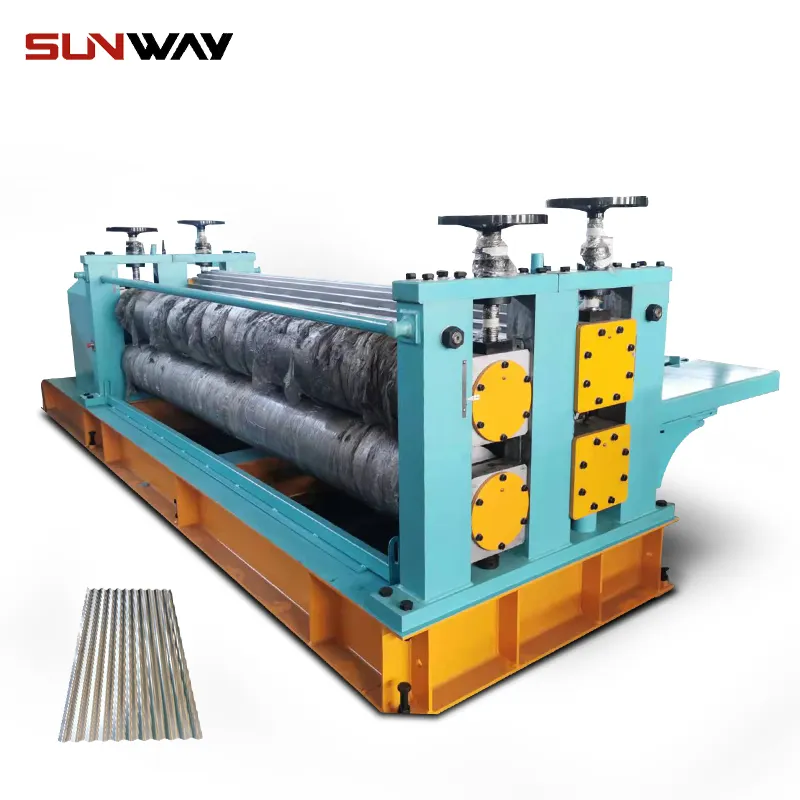 Roll Forming Troubleshooting Guide
Some common issues that can arise with roll forming machines include:
| Issue | Possible Causes | Fixes |
| --- | --- | --- |
| Material tracking off | Misaligned rolls, stripper plates | Realign/adjust guides, plates |
| Scratched material | Dirty/scratched rolls | Clean or refinish rollers |
| Roller marking | Worn rollers, roller overlap | Refinish or replace rollers |
| Flared profile | Improper roll alignment | Realign forming rolls |
| Dimensional deviation | Worn tooling, loose components | Replace worn tooling, tighten |
| Uneven material flow | Feed speed mismatch | Adjust feed vs line speed |
| Motor overload | Line jam, speed mismatch | Clear jam, align speeds |
| Hydraulic oil overheating | Low oil level, leaking valve | Top up oil, replace valve |
| Electrical fault | Loose connection, blown fuse | Check wiring, replace fuse |
Tishken field technicians are available for troubleshooting and repairs to minimize production downtime.
FAQ
Q: How long does it take to change roller tooling on a roll former?
A: On a Tishken quick-change roll former, complete tooling changeovers can be accomplished in 30-45 minutes due to the easy access design.
Q: Can a roll forming machine make complex custom profiles?
A: Yes, an experienced supplier like Tishken can engineer roll formers to produce complex cross-sections based on customer product designs.
Q: What precision can be held on a roll formed part?
A: Tishken machines can routinely hold tolerances of +/- 0.005 in on critical dimensions through robust construction and precision components.