China light keel roll forming machines are used to produce cold-formed steel light keel profiles from metal coils. Light keels provide an economical roof truss framing system for warehouses, factories, workshops and agricultural buildings.
This guide provides details on light keel specifications, types of China light keel roll forming machines, components, working principles, design considerations, applications, advantages, limitations and more focusing on Chinese manufacturers.
Overview of China light keel roll forming machine
Light keel roll forming involves:
Progressively bending metal coil strips into light keel channel shapes
Feeding coils through a series of roller dies
Forming the web, flange and lip profiles
Shearing keels to length
Stacked assembly of finished keels for supply
Common materials include galvanized steel, pre-painted steel and aluminum strips. Light keels provide cost-effective substitutes to hot-rolled steel sections for roof structures.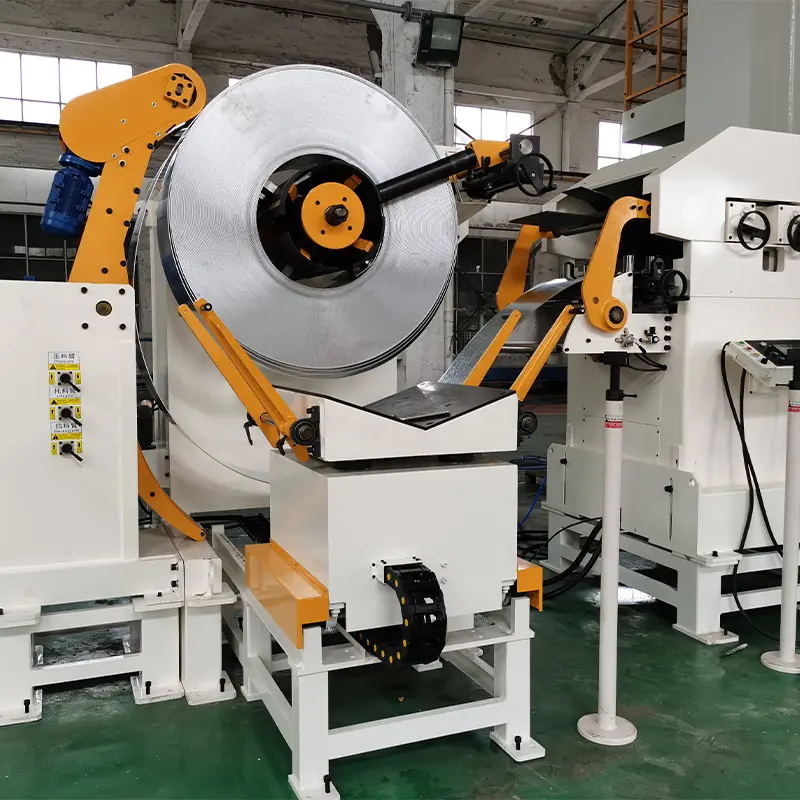 There are two main types of keel roll forming machines:
1. C-Structure Roll Formers
Form entire keel profile in one forming section
Simpler design using top and bottom rollers
Limited to smaller keel sizes
Production speeds around 10-20 m/min
2. Step Roll Formers
Keel flanges formed sequentially in separate stands
Capable of rolling bigger keel sizes
Run at higher speeds of 40-50 m/min
Provide better control of flange parameters
Comparison of Light Keel Roll Former Types
| Paramètres | C-Structure | Step Roll |
| --- | --- | --- |
| Forming method | Entire profile at one station | Sequential flange forming |
| Profile size | Smaller keels <200 mm | Wider keels >250 mm |
| Vitesse de production | Slower < 20 m/min | Faster > 40 m/min |
| Conception du rouleau | Simpler | Complex |
| Line length | Shorter | Plus long |
Components of Light Keel Rolling Lines
Light keel rolling lines consist of various equipment modules:
Coil Handling
Decoiler to feed metal coils into process
Recoiler for taking up processed strips
Coil cars and loading systems
Alimentation en feuilles
Feed tables with rollers
Sheet guides and sensors
Edge thickness controllers
Stations de formage de rouleaux
Progressive die stations for bending
Forming rollers and support tooling
Hydraulic press systems
Servo motor driven rolling
Unité de cisaillement
Rotating blades for cutting keels to length
Length measuring systems
Broyeurs et convoyeurs de ferraille
Empileur
Automatic bundling and stacking
Strapping systems
Systèmes de contrôle
PLC controls and HMIs
Parameter monitoring sensors
Speed synchronization
Safety interlock systems
Working Principle of Light Keel Rolling
Light keel roll forming involves:
Sheet strips unwinding from coils into the feed section
Feeding the strips through progressive roller dies
Gradually bending the strips to form web, flanges and lip
Cutting the formed keels to specified lengths
Stacked assembly of finished keels
PLC-based control systems synchronize the equipment stages. The modular arrangement provides flexibility to produce various keel sizes by changing roll sets.
Design Considerations for Light Keel Rolling Lines
The key design factors for light keel roll forming lines include:
Product dimensions – Keel depth, flange width, metal thickness
Vitesse de production – Feet or meters produced per minute
Performance features – speed, precision, flexibility
Automatisation – Controls, sensors, safety systems
Roll tooling – Quick changeover, precision and wear life
Line layout – Material handling, operational ergonomics
Extensibilité – Ability to increase future capacity
Site conditions – Install within available space constraints
Standards compliance – Applicable structural standards
Matching production targets with keel sizes determines component sizing, layout and overall line design.
The major applications of rolled light keel sections include:
Roof truss systems for factories, workshops
Framing for agricultural, storage buildings
Trusses for canopies, walkway covers
Rafters for purlin roofing systems
Secondary structural members
Building mezzanines and flooring
Light keels provide cost-effective substitutes to hot-rolled steel sections for light to medium load non-residential structures while enabling faster construction.
Benefits of Using Light Keel Roll Forming
Key benefits of the light keel roll forming process:
Highly productive continuous forming
Précision dimensionnelle constante
Scalable production by adding roll stands
Flexibility to change profiles with quick roll changes
Lower costs than hot-rolled steel sections
In-house production improves lead times
Lighter keel sections reduce transportation costs
Suitable for long spans upto 15 meters
Allow customized keel profiles and sizes
Less skilled labor required compared to site welding
Automated roll forming provides a cost and time efficient method for mass producing light steel keels.
Limitations of Light Keel Roll Forming
Some limitations of the light keel roll forming process:
High initial equipment capital cost
Substantial space requirements
Limited to straight profiles only
Increased structural analysis needed
Lower stiffness than hot-rolled sections
Requires experienced technical operators
Additional connection design considerations
Can be prone to web buckling issues
Noise emission requiring mitigation measures
The process may not be feasible for low volume production or applications needing heavy sections.
Key Chinese Manufacturers of Light Keel Rolling Equipment
Some leading China-based suppliers of light keel roll forming lines include:
Major China Light Keel Roll Former Manufacturers
| Compagnie | Localisation |
| --- | --- |
| Legend | Jiangsu |
| Union Machinery | Wuxi |
| Spirol | Shanghai |
| JinDeRan | Tianjin |
| Frontwave | Guangdong |
These companies offer standard and customized light keel rolling line solutions for capacities from 10 to 100 meters per minute. Complete lines include decoilers, roll stands, cutting and stacking systems.
Equipment Cost Range
| Vitesse de production | Indicative Pricing |
| --- | --- |
| 10 m/min | $50,000 – $100,000 |
| 25 m/min | $100,000 – $250,000 |
| 50 m/min | $200,000 – $500,000 |
| 75+ m/min | Over $500,000 |
Pricing varies based on production speed, automation and optional accessories. Field installation supervision and training are also available.
Installation et fonctionnement
Key measures for light keel roll forming line installation and operation:
Proper material handling space for coils and finished products
Levelled mounting and anchoring of equipment
Aligning and coupling drive shafts
Electrical, utility and compressed air connections
Trial runs to verify keel quality
Documenting forming parameters and settings
Operator training on procedures
Safety protocols like interlocks, guards
Preventive maintenance schedules
Proper installation and operation training from the supplier's engineers is key for maximizing production line performance. Strict safety measures are essential.
Exigences d'entretien
Proactive maintenance practices for light keel rolling lines:
Periodic inspection of mechanical drives
Lubricating bearings, motors, gears
Checking roll condition; replacing worn rolls
Sharpening or replacing shear blades
Sensor cleaning and calibration
Checking hydraulic systems and pipes
Inspecting guards and safety devices
Electrical, pneumatic systems checks
HVAC maintenance for control panels
Noise monitoring and mitigation
Documentation and tracking
Timely maintenance as advised by the manufacturer ensures maximum production uptime at the required quality and safety levels.
Selection Considerations for Light Keel Roll Forming Equipment
Key factors for choosing light keel roll forming equipment:
Capacité de production – line speed matches needed output
**Profile dimensions **– capability to produce the required sizes and thicknesses
Performance features – speed, precision, flexibility
Automatisation – ease of operation and control
Roll tooling – design, quick change ability and costs
Material handling – decoiler capacity, finished product stacking
Normes de qualité – consistency, tolerances, finishes
Costs – competitive pricing considering capabilities and local service
Manufacturer reputation – experience, proven reliability
Service après-vente – installation support, training, maintenance
Selecting the right supplier with suitable production capacity, efficient roll designs, automated controls and local service provides a long-term value advantage.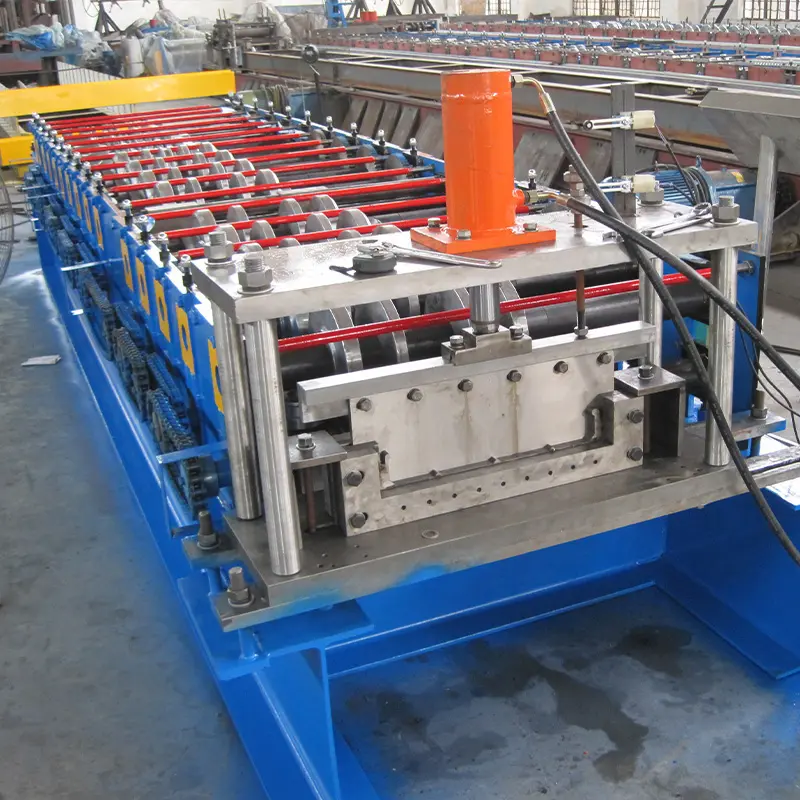 Pros and Cons of Light Keel Roll Forming
Avantages :
High production volumes
Lower cost than hot-rolled sections
Précision dimensionnelle constante
Flexible equipment for different sizes
Faster construction with preformed keels
Lighter sections reduce transportation costs
Easier integration with roofing systems
Inconvénients :
Investissement initial élevé en équipement
Dedicated lines for each profile
Space requirements for equipment
Limitations on keel length
Requires skilled technical operators
Additional structural analysis
Aesthetics may not suit all buildings
FAQ
What are light keels used for?
Light keels provide economical substitutes to hot-rolled sections for roof truss framing systems in factories, workshops, agricultural buildings and aircraft hangars.
How are light keels produced?
Light keels are produced by continuously cold roll forming metal coil strips through a series of roller dies to progressively form the web, flanges and lip to create the keel profile.
What are the benefits of light keels?
Benefits include lower cost than hot-rolled steel, faster construction, flexibility in lengths, and light weight for transportation and handling. They allow customized profiles tailored to requirements.
What steel thickness is used for light keels?
Typical thickness ranges from 0.5 mm to 1.2 mm for most applications. Minimum 0.8 mm thickness is recommended for adequate stiffness. Thicker coils can produce stronger keels.
What factors affect light keel roll forming line design?
Key factors are production speed, keel dimensions, material thickness, performance needs, automation, quick roll changes, and material handling capabilities.
What maintenance is required for light keel rolling lines?
Regular maintenance involves inspecting mechanical drives, roll condition, lubrication, hydraulics, sensors, electrical systems, and safety features. Timely maintenance minimizes unplanned downtime.
What safety measures are needed for light keel rolling equipment?
Critical safety measures include emergency stops, interlocks, machine guarding, safety protocols, and worker training. Noise and dust mitigation may be required.
How to select a light keel roll former supplier?
Consider production capacity, keel size range, automation, roll design, service support and costs. Choose a reliable manufacturer capable of delivering the profiles needed with good quality and line productivity.
What typical speeds can light keel rolling mills achieve?
Typical production speeds range from 10 to 50 meters per minute. Higher speeds are possible with more powerful drives and streamlined material handling.