Ceiling channel roll forming machines are used to produce the C-channel sections used for suspended ceilings. These lightweight channels snap on to ceiling grid T-sections to support the ceiling panels.
This guide provides a comprehensive overview of ceiling channel roll former working principles, component parts, specifications, sizes, configurations, accessories, applications, benefits, manufacturers, costs, considerations for buying, maintenance and troubleshooting tips.
How Ceiling Channel Roll Forming Works
The operating sequence of a ceiling channel roll former is:
Coil of sheet metal loaded into the de-coiler
Sheet enters the leveler machine for initial straightening
Leveled sheet fed into the forming section entry guides
Sheet passes through consecutive roll forming stands
Rolls gradually bend the sheet into C-channel shape
Formed channel sections exited onto cutting table
Saw blade cuts profiles to desired lengths
Conveyor stacks cut parts for bundling
Hydraulic power pack provides power for roll stations
PLC control coordinates production sequence
Rollers are precision machined to bend metal coil into ceiling channel profiles.
Main Components of Ceiling Channel Roll Formers
Key components of ceiling channel roll forming machines:
De-coiler – Holds coil of sheet metal
Feed table – Feeds metal sheet into machine
Stations de formage de rouleaux – Gradually form the channel shape
Rouleaux de formage – Hardened tool steel, machined to profile
Cutting unit – Circular saw or shear cutter
Stacking table – Catches cut parts and stacks
Bundling unit – Straps parts into bundles
Système hydraulique – Provides power to stations
Electrical cabinet – PLC, drives, motor controls
Guarding – For operator safety during production
Proper integration of these components produces quality ceiling channels.
Specifications of Ceiling Channel Roll Formers
Typical specifications:
| Paramètres | Spécifications |
| --- | --- |
| Diamètre du rouleau | 100-150 mm |
| Number of stations | 8-16 |
| Max line speed | 15 m/min |
| Min sheet thickness | 0.4 mm |
| Max sheet thickness | 0.8 mm |
| Sheet width | 50-200 mm |
| Channel height | 13-50 mm |
| Cut lengths | 1-6 meters |
| Main motor power | 3-5.5 kW |
The number of stations and motor power determine the production rate. More stations allow larger channel sizes.
Types of Ceiling Channel Profiles Produced
Common ceiling channel profiles produced:
Standard 13/16" channel – for residential ceilings
Narrow 9/16" channel – for tighter spaces
Deep channels – up to 2" for heavy duty
Double leg channels – clips on two sides
Shadow channels – recessed lighting
Perforated channels – for sound absorption
Decorative channels – stippled, embossed etc.
Interchangeable roll sets allow different profiles to be run.
Ceiling Channel Roll Former Configurations
Typical machine configurations include:
Compact – Entry guides to saw in one frame
Modulaire – Bolt-together sections for portability
In-line – Straight from decoiler to exit
L-shaped – Saves floor space
Closed-loop – Coiler on exit side
Sur mesure – Shop-floor layout flexibility
Semi-auto – Manual coil loading
Fully auto – Powered decoiler, stacker etc.
Layouts are designed around production space and automation needs.
Accessories for Ceiling Channel Roll Formers
Common accessory equipment includes:
Unité de poinçonnage – For holes, slots, patterns
Embossing rolls – Decorative surface textures
Cintrage CNC – Imparts bends when needed
Entaille – Punch notches along edge
Servo roll feed – For speed and accuracy
Quick change kits – For fast profile changes
Safety guarding – Full perimeter fencing
Decoiler mandrel – Needed for coil holding
Tooling protection – Covers for roll stands
Custom conduit – For feeding shaped coil
Accessories enhance flexibility, productivity, and safety.
Applications of Ceiling Channels
Ceiling channel profiles produced on these roll formers are used in:
Residential ceilings – Homes, apartments
Commercial buildings – Offices, retail spaces
Institutional spaces – Schools, hospitals
Hospitality sector – Hotels, gymnasiums
Clean rooms – Pharma, medical, food processing
Modular buildings – Prefabricated structures
In-store fixtures – Display booths, signage
Exhibition stands – Temporary booths, canopies
Ceiling channels provide an economical and easy way to create suspended ceilings across sectors.
Benefits of Ceiling Channel Roll Forming
Key benefits of ceiling channel roll forming:
Une production plus rapide than manual bending
Coût moins élevé than extruded channels
High dimensional accuracy from precision roll tooling
Zero scrap compared to other methods
Consistent quality along entire length
Flexible for various profiles and sizes
Compact footprint suitable for local production
Safer operation than press brakes or notching
Scalable production from small to large volumes
Roll formed channels outperform other fabrication approaches for quality, cost and delivery.
Leading Manufacturers of Ceiling Channel Machines
Top ceiling channel roll former manufacturers include:
Eurobend – European engineered high speed lines
Metform – Customized roll forming solutions
Jupiter Rollforming – Robust machines made in India
RollMax – Affordable machines with high quality
Zhongfu – Wide range of roll former models
Samco – Production lines integrated with embossing and punching
Considérations sur les coûts
Typical factors affecting ceiling channel roll former costs:
Vitesse de production – Directly affects pricing
Niveau d'automatisation – Manual vs powered decoiler, conveyors etc.
Channel size range – Wider sizes need larger diameter rolls
Additional tooling – For punching, notching, embossing
Installation et formation – Often included in machine price
Shipping expenses – Varies based on location
Total price range – $15,000 to $65,000+ depending on above factors
Higher production needs warrant investing in more advanced automated equipment.
Buying Considerations
Key considerations when purchasing ceiling channel roll forming equipment:
Type and size of ceiling channel sections required
Estimated production volumes and annual output
Single profile or quick changeovers for multiple profiles
Amount of variation needed – holes, cutouts, bends etc.
Available installation space and layout
Operator skill level and training needs
Safety protection and noise reduction
Options for future upgrades and expansion
Local dealer support and maintenance capabilities
Analyzing current and future production needs will lead to selecting the right roll former.
Conseils d'entretien
Recommended maintenance activities:
Daily cleanup of metal debris using vacuum
Lubricating roll bearings, gearboxes, conveyors per schedule
Inspecting roll wear and replacing damaged/worn items
Verifying hydraulic fluid level and checking for leaks
Confirming electrical wiring is intact with no loose connections
Testing emergency stop buttons and verifying guards
Monitoring belt tension and chains for stretching
Documenting maintenance work details
Stocking spare parts like bearings, blades, belts
Proactive maintenance improves uptime and output consistency.
Conseils de dépannage
Troubleshooting common ceiling channel roll former issues:
Distorsion du profil
Check roll alignment and spacing
Replace any damaged or worn rolls
Adjust roll pressure as needed
Uneven cutting length
Realign cutting blade
Inspect sensor positioning
Line speed inconsistency
Test servo motors and drives
Check for slipping transmission belts
Blocage de la machine
Increase lubrication
Clear any debris in stations
Ensure no loose machine parts
Hydraulic power loss
Check cylinder seals, valves, pumps
Inspect fluid level and filter
Tighten any leaking fittings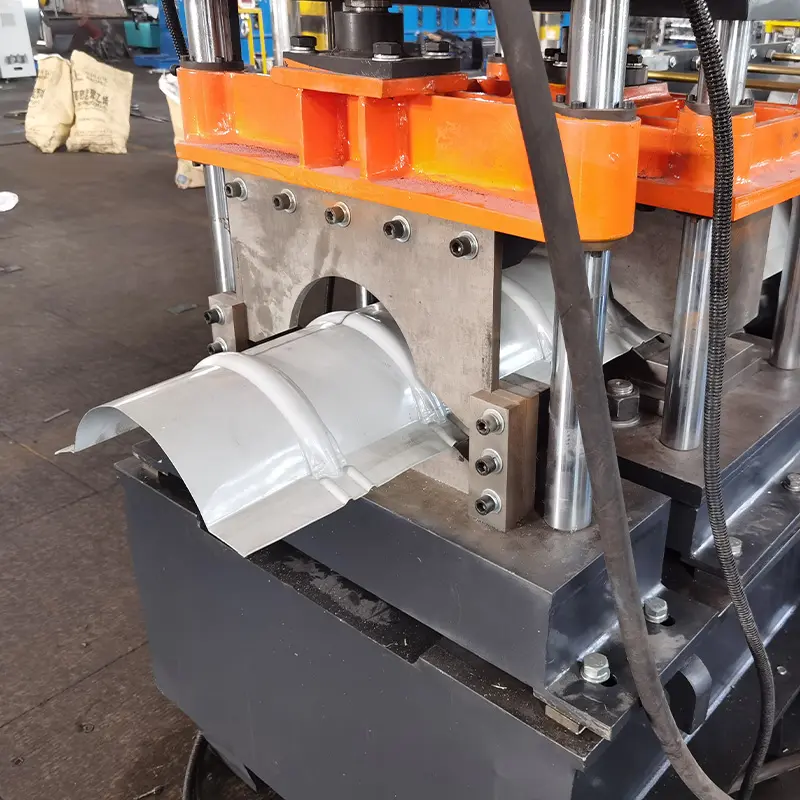 FAQ
What materials can be roll formed into ceiling channels?
Common materials include galvanized steel, stainless steel, aluminum and plastic coated steel. Galvanized steel offers the best value for most applications.
What thickness range can be typically processed?
Standard roll formers can process metal sheet from 0.4 mm to 0.8 mm thickness. Special models are available for thicker sheets if needed.
What is the typical production rate?
10-15 meters per minute. Maximum speed varies based on part size, features, and material thickness.
What length of channels can be produced?
1 to 6 meter lengths are typical. Extended lengths can be achieved by adding additional rolling stations or using a notcher instead of saw.
What factors affect the machine price?
Major factors include production speed, size range, level of automation in terms of powered decoiler, conveyors, quick changeovers etc., and additional accessories.
Conclusion
Ceiling channel roll forming machines deliver high precision and consistency unmatched by other fabrication approaches. With due diligence in selecting the appropriate equipment matched to production needs, manufacturers can gain rapid ROI through material and energy savings, reduced labor, and improved product quality. When equipped with quick changeovers and accessories, ceiling channel roll formers provide a versatile solution.