Downspout roll forming machine from China is an automated equipment to produce rain gutter and downpipes for buildings. This comprehensive guide provides extensive details about these machines – their working, types, parts, specifications, benefits, top suppliers, costs, and more.
Downspout roll former makes rain gutter systems using roll forming technology. Metal coil is gradually shaped into box-type gutter profile by passing through successive rolling stations.
Here is a quick look at key aspects:
| Parameters | Details |
| --- | --- |
| Process | Roll forming of metal coil into box-shaped gutter |
| Main Components | Uncoiler, roller stations, cutting unit, hydraulic system |
| Key Benefits | High speed, large output, easy changeover, low cost |
| Applications | Rain gutter production lines |
| Industry Use | Construction, infrastructure, real estate |
| Popular in Country | Southeast Asia, Middle East, Africa, South America |
This versatile equipment allows efficient mass production of rain gutter systems demanded in building construction industry.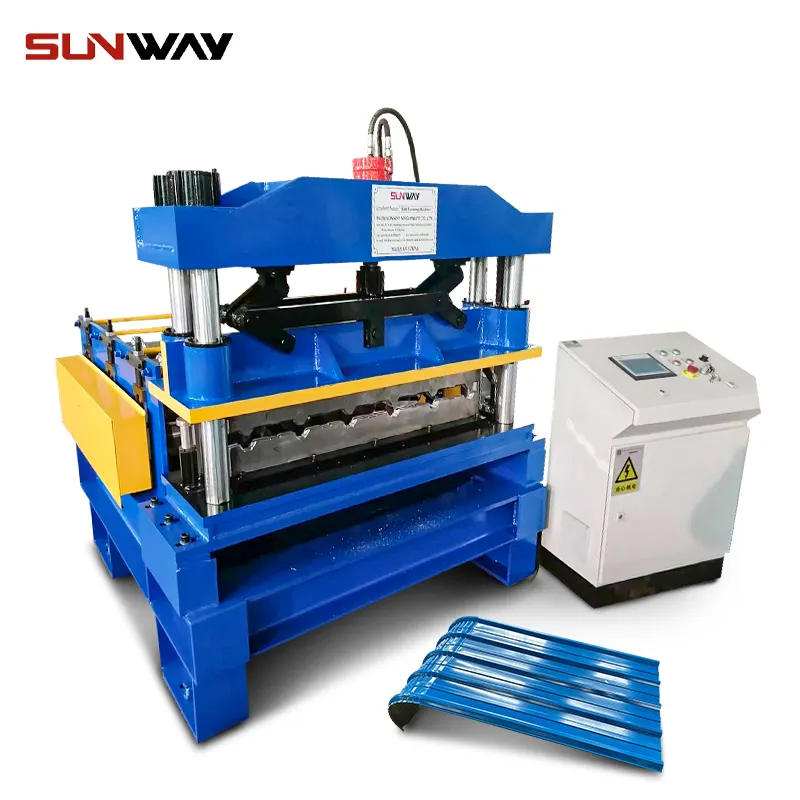 Working Principle of Downspout Roll Forming Machine
The working principle involves unwinding coil material, followed by progressive bending through rollers to form a longitudinal box-type profile:
Uncoiling – The metal coil strip is loaded on an uncoiler which allows it to unwind freely.
Feeding – The strip is fed into the roll forming section through automated feeding rolls.
Roll Forming – As the strip passes through each stand, it is gradually bent into the desired rain gutter profile.
Cutting – After the final forming, the continuously produced gutter is cut into required lengths by a cutting machine.
Output – The cut gutters slides onto the output table and are collected for further processing.
The roll forming shapes the flat metal strip into a longitudinally bent gutter profile by applying a series of bends along the length.
Types of Downspout Roll Forming Machines
China downspout roll former comes in different configurations:
Based on Automation
Manual – Stop for manual cutting after each gutter piece
Semi-automatic – Auto-cut at preset length, manual coil feeding
Fully-automatic – Automatic uncoiling to output
Based on Production Speed
Low speed – 10-15 m/min
Medium speed – 15-30 m/min
High speed – 30-50 m/min
Based on Size Capacity
Small size – Gutter width upto 150 mm
Medium size – Gutter width upto 300 mm
Large size – Gutter width above 300 mm
So customers can select type based on automation needs, required output and gutter dimensions.
Main Parts of Downspout Roll Forming Machine
Key components of China downspout roll forming equipment are:
| Parts | Functions |
| --- | --- |
| Decoiler/Uncoiler | Holds metal coil, allows unwinding |
| Feeding device | Feeds coil strip at controlled speed |
| Roll forming stations | Gradually form gutter profile through bending |
| Hydraulic system | Generates pressure for roll forming |
| Cutoff machine | Cuts formed gutter at preset length |
| HMI and Control panel | Controls machine operation and parameters |
| Supporting stands | Houses various parts of the machine |
The right selection & assembly of above parts based on production requirements is vital.
Specifications of Downspout Roll Forming Machine
China downspout roll former comes in various specifications:
| Parameters | Typical Range |
| --- | --- |
| Coil Width | Up to 1250 mm |
| Metal Thickness | 0.3 – 1 mm |
| Forming Speed | 10 – 50 m/min |
| Roller Material | GCR15, 45#, 50CrVA |
| Power Supply | 220V, 380V, 415V AC |
| Roller Stations | 8 – 16 |
| Gutter Width | 150 – 300 mm |
| Gutter Height | 100 – 200 mm |
| Cut Length | 1000 – 6000 mm |
| Length Tolerance | ±1 mm |
| Hydraulic Pressure | 16 MPa |
| Voltage | 220V/380V/415V, 3 phase |
| Machine Size | 8000x1200x2000 mm |
| Machine Weight | 2000 – 8000 kg |
Customizations available based on required gutter dimensions, speed, automation level etc.
Applications of Downspout Roll Forming Equipment
China downspout roll former ideal for:
Manufacturers of rainwater drainage systems
Construction companies involved in building exteriors
MEP contractors installing drainage systems
Real estate developers constructing housing projects
Smart city developers building stormwater management infrastructure
Plumbing product suppliers manufacturing gutters and downpipes
Workshops doing small scale production of rain gutter systems
Suitable for factories doing mass production of rain gutters for supply to construction industry.
Automated roll formers from China offer following benefits:
High Production Speed – Up to 50 meters per minute
Labor Cost Savings – Reduced manual work due to automation
Advanced Technology – Precise hydraulic powered rolls
Material Savings – Low wastage compared to other processes
Quick Size Changeover – Easy roller adjustment for different profiles
Heavy Duty Built – Durable and stable under continuous operation
Low Maintenance – Require minimal maintenance
Safety – Equipped with safety features like guards and sensors
Cost Effective – Priced competitively compared to western suppliers
Downspout roll former from China delivers high productivity, quality finish and cost efficiency.
Leading Manufacturers of China Downspout Roll Forming Machines
Major downspout roll former exporters from China:
| Company | Location | Product Range |
| --- | --- | --- |
| Foshan Yinglite Machinery | Foshan, Guangdong | Affordable manual and auto lines |
| Botou Yute Machinery | Botou, Hebei | Medium to high speed roll formers |
| Hebei Yanjin Industry | Langfang, Hebei | Small to large size downspout machines |
| Foshan City Hongtu Machinery | Foshan, Guangdong | Complete rain gutter production lines |
| Jinan Surplus International Trade | Jinan, Shandong | Heavy duty high speed roll forming |
| Wuxi Zhongtuo Roll forming Machinery | Wuxi, Jiangsu | Semi and fully automatic downspout lines |
These companies provide wide range of downspout roll forming machines to suit different production scales.
Cost of Downspout Roll Forming Equipment from China
Cost depends on:

Automation level – manual or automatic
Speed and output requirement
Gutter width capacity
Additional devices like decoilers, stackers etc
Level of customization
Brand and expertise of manufacturer

Typical price range:

Manual roll former – $3000 to $10000
Semi-automatic line – $10000 to $30000
Automatic high speed line – $30000 to $50000

Additional costs:

Shipping and customs duties
Installation and training
Spare parts and accessories
Sourcing cost-competitive machinery without compromising quality requires extensive supplier evaluation and price negotiation skills.
How to Select a Reliable Downspout Roll Former Manufacturer in China
Tips for choosing good downspout roll forming machine suppliers in China:
Review experience in making similar roll forming equipment
Check clientele and contact previous customers for feedback
Look for customized solution offerings, not just standard machines
Verify advanced in-house manufacturing capabilities
Ensure ability to engineer tooling for new profiles
Examine quality control and testing processes
Require safety certification and compliance to standards
Compare pricing quotes from multiple manufacturers
Check production capacity and order book status
Require factory inspection if possible before placing order
Ensure after-sales service and technical support systems are in place
Careful selection of right partner ensures you get high quality downspout roll forming machinery for optimal productivity.
How to Operate and Maintain Downspout Roll Forming Machine
Proper operation and maintenance procedures:
Read instruction manual thoroughly before use
Ensure safety guards are intact before switching on
Select suitable coil material based on machine capacity
Set parameters like speed, cut length via control panel
Use hand wheels to gradually adjust rollers to required positions
Start with lower speed and increase gradually after initial trial
Apply lubricants on bearing, gears as prescribed
Check forming quality continuously and stop if any issues
Clean equipment and perform lubrication at regular intervals
Inspect rollers, gears, chains, sprockets for signs of wear
Replace worn out spare parts like bearings in time
Keep electrical, hydraulic and pneumatic systems in good working condition
Carry out annual maintenance check by authorized technician
Proper care and maintenance minimizes breakdowns and enhances performance.
Advantages of Downspout Roll Forming Machine
High production speed up to 50 meters per minute
Quick size changeovers with roller adjustment
Consistent dimensional accuracy as per standards
Allows mass production of rain gutters at low cost
Better material savings compared to traditional methods
Automated process requires less manpower
Safer than manual gutter fabrication methods
Forms smooth and crease-free gutters
Easy to operate and maintain
Limitations of Downspout Roll Forming Machine
High initial purchase cost of automatic roll former
Complex profiles may need more forming stations
Not ideal for small scale or batch production
Skilled technician required for specialized maintenance
Roller settings require adjustment for each profile changeover
Limited metal thickness and width handling capacity
Safety hazards if improperly operated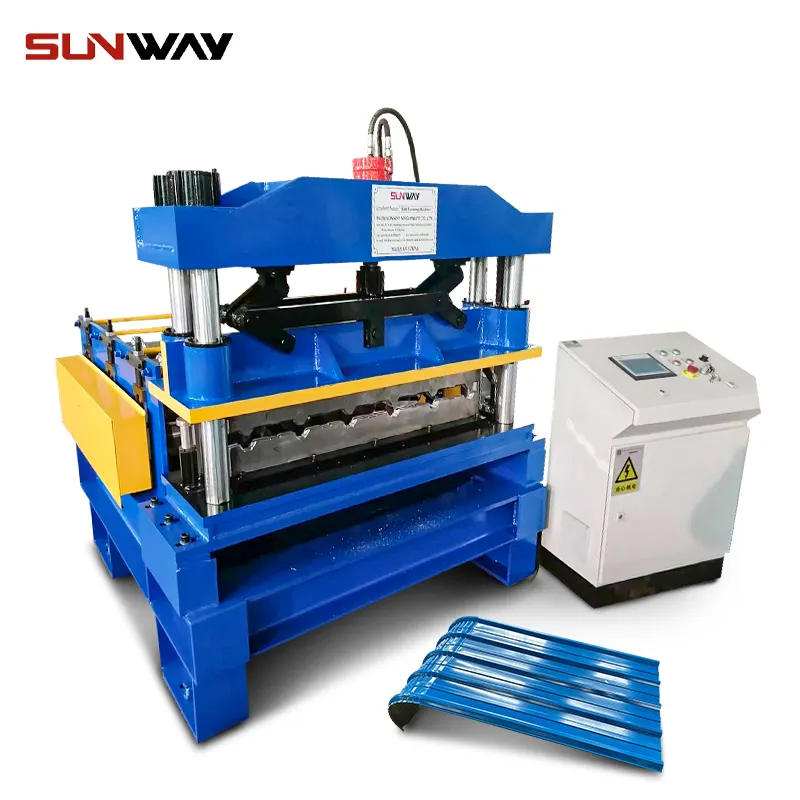 Downspout Roll Former Usage Tips
Choose right automation level based on production scale
Get technical advice from manufacturer for ideal machine selection
Ensure adequate space for safe working and maintenance access
Train workers thoroughly on recommended operating procedures
Plan layout to optimize material flow and gutter offloading
Consult supplier before attempting any new profile shape
Perform trial runs before starting full-scale production
Follow prescribed maintenance schedule using proper lubricants
Source spare parts proactively for critical roll forming components
Proper machine selection, installation, operation and care ensures maximum production efficiency.
FAQ
| Questions | Answers |
| --- | --- |
| What are the main advantages of China downspout roll formers? | China machines offer competitive pricing, good speed, durability and customization flexibility. Chinese suppliers also provide better service support. |
| What maintenance is required? | Maintenance involves cleaning, lubrication, inspection and part replacement as suggested in manual. Proper care minimizes breakdowns. |
| What forming capability is possible? | Equipment can produce box-type, half-round and K-type gutter profiles up to 300 mm width in mild steel, stainless steel, aluminum. |
| What are the safety risks? | Risks include getting caught in unguarded moving parts. Adequate safety guards, training and safe working practices are essential. |
| What factors affect total cost? | Automation level, speed, size capacity, accessories like uncoiler and stacker, customization needs and brand influence pricing. |
| What is production speed capacity? | Production speed ranges from 10-15 m/min for manual lines up to 30-50 m/min for high speed automatic roll formers. |
| Can custom profile dies be engineered? | Yes, experienced suppliers have in-house tooling design expertise to develop dies for new custom profiles. |
| What support services are provided? | Suppliers should provide technical support for machine installation, operator training, and after-sales service. |
Conclusion
China downspout roll forming machine provides an efficient automated solution for high volume production of rain gutters at competitive prices.
This detailed guide covers all aspects ranging from working principles, types, specifications, benefits, leading manufacturers, pricing, operation and maintenance for prospective buyers to make an informed procurement decision.
With proper machine selection, operational discipline and regular care, downspout roll former from China can boost rain gutter production significantly and deliver a quick return on investment.