ال ag classic rib roof roll forming machine is an essential equipment for manufacturing ribbed metal roofing panels and decking sheets efficiently. This guide provides a comprehensive overview of ag classic rib roof roll forming machines, their working, types, applications, specifications, suppliers, installation, operation, maintenance, and selection criteria.
Overview of Ag Classic Rib Roof Roll Forming Machine
ال ag classic rib roof roll forming machine is used to form metal coil into roofing panels and sheets with ribbed or corrugated profiles. These machines utilize a series of roller dies to bend and shape the sheet metal into the desired rib shapes as it passes through the different forming stations.
Some key features of ag classic rib roof roll formers:
High production efficiency and speeds up to 25 m/min
Capability to produce different rib profiles and heights
Quick roll change design allows fast profile changes
Robust all-steel welded construction for durability
Advanced PLC control system for precision and automation
Safety features like sheet guiding equipment and protections
Main Components
The major components of an ag classic rib roof forming machine include:
| Component | Description |
| --- | --- |
| Uncoiler | Holds metal coil and feeds into the roll former |
| Feeder | Feeds metal sheet into forming stations at set speed |
| Forming stations | Each station progressively forms the rib shape |
| Punching unit | Punches holes if required |
| Hydraulic system | Provides power for forming operations |
| Control system | PLC and HMI for controlling and monitoring machine |
| Roll-changing system | Allows quick roll die change for profile change |
Working Principle
The working principle involves:
Sheet metal coil loaded onto the powered unwinding reel
Sheet gets fed into the feeder at a constant speed
Forming rollers bend the sheet progressively into the ribbed shape
Punching unit punches holes if needed for fastening
Formed corrugated sheet gets collected continuously at the exit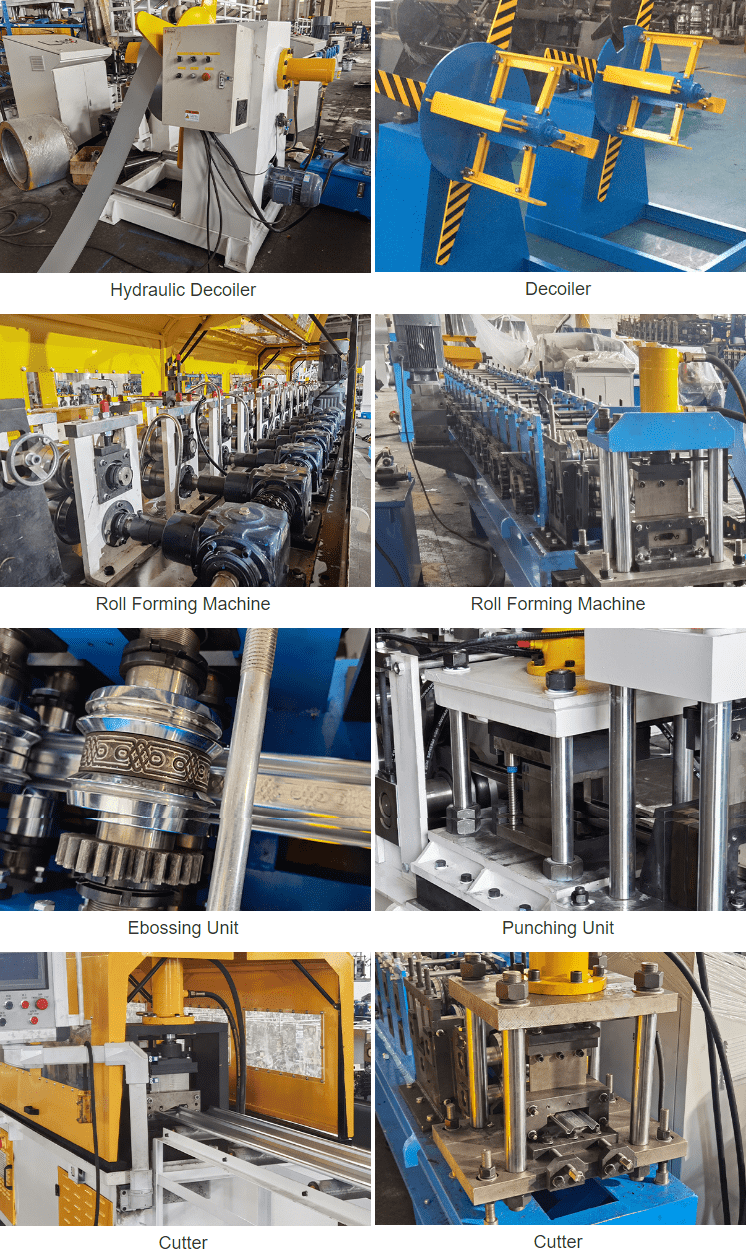 Types of Ag Classic Rib Roof Forming Machines
Ag classic rib roof formers are available in different types based on:
1. Number of corrugations:
Single rib machine
Double rib machine
Multi-rib machine
2. Roofing sheet width capacity:
Narrow width up to 800mm
Standard width up to 1250mm
Wide width up to 2100mm
3. Rib sheet metal thickness:
Light gauge 0.35 – 0.8mm
Regular gauge 0.8 – 2.0mm
Heavy gauge above 2.0mm
4. Level of automation:
Manual rattling and roll change
Semi-automatic with powered features
Fully automatic PLC-controlled
Applications of Rib Roof Forming Machines
Ag classic rib roof forming machines are used to manufacture:
Trapezoidal roofing sheets
Corrugated roofing sheets
Decking and structural sheets
Cladding sheets
Wall panel profiles
Roof drainage sheets
Architectural and decorative sheets
These ribbed metal roofing products are used widely in:
Industrial and commercial buildings
Warehouses and factories
Residential roofing
Steel structure buildings
Pre-engineered buildings
Agricultural sheds and outhouses
Roof drainage and rainwater collection
Technical Specifications
The main technical specifications of ag classic rib roof formers include:
| المعلمات | Specifications |
| --- | --- |
| Coil Width Capacity | 800mm to 2100mm |
| Sheet Thickness | 0.35mm to 3mm |
| Rib Height Range | 15mm to 150mm |
| سرعة التشكيل | 8 – 25 m/min |
| Number of Stands | 16 – 24 stands |
| مزود الطاقة | 380V or 415V AC, 3 Phase |
| Motor Power | 5.5kW to 11kW |
| Machine Dimensions | 8000mm x 1200mm x 2200mm |
| Machine Weight | 8000kg to 12000kg |
Design and Construction
The ag classic rib roof forming machine has an all-steel fabricated construction and is designed for heavy-duty performance:
إطار – Made from welded steel plates and beams providing rigidity
Roll housings – Fabricated from thick steel plates for stability under loads
Rolls – Hardened steel with ground and polished forming surfaces
Bearings – Heavy-duty roller bearings in cast iron housings
Transmission – Hardened and ground gears and sprockets with chains
** Guards** – Steel sheet metal guards for safety protections
PLC Control – Controls all electric motors, sensors, operations and HMIs
The structural design ensures minimal vibrations, precision forming and long service life.
Roll Tooling Design Standards
The roll dies and tooling for the ag classic rib roof former are designed as per international standards:
Rib profile shape as per AISI, AS/NZS standards
Roll materials follow DIN EN10263 steel grades
Hardness levels between 50-60 HRC
Surface roughness of Ra 0.4μm to 0.8μm
Roll concentricity within 0.005mm
ISO 2768 tolerance grades for rib dimensions
RoHS compliance for eco-friendliness
Precision roll tooling is essential for producing high-quality ribbed roofing sheets efficiently.
Manufacturing Capabilities
The ag classic rib roof forming machine can manufacture roofing sheets and panels to meet industry requirements:
Sheet Width
Narrow width up to 800mm
Standard width up to 1250mm
Wide width up to 2100mm
Sheet Thickness
Light gauge 0.35mm to 0.8mm
Regular gauge 0.8mm to 2.0mm
Heavy gauge over 2.0mm
Rib Dimensions
Height from 15mm to 150mm
Pitch/spacing from 180mm to 350mm
Hole Punching
Holes diameter up to 20mm
Hole spacing/pitch up to 300mm
Round, slotted, elongated holes
Advanced Features
Quick roll changing
Edge curling device
Automatic stacker
Profile counting
Entry tables and exit conveyors
Suppliers and Pricing
Some leading manufacturers and suppliers of ag classic rib roof forming machines include:
| Supplier | Location | Price Range |
| --- | --- | --- |
| Ag Machinery | China | $10000 – $50000 |
| RoofRoll Tech | الهند | $15000 – $80000 |
| Railelectric Corp | Europe | $18000 – $100000 |
| Jindezhen Machinery | China | $12000 – $60000 |
| Hansoo Engineering | South Korea | $20000 – $90000 |
Entry-level – $15000 to $30000
Mid-range – $40000 to $60000
Heavy-duty – $80000 to $150000
Pricing varies based on speed, width, automation levels, and optional accessories.
Installation and Commissioning
Installing an ag classic rib roof forming machine involves:
Positioning on a flat leveled floor
Leaving minimum 1000mm space around for access
Leveling within 0.5mm tolerance using shims
Securing foundation bolts to the floor
Aligning machine sections and drives
Checking power supply connections
Filling lubricants in gears and bearings
Testing running empty and with sheets
Setting machine parameters and limits
Testing safety functions
Debugging and optimizing operations
Vendors provide installation guidance documentation and certified technicians to support the roll forming machine installation.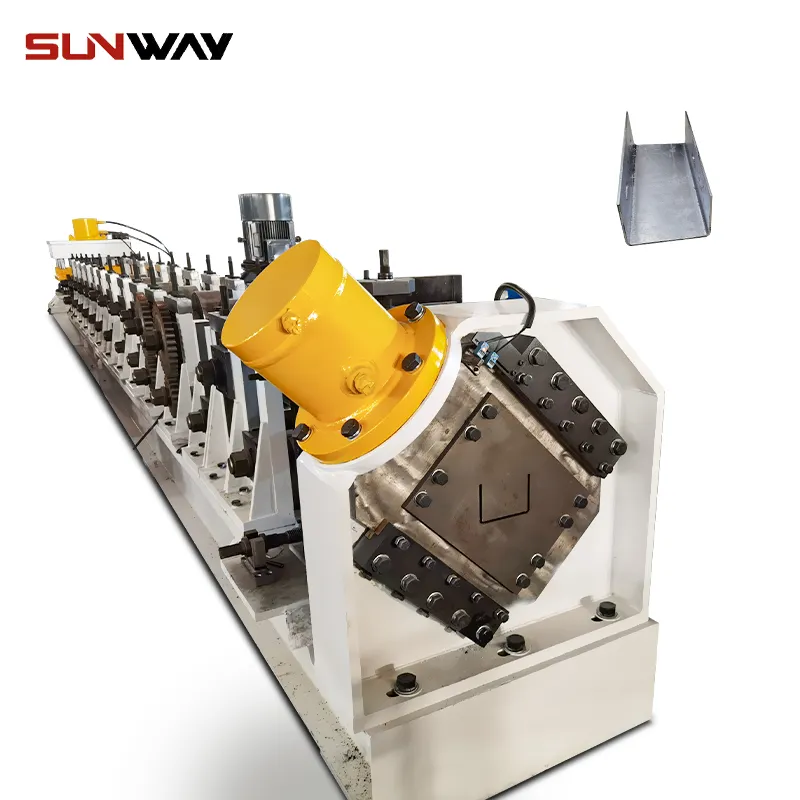 Operation and Working
Operating the ag classic rib roof forming machine involves:
Pre-checks
Power supply availability
Lubrication levels
Hydraulic oil level
Emergency stop check
Rolls condition and clearance
Feeder ready
Starting
Switch ON control power
Start hydraulic pumps
Jog feeder and rolls slowly to check
Set speed and parameters
Thread the sheet through the rolls
Activate edge guidance system
Increase speed progressively to production
Running
Monitor roll current and hydraulics pressure
Check formed sheets quality continuously
Watch for any abnormal noise or vibration
Ensure steady sheet flow without jamming
Regulate parameters to control profile dimensions
Count produced sheets
Stack sheets properly at exit conveyor
Stopping
Reduce speed gradually to zero
Retract feeder to last formed sheet position
Switch off hydraulic pumps
Switch off control power
Properly collect and stack remaining sheets
Maintenance and Inspection
To sustain performance, the ag classic rib roof forming machine needs regular maintenance:
Daily
Clean machine surfaces and remove sheet debris
Check hydraulics, lubricants, oil levels
Check for abnormal temperature or noise
Check all fasteners and bolts are tight
Check roll edge clearances
Monthly
Clean and inspect all bearings and gears
Grease bearings and lubricate drives
Verify alignments, backlash, tolerances
Check wear on guiders and roll surfaces
Quarterly
Test emergency stop and safety functions
Check electrical connections and panel
Verify hydraulic hoses and cylinders
Change hydraulic oil and filter
Yearly
Complete inspection of components
Flush coolant and lubrication systems
Replace worn parts like belts, chains
Coat machine surfaces for corrosion protection
Keeping logbooks and maintenance schedules is beneficial for proper upkeep.
How to Select the Rib Roof Forming Machine
Selection of the ideal ag classic rib roof forming machine depends on:
1. Production Requirements
Roofing sheet dimensions
Rib profile and height
Metal thickness and grade
Output speed and volume
2. Machine Specifications
Sheet width capacity
Thickness range
Number of corrugation stations
Speed and power
3. Automation Level
Manual, semi-auto, or fully auto
Type of control system
Handling and stacking needs
4. Quality Standards
Roll tooling design standards
Precision and repeatability
Vibration control features
Sheet guiding method
5. Supplier Credentials
Experience and past installations
Local presence for support
Compliance to safety standards
Roll tooling design expertise
Training services offered
Selecting the right ag classic rib roof forming machine model ensures the roofing production requirements are fulfilled reliably and efficiently.
Comparison Between Machine Models
Here is a comparison between two ag classic rib roof forming machine models:
| المعلمات | Model RRF-16 | Model RRF-20 |
| --- | --- | --- |
| Sheet Width | 1000mm | 1500mm |
| Sheet Thickness | 0.5-1.6mm | 0.4-2.0mm |
| Rib Height | 25-120mm | 20-150mm |
| Speed | 10m/min | 15m/min |
| قوة | 7.5kW | 11kW |
| Stands | 16 | 20 |
| Control | Semi-auto | Fully-auto PLC |
| Roll Change | Manual | Powered |
| Price | $45000 | $95000 |
The RRF-20 is wider, more automated, faster and can handle heavier sheets compared to RRF-16. But the RRF-16 is adequate for small to medium production needs and is lower cost.
Pros and Cons
Advantages
High production efficiency and output
Flexible to produce different rib profiles
Durable and robust construction
Advanced safety protections
Lower operating costs than alternate methods
Consistent quality and close tolerances
Limitations
High initial investment cost
Regular maintenance required
Roll changing needs downtime
Limited sheet metal strength and ductility
Need skilled labor for operation and maintenance
Fixed setup restricts profile changes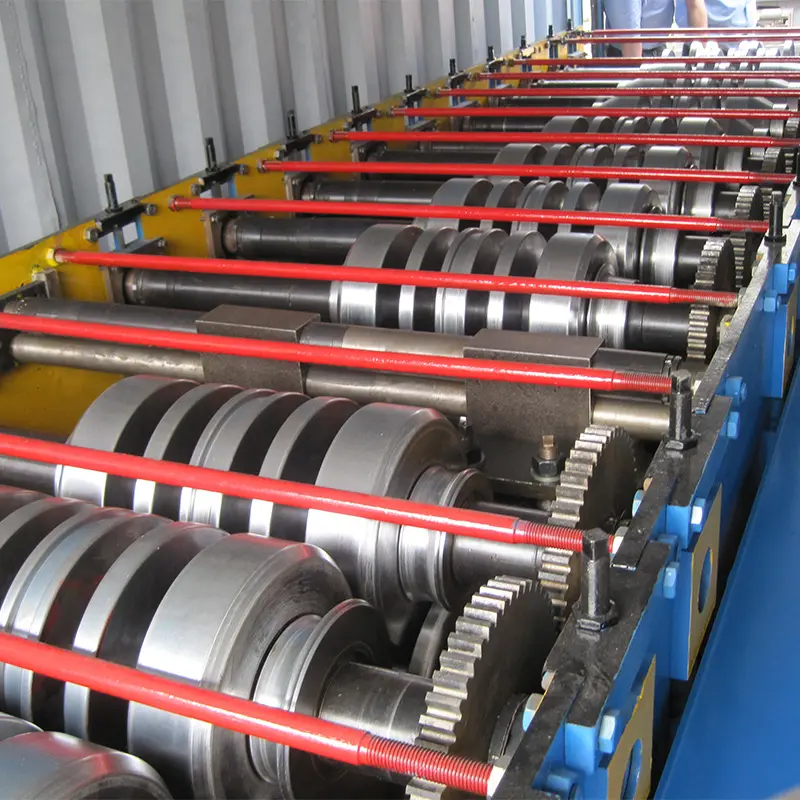 التعليمات
Q: What sheet metal can be formed on these machines?
A: Commonly Mild steel, galvanized steel, aluminum, stainless steel within ductility limits.
Q: What rib profiles can be produced?
A: Trapezoidal, sinusoidal, curved, angular profiles of different heights and spacing.
Q: What are the key maintenance aspects?
A: Lubricating rolls and drives, inspecting tooling wears, checking alignments and clearances, testing safety systems.
Q: What sheet guiding methods are used?
A: Roller side guiders, inner expandable guiders, edge pressing rolls, steering rolls.
Q: What automation levels are available?
A: Manual handling, semi-auto with power features, and fully automated with stacking.
Q: How quick is the roll changing process?
A: 10-20 minutes for manual changing. Less than 5 minutes for automatic powered roll changing.
Q: What secondary operations can be integrated?
A: Cutting, hole punching, notching, length cutoff, edge hemming and molding.
Q: What factors affect the price?
A: Width, speed, automation level, power specs, added accessories like auto stacker.
استنتاج
The ag classic rib roof roll forming machine provides efficient on-site production of quality ribbed roofing sheets. With a range of models, widths, automation levels, speeds, and capabilities – these roll formers meet requirements for small workshops to large industrial roofing manufacturers. By selecting the appropriate machine specifications based on the roofing profiles, metal properties, quality needs and production volumes – manufacturers can benefit from fast setup, lower operation costs, and flexible manufacturing. With regular maintenance and skilled operation, the ag classic rib roof forming machines perform reliably for years of roofing production.