C purlins are widely used for roofing and wall framing in industrial and commercial buildings. This article provides a comprehensive guide on آلة تشكيل لفة المدادة prices from different manufacturers.
Overview of c purlin roll forming machine price
C purlin roll forming machines are used to form continuous C-shaped purlin sections from metal coil. The purlins serve as secondary roof and wall supports.
Key features:
High production speeds up to 40m/min
Capable of forming thick-gauge sheets
Flexible roll tooling for size changes
Robust steel frame construction
Advanced safety protections
Easy operation and maintenance
Main Components
The major components include:
| Components | Description |
| --- | --- |
| Uncoiler | Holds the sheet coil for de-coiling |
| Feeder | Feeds metal sheet into forming stations |
| Forming stands | Progressively form C-shape with rollers |
| Hydraulic system | Provides power to work stations |
| Control system | Automates and monitors the machine |
| Cutoff shear | Cuts purlins to length |
Working Principle
The working principle involves:
Sheet coil loaded and fed into the feeder
Forming rollers progressively bend the sheet
Hydraulic rams provide force to stations
Formed C-purlin cut to length by shear
Produced purlins stacked automatically
Types of C Purlin Roll Formers
C purlin roll forming machines are available in different types:
Number of Roller Stands
10 stands for light sections
16 stands for regular sections
21 stands for heavy sections
Automation Level
Manual material handling
Automatic stacking units
Fully automated with conveyors
Production Speed
Regular speed up to 25 m/min
High speed up to 40 m/min
Sheet Width
Narrow up to 600mm
Medium up to 800mm
Wide up to 1000mm
Applications of C Purlin Machines
The C purlins produced find uses in:
Roof purlins in industrial buildings
Wall girts in pre-engineered structures
Cladding supports in factories
Rail and solar panel supports
Mezzanine and storage platforms
Agricultural and warehouse sheds
Commercial and aviation hangars
C purlins provide an efficient and strong building framework for roofs and walls.
Technical Specifications
The key technical specifications include:
| المعلمات | Typical Values |
| --- | --- |
| سرعة التشكيل | 18 – 40 m/min |
| Sheet Thickness | 1.2 – 3 mm |
| Sheet Coil Width | 600 – 1000 mm |
| Purlin Height | 100 – 300 mm |
| Purlin Length | 2500 – 12000 mm |
| Roller Stands | 10 – 21 stands |
| Main Drive Motor | 7.5kW to 22kW |
| مزود الطاقة | 380V, 50Hz, 3 Phase |
| Machine Weight | 8000 – 15000 kg |
Advanced machines can form up to 8mm thick sheets and produce very long span purlins.
Design and Construction
The C purlin roll former has a sturdy fabricated steel structure:
إطار – Made from welded steel I-beams for rigidity
Housing – Fabricated from thick steel plates
Rolls – Hardened alloy steel with machined grooves
Bearings – Heavy-duty housed units to take radial loads
Drives – Ground gearbox with sprocket-chain drive
Controls – PLC + HMI touchscreen controls
Safety – Full safeguarding as per CE norms
Precision machined components and sturdy construction provide reliability and durability to the machine.
Roll Tooling Design Standards
The roll dies follow international standards:
C purlin dimensions as per AISI, AS/NZS
Rolls made from DIN EN10263 grade steel
Optimal hardness between 50-60 HRC
Surface finish of Ra 0.4μm to 0.8μm
Roll concentricity within 0.01mm
ISO tolerances for profile dimensions
RoHS compliance for eco-friendliness
The tooling quality ensures high output standards.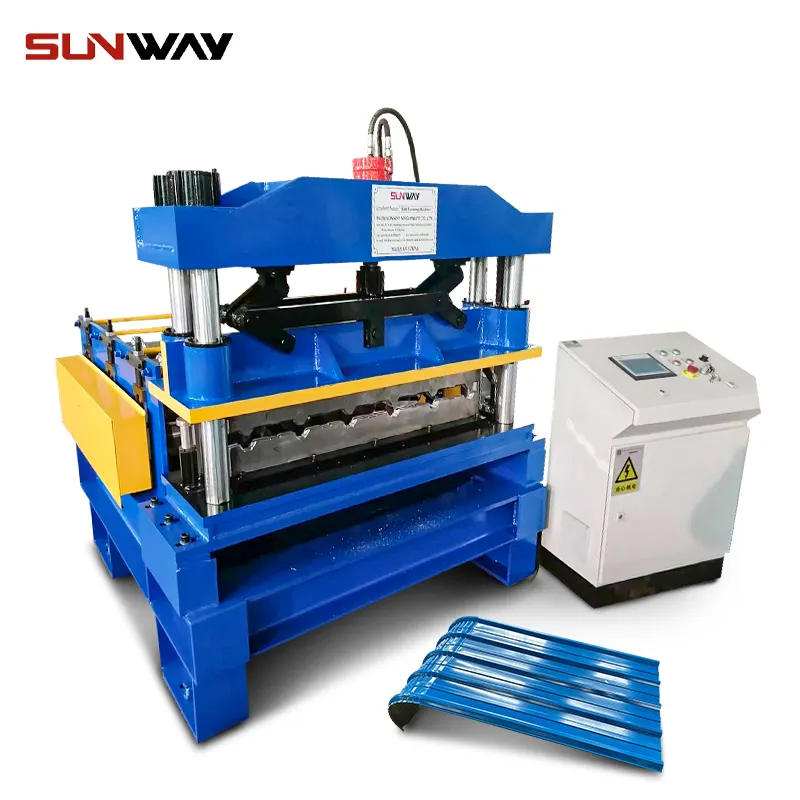 Manufacturing Capabilities
The C purlin roll former can handle:
Sheet Thickness
Light gauge sheets of 1.2 to 2.0mm
Heavy gauge sheets of 2.5 to 8.0mm
Sheet Width
600mm for small sections
800mm for standard sections
1000mm for wide flange sections
Section Heights
100mm to 300mm in different sizes
Section Length
Up to 12m long purlins in NC cutoff machines
Holes and Slots
Hole punching up to Ø20mm
Slot punching for easy installation
Optional Accessories
Decoilers for sheet handling
Automatic stackers
Online cutting and hole punching
Packaging strappers
Suppliers and Pricing
Some major C purlin roll former manufacturers and price range:
| Manufacturer | Location | Price Range |
| --- | --- | --- |
| Roswu Tech | China | $35,000 – $55,000 |
| Anhui Cechen | China | $45,000 – $88,000 |
| Kingsland Engineering | UK | $55,000 – $120,000 |
| Metform | Turkey | $48,000 – $100,000 |
| Shaanxi Best | China | $28,000 – $65,000 |
Cost Factors:
Speed and output requirements
Level of automation
Optional accessories
Production volume discounts
Entry-level – $35,000 to $55,000
Advanced – $85,000 to $150,000
Higher speed and automated machines cost more but deliver faster payback from high productivity.
Installation and Commissioning
Installing a C purlin roll former involves:
Positioning the machine on leveled ground
Securing the machine properly to the floor
Removing securing bolts and foam supports
Checking and tightening all fasteners
Leveling the machine with precision
Connecting electric power supply
Checking direction of motor rotation
Installing hydraulic oil and lubricants
Jogging the machine for initial checks
Setting machine parameters and limits
Testing safety functions
Running in Produktion mode and optimizing
The machine vendor provides complete installation guidelines in the product documentation. Certified technicians also support the commissioning process. Proper installation ensures smooth startup and working of the purlin forming line.
Operation and Working
Operating a C purlin roll former requires:
Pre-operation checks:
Machine safety guards in place
Electrical and hydraulic systems ready
Roll gap spacing and alignment
Feeder ready with sheet coil
Conveyors and exit table clear
Starting procedure:
Switch ON main electrical supply
Start hydraulics station and set pressure
Jog inching to check forming stations
Set process parameters on control panel
Thread sheet through forming rollers
Start automatic operation cycle
Running mode:
Monitor current consumption by motors
Check formed purlin quality continuously
Watch for any abnormal noise or vibration
Observe line speed and make adjustments
Count produced purlins with length inspection
Stack finished purlins properly by end-type
Stopping and shutdown:
Stop the line by pressing emergency stop button
Switch off main power after line stops fully
Remove any remaining sheets from the line
Clean machine and coil debris
Safety:
Ensure safeguards are always in working condition
Allow maintenance only by trained personnel
Follow standard safety procedures during operation
Proper operating guidelines must be followed for optimum performance.
Maintenance and Lubrication
Regular maintenance activities:
Daily:
Clean machine debris and sheet dust
Check hydraulic oil level and refill
Inspect bearings, gears for abnormalities
Check and tighten loose parts and fasteners
Weekly:
Grease bearings and gearbox
Check tooling wear and clearances
Verify pneumatic system for leaks
Inspect electrical connections
Monthly:
Inspect all safety features
Check alignment of shafts, gears, motors
Test emergency stop function
Adjust roll gap spacing if required
Yearly:
Complete inspection and overhaul
Replace worn consumables
Update machine software
Implement preventive modifications
Coat machine for corrosion protection
Proper maintenance as per schedule improves availability and lifespan.
How to Select Right C Purlin Machine
The selection factors for the ideal C purlin roll former include:
1. Production Requirements
Type of purlin sections
Metal thickness and strengths
Output volume needed
2. Machine Capabilities
Forming speed
Sheet width and thickness range
Purlin size range
Automation level
3. Technical Factors
Roller stand design
Roll tooling quality
Drives and power capacity
Control systems
4. Additional Features
Coil handling options
Punching and cutting
Stackers and conveyors
5. Vendor Credentials
Experience and past installations
Local support capabilities
Compliance with standards
Design expertise
Value-added services
Comparing machines on these parameters ensures the right machine selection for cost-effective purlin production.
Comparison Between Two Models
Below is a comparison between two C purlin roll former models:
| Machine | Maxima RM-20 | Ultima NU-25 |
| --- | --- | --- |
| Speed | 25 m/min | 35 m/min |
| Sheet Width | 800mm | 1000mm |
| سماكة | 1.5 – 3mm | 1.2 – 4mm |
| Purlin Height | 80 – 250mm | 100 – 300mm |
| قوة | 15kW | 22kW |
| Automation | Auto cut-off | Fully auto stacker |
| Controls | PLC | HMI + PLC |
| Price | $92,000 | $128,000 |
The Ultima NU-25 has higher speed, width, automation and power. But the Maxima RM-20 provides a more economical solution for medium production needs.
Pros and Cons
Advantages
High production rates and output
Robust construction for longevity
Flexible roll dies for size changes
Consistent and precise C sections
Low operating costs
High-quality end products
Limitations
High initial capital investment
Regular maintenance and servicing
Roll changing needs downtime
Limited sheet thickness
Fixed purlin sizes as per tooling
Requires skilled workforce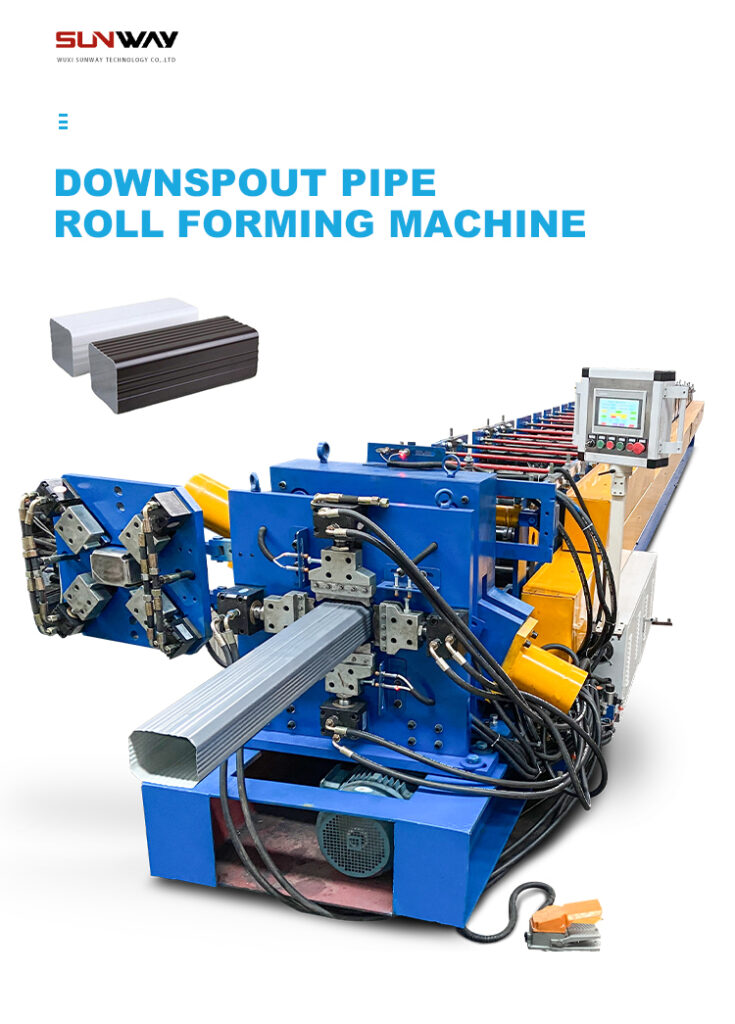 FAQs
Q: What materials can be formed into C purlins?
A: Typically low carbon steel sheets, galvanized steel, and aluminum sheets.
Q: What thickness is recommended for purlin sections?
A: 1.5 to 3 mm sheets for regular purlins. Up to 6mm sheets for heavy purlins.
Q: What determines the price of the machine?
A: Speed, automation level, power specs, sheet width capacity, and optional accessories impact the pricing.
Q: What is the typical production rate?
A: 25-40 meters per minute based on model, sheet thickness, and purlin size.
Q: Are slotted/holed purlins available?
A: Yes, punching units can provide slotting or holes for easy installation.
Q: How quick is size changeover on the line?
A: Roll changing takes 10-20 minutes. Section change needs 1-2 hour roll adjustment.
Q: What safety features are provided?
A: Emergency stops, limit switches, light curtains, door interlocks, safeguarding, etc.
Q: How should purlin quality be inspected?
A: Check dimensions at multiple points, flange buckling, twist, bow, inside radii, etc.
استنتاج
The C purlin roll forming machine enables efficient mass production of cold-formed C-sections for the construction industry. With advanced forming technology, robust build, and automation – these machines offer high production rates, flexible operations, and consistent quality output to meet structural building needs. The price range starts from $35,000 for basic models and goes up to $150,000 for high-capacity automated lines. By selecting the appropriate C purlin roll former based on production goals, throughput, line speed, and budget – manufacturers can benefit from an optimized and cost-effective purlin forming solution.