Steel gas tube cold roll forming machines are industrial equipment used for bending and forming steel strips into hollow tube sections for gas conduction applications. These machines are highly customizable and fully automated to produce steel gas tubes in various sizes and profiles efficiently.
This comprehensive guide will provide a detailed overview of steel gas tube cold roll forming machinery covering:
Overview of Steel Gas Tube Cold Roll Forming Machines
Steel gas tube cold roll forming machines form steel strips into round, square, or rectangular hollow tubes using a series of progressively arranged rollers.
Anahtar özellikler:
Highly automated, precision forming
Customizable for various tube sizes and profiles
Efficient and cost-effective tube production
Suitable for mass production applications
Forms tubes with excellent surface finish and dimensional accuracy
Reduce material waste compared to other forming processes
Ana Bileşenler:
| Bileşen | Fonksiyon |
| --- | --- |
| Açıcı | Feeds raw steel coil strip |
| Besleyici | Controls strip feed speed |
| Şekillendirme istasyonları | Progressively bend strip into tubular shape |
| Kaynak makinesi | Welds formed tube longitudinally |
| Kesme cihazı | Cuts formed tubes to length |
| Kontrol sistemi | Controls and automates the process |
Çalışma Prensibi:
The steel strip from the coil is fed into the machine at a constant speed. It passes through a series of forming rollers that gradually bend it into the desired tubular shape. The joining edges are then welded together longitudinally to form a closed section tube. The formed tube is cut to the required length by cutoff dies. The whole process is automated by the control system.
Main Benefits:
High production efficiency and speeds
Düşük operasyonel maliyetler
Minimum material waste
Consistent product quality
Daha düşük enerji tüketimi
Simple design and ease of use
Low maintenance requirements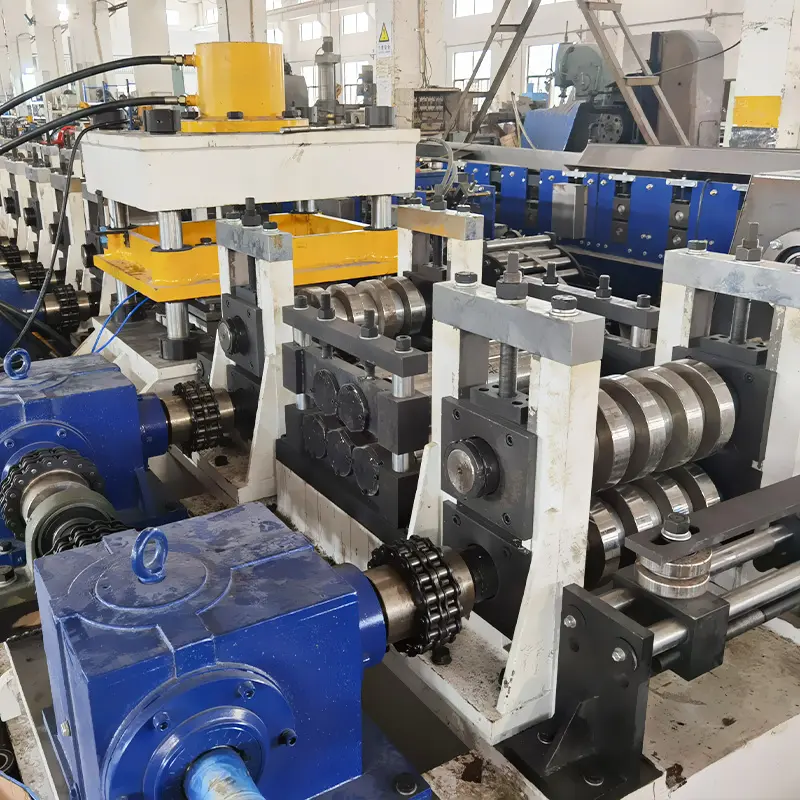 Types of Steel Gas Tube Cold Roll Forming Machines
| Makine Tipi | Açıklama |
| --- | --- |
| Dikey | Roller stations arranged in a vertical inline configuration |
| Yatay | Rollers stations in horizontal configuration |
| Rotary | Tube formed by rotating strip around fixed mandrel |
| Spiral | Helical forming stations to produce spiral welded tubes |
Vertical Steel Gas Tube Cold Roll Forming Machine
Inline vertical forming stations
Floor space efficient design
Ideal for long length tubes
Limited size and section variations
Horizontal Steel Gas Tube Cold Roll Forming Machine
Forming stations arranged horizontally
Larger size range capabilities
Wider product variations possible
Daha fazla zemin alanı gerektirir
Rotary Steel Gas Tube Cold Roll Forming Machine
Strip wrapped around fixed mandrel
Compact installation, flexible production
Fast production speeds
Limited to round tubes
Spiral Steel Gas Tube Cold Roll Forming Machine
Helical forming stations
High production speeds
Suitable for submerged arc welding
Limited size range
Key Specifications
| Parametreler | Menzil |
| --- | --- |
| Tüp boyutları | 10 – 250 mm |
| Kalınlık | 0,3 - 3 mm |
| Şekillendirme hızı | 10 - 40 m/dak |
| Üretim kapasitesi | 10 – 120 tubes/min |
| Ana tahrik gücü | 3 – 55 kW |
| Overall dimensions | 10x3x3 – 50x8x6 m |
| Machine weight | 2000 – 20000 kg |
Applications of Steel Gas Tube Cold Roll Forming Machine
Steel gas tubes from these machines find uses in:
Gas pipelines for distribution
Structural sections for constructions
Mechanical and automotive parts
Mobilya ve depolama sistemleri
Agricultural, fencing, and sports sectors
Choosing a Suitable Steel Gas Tube Cold Roll Forming Machine
Consider the following when selecting a suitable steel gas tube cold roll forming machine:
Tube specifications: Size, section profile, length, thickness, dimensional accuracy
Production requirements: Output rate, line speed, automation level
Space constraints: Floor area available for installation
Power requirements: Main drive motor capacity and power source
Raw material: Steel coil strip properties and availability
Bütçe: Investment costs, operational costs
Production scale: Low, medium or high volume needs
Product variations: Range of tube sizes and sections needed
Future expansion scope: Potential increase in output or product range
Supplier reputation and support: Machine warranty, after-sales service
Leading Steel Gas Tube Cold Roll Forming Machine Manufacturers
| Şirket | Konum |
| --- | --- |
| ABS Industries | İtalya |
| Gasparini | İtalya |
| Formtek | BIRLEŞIK KRALLIK |
| Hangzhou Rulo Şekillendirme Makineleri | Çin |
| Lebranc | Çin |
| LT Industries | Hindistan |
| Metform | Türkiye |
| Samco Makine | Çin |
| Jinan Paxtec | Çin |
Cost Analysis and Pricing Range
Equipment Cost:
Small machine: $35,000 to $60,000
Medium machine: $60,000 to $150,000
Large machine: $150,000 to $300,000
Additional charges for customization
Operational Costs:
Labor: 1-2 operators
Power consumption: up to 20 kW
Maintenance: approx. 2% of machine cost
Tube Price Range:
Small sections: $2 – $4 per meter
Medium sections: $4 – $8 per meter
Large sections: $8 – $12 per meter
Prices vary based on order quantity and specifications
Key Considerations for Steel Gas Tube Cold Roll Forming Machine Selection
Determine tube size range, dimensions, profiles required
Production output rate in meters/minute
Level of automation and precision needed
Makine kurulumu için mevcut alan
Power supply and utilities available
Estimated annual operating hours
Coil strip properties and availability
Options for edge welding and tube cutting
Budget constraints for equipment purchase
After-sales support from the supplier
Possibilities for future upgrades or expansion
Comparing the pros and cons, capacity, features, and prices of different machine models will help select the optimal cold roll forming line.
Installing a Steel Gas Tube Cold Roll Forming Machine
Proper installation is key for optimum performance of a steel gas tube cold roll forming machine:
Site preparations:
Level concrete or steel foundation
Sufficient space around the machine
Proper lighting and ventilation
Power and utility supply arrangements
Receiving inspection:
Check machine parts against packing list
Look for any damage during transportation
Positioning:
Use crane or forklifts to place machine at prepared location
Anchor machine properly to foundation
Levelling and alignment:
Level forming sections and rollers precisely
Align machine components and drives
Verify parallelism of rollers
Connections:
Connect hydraulic, pneumatic, lubrication, and electrical supply lines
Install safety guarding around moving parts
Trial runs:
Set up machine without load as dry test
Check working motions and interlocks
Confirm designed forming operations
How to Operate a Steel Gas Tube Cold Roll Forming Machine
Pre-checks:
Inspect raw material coil dimensions and quality
Verify lubrication levels on all moving components
Examine all machine parts for wear or damage
Ensure all safety guards are in place
Startup:
Switch on main power supply to control panel
Activate hydraulic power pack and lube oil pump
Jog machine drive to check direction of rotation
Set line speed, tube length, and other parameters
Operation:
Fix coil reel on uncoiler mandrel
Feed strip through leveler/straightener
Thread strip through forming sections
Adjust hold-down rolls for stable feeding
Start automatic running at set speed
Monitor tube forming process and quality
Inspect welded tubes
Stack finished tubes by overhead crane
Shutdown:
Stop the line by pushing emergency stop button
Switch off hydraulic power pack and main motor
Clean machine by removing metal scrap and dust
Lubricate all moving parts as per schedule
Güvenlik:
Wear protective gloves, goggles, and helmet
Keep hands away from running machinery
Ensure proper machine guarding is in place
Follow standard safety procedures at all times
Maintenance Tips for Steel Gas Tube Cold Roll Forming Machines
Clean machine daily to prevent dust buildup
Lubricate bearing, gears, chains as per manual
Check hydraulic oil and top up if needed
Monitor wear on forming rollers and guides
Verify pneumatic system for air leakages
Examine welder condition and electrode wear
Confirm tightness of all bolts, fasteners, couplings
Check electrical wiring and control circuits for issues
Verify machine alignment and roller parallelism
Repair or replace any damaged or worn out components
Schedule preventive maintenance during plant shutdowns
Keep maintenance records for analysis and improvements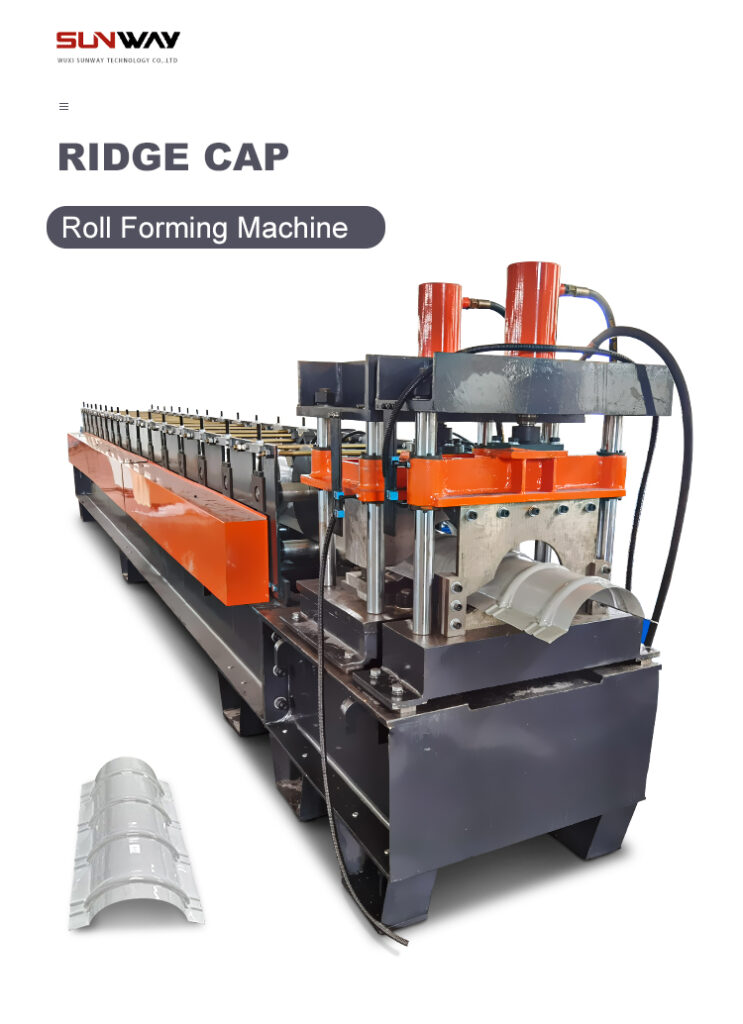 Steel Gas Tube Cold Roll Forming Machine Troubleshooting
| Sorun | Olası Nedenler | Düzeltici Faaliyetler |
| --- | --- | --- |
| Strip slippage | Worn gripper rolls, low friction | Replace gripper rolls, improve lubrication |
| Uneven strip movement | Misaligned forming sections | Realign machine properly, level foundation |
| Strip tears during forming | Worn/damaged forming rolls | Repair or replace forming rolls |
| Dimension errors in tubes | Incorrect roller adjustment | Re-set rollers to design gap settings |
| Bad tube welds | Improper weld settings, worn welder | Adjust welder parameters, replace welder tips |
| Tube shape defects | Misaligned forming stations | Realign forming sections, verify parallelism |
| Excessive machine vibration | Loose parts, unbalanced rotation | Tighten loose parts, balance rotating parts |
| Control malfunctions | Electrical faults, sensor issues | Check wiring, replace faulty components |
Careful troubleshooting and maintenance helps maximize uptime and extend service life of the machine.
How to Choose a Steel Gas Tube Cold Roll Forming Machine Manufacturer
When choosing a steel gas tube cold roll forming machine manufacturer, check for:
Industry experience and reputation
Range of machine capacities offered
Technological expertise and innovation
Quality focus and process maturity
Customization and modification capabilities
Reasonable pricing and shipment lead times
Teknik sorulara yanıt verebilirlik
Own manufacturing facilities
Quality control and testing procedures
After-sales service and spare parts supply
Installation, training and documentation support
Local presence and global footprint
Selecting an established manufacturer with proven know-how, quality focus and good after-sales support reduces project risk and ensures long-term equipment performance.
Steel Gas Tube Cold Roll Forming Machines: Pros vs Cons
Avantajlar:
High production speeds and output rates
Excellent dimensional precision and tube finish
Minimum malzeme israfı
Düşük işletme maliyetleri
Automated and efficient process
Flexible production capabilities
Compact equipment size
Sınırlamalar:
High initial purchase cost
Complex design and customization
Require skilled maintenance and operation
Limited tube shape and profile options
Restricted raw material properties
Sıkça Sorulan Sorular
Q: What materials can be used for steel gas tube production?
A: Low carbon steels, HSLA steels, galvanized and stainless steels of suitable properties can be roll formed into gas tubes.
Q: What is the typical tolerance on tube dimensions?
A: Dimensional accuracy within ±0.5 mm can be achieved for tube diameters and ±1 mm on tube length.
Q: What is the maximum length of tubes produced?
A: Standard lengths up to 12 meters can be produced. Extended lengths possible with customized machines.
Q: Are square and rectangular tube sections possible?
A: Yes, square, rectangular, and oval tubes are possible with customized tooling.
S: Hangi güvenlik önlemleri gereklidir?
A: Safety guarding, emergency stops, operator training, protective gear, and safe working practices are essential.
Q: How are the tube ends prepared after cutting?
A: Tube ends are deburred and beveled to enable proper fittings and welding.
S: Tipik üretim oranı nedir?
A: Production rate ranges from 10-120 tubes per minute based on machine capacity.
Q: How to determine correct machine capacity for production needs?
A: Consider current and future tube requirements, production volumes, line speed, and shifts per day. Oversize machine by 20% for flexibility.
Q: What maintenance is required?
A: Daily cleaning, lubrication, periodic roll replacement, hydraulic system care, electrics and wiring checks are key.
Q: What is the typical machine lifetime?
A: Properly maintained machines will deliver over 15 years of reliable production.