Steel silo roll forming machines are used to manufacture corrugated steel silos for storing bulk materials like grains, pellets, or powders. Steel silos provide weatherproof and durable storage and are easy to transport and assemble. This guide covers everything you need to know about steel silo roll forming equipment.
Çelik Silo Rulo Şekillendirme Makinelerine Genel Bakış
Steel silo roll forming machines form corrugated steel sheets into cylindrical or conical silo bodies using a series of roller dies. The corrugated steel provides extra strength and rigidity to the silo structure.
Types of Steel Silo Roll Forming Machines
There are two main types of steel silo roll forming machines:
| Tip | Açıklama |
| --- | --- |
| Cylindrical Silo Roll Forming Machine | Forms straight walled cylindrical silos with fixed diameter |
| Conical Silo Roll Forming Machine | Forms conical silos with reducing diameter from bottom to top |
Main Components of a Steel Silo Roll Forming Machine
A steel silo roll forming machine consists of the following key components:
Uncoiler to feed steel coil strip
Guiding rollers to align and guide the strip
Forming rollers arranged in series to bend and corrugate the strip
Cutting device to cut formed sheets to length
Hydraulic system to apply pressure to rollers
Control panel to set and monitor forming parameters
Çalışma Prensibi
The corrugated steel sheet is gradually bent and formed as it passes through the progressively arranged roll forming stands. Each stand makes incremental bends and corrugations until the final silo profile is achieved. The formed sheets are then cut to length and stacked.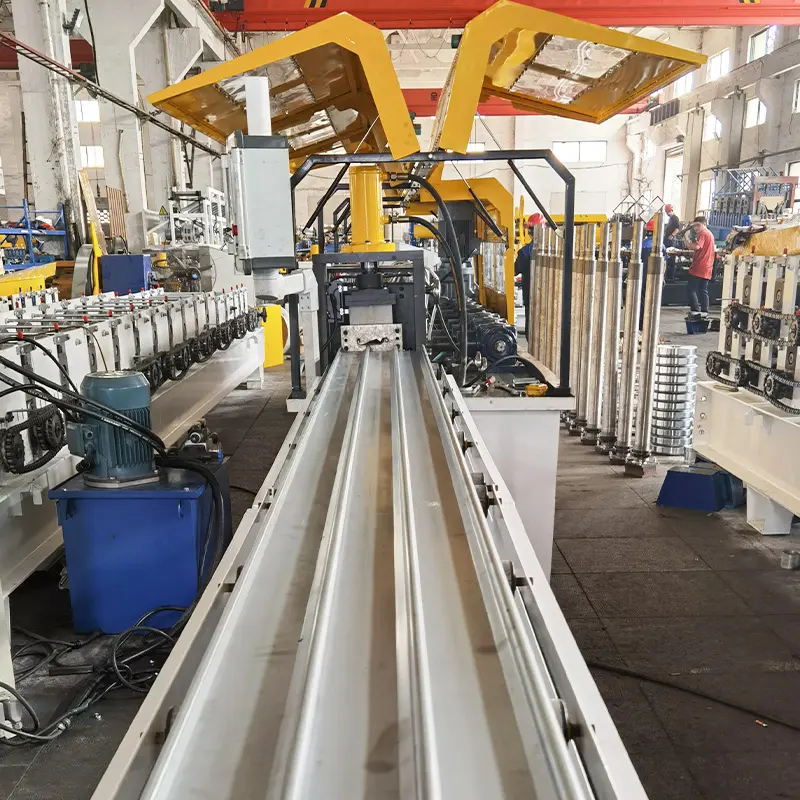 Applications and Uses of Steel Silo Roll Forming Machines
Steel silo roll forming machines are ideal for manufacturing:
| Uygulama | Detaylar |
| --- | --- |
| Grain silos | For storing cereals, grains, animal feed |
| Powder silos | For industrial powders like cement, minerals, chemicals |
| Pellet silos | For plastic, wood or feed pellets |
| Food storage silos | For grains, sugar, flour, etc. |
Steel silos provide efficient and low-cost bulk storage and handling solutions across various industries.
Specifications of Steel Silo Roll Forming Machines
The key specifications and parameters of steel silo roll forming machines include:
| Parametre | Tipik Aralık |
| --- | --- |
| Üretim Hızı | 10 – 15 m/min |
| Sac Kalınlığı | 0,3 - 1 mm |
| Sac Genişliği | 600 - 1000 mm |
| Silo Diameter | 1 – 6 meters |
| Silo Height | 2 – 30 meters |
| Güç Tüketimi | 5 - 15 kW |
Machines can be customized to suit specific production requirements. Advanced CAD and simulation software is used for precision engineering.
Design and Construction Standards
Steel silo roll forming machines need to conform to design standards for achieving the required quality and performance. The key standards are:
ISO 4306-1 – Vocabulary and symbols for silos and tanks
EN 1993-4-1 – Silos design standards
ASCE 7-16 – Minimum design loads for buildings and structures
GB50316-2013 – Chinese national standard for steel silo design
The structural design must account for loads, seismic effects, wind pressures as per applicable standards. High quality components and rigourous quality control is essential.
Tedarikçiler ve Fiyatlandırma
There are many manufacturers providing steel silo roll forming equipment globally. Indicative pricing is as follows:
| Tedarikçi | Konum | Fiyat Aralığı |
| --- | --- | --- |
| Jingjing Machinery | Çin | $10,000 – $50,000 |
| MTC | Hindistan | $15,000 – $60,000 |
| Russel Metals | ABD | $30,000 – $150,000 |
| AZCO Corp | Avrupa | $20,000 – $120,000 |
Customization, production capacity, and optional accessories impact pricing. Getting quotes from multiple vendors is advisable.
Kurulum ve Çalıştırma
Proper installation and operation procedures are vital for optimum performance. The key considerations are:
Clean and level foundation with provision for fastening the machine
Precision alignment of rollers and Dies as per manufacturer's instructions
Checking hydraulic, pneumatic, lubrication and electrical connections
Trial runs to calibrate the machines and check formations
Use of gauges and sensors for monitoring pressure, speed, and alignment
Scheduled maintenance and checks as per manual
Adequate staff training for setup, operation, and maintenance should be ensured.
Bakım İpuçları
Regular maintenance is crucial for longevity and output quality of roll forming machines. Key maintenance aspects are:
Cleaning the machine daily and checking for oil leaks
Inspecting rollers, bearings, and other wearing parts
Adjusting roller alignments and gaps when needed
Lubricating moving components as per schedule
Replacing worn out spindles, bearings, and chains when required
Checking pipe and wire connections in the hydraulic system
Verifying electrical wiring and switches
Conducting test runs and trial formations periodically
Maintenance schedule must be strictly followed. All observations should be recorded in a logbook.
How to Select a Steel Silo Roll Forming Machine Supplier
The important factors in selecting a steel silo roll forming machine supplier are:
Teknoloji: Advanced designs for precision forming and easy changeovers
Yapı Kalitesi: Use of high grade components and sturdy construction
Özelleştirme: Capability to customize as per specifications
Güvenilirlik: Proven track record and minimal breakdown history
Hizmet Desteği: Responsiveness to issues and provision of parts/maintenance
Credentials: Certifications, standards compliance, and qualifications
Fiyatlandırma: Competitive and transparent pricing, financing options
Warranties & Guarantees: Assurance of performance and support
Performing due diligence and getting user feedback on suppliers is highly recommended.
Pros and Cons of Steel Silo Roll Forming Machines
| Artıları | Eksiler |
| --- | --- |
| Yüksek üretim hızları ve hacimleri | Yüksek ilk yatırım maliyeti |
| Consistent and uniform forming quality | Complex setup and changeovers |
| Versatile – can make varied silo sizes | Regular maintenance needed |
| Automated operation with minimal labor | Staff need technical training |
| Long service life with robust construction | Occupies significant floor space |
| Low operating costs compared to other methods | Limited to sheet thickness under 1 mm |
Comparison Between Cylindrical and Conical Silo Roll Forming Machines
| Parametre | Cylindrical Silo Machine | Conical Silo Machine |
| --- | --- | --- |
| Silo shapes produced | Cylindrical | Conical / Hopper bottom |
| Diameter range | Sabit | Variable, reducing from bottom to top |
| Discharge control | Challenging | Easier due to concentric and eccentric cone designs |
| Structural stability | Prone to buckling if height exceeds 3x diameter | Better stability due to conical shape |
| Machine complexity | Simpler with same diameter rollers | Complex due to progressive diameter changes |
| Maliyet | Daha düşük | Higher due to advanced design |
Conical silos are better suited for bulk powder discharge but require more complex roll forming equipment.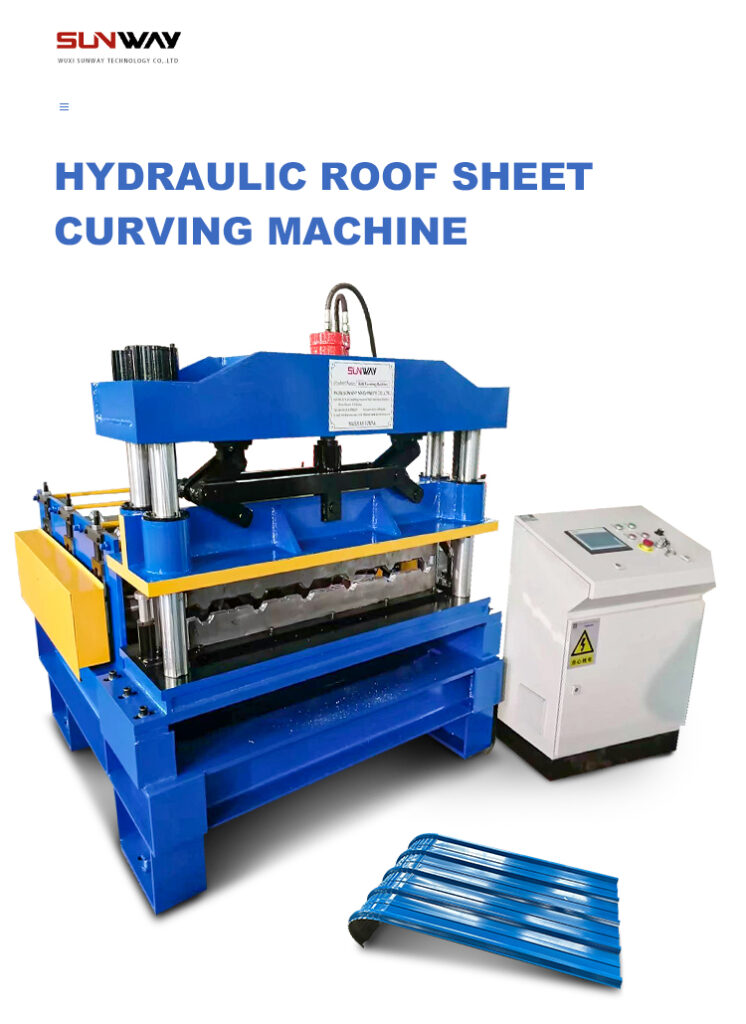 SSS
What materials can be used for making silos with these machines?
These machines are designed specifically for roll forming corrugated steel sheets. Other metals like aluminum or stainless steel sheets may be possible with customizations.
What is the thickness range of sheets that can be formed?
Standard sheet thickness is between 0.5 to 1 mm. With customized rollers and higher force, thinner sheets of 0.3 mm can also be formed.
What are the different corrugation patterns possible?
Trapezoidal and sinusoidal wave patterns are commonly formed. Custom profiles are also possible depending on roller die design.
How long do these machines typically last?
With proper installation, operation, and maintenance, a lifespan of 8 to 12 years can be expected. High quality components ensure long working life.
Is onsite installation and commissioning provided?
Most suppliers can provide installation assistance and trial runs for ensuring proper setup. Additional charges may apply for onsite support.
What kind of warranty and service support is provided?
Standard warranty is 1 year but extended warranties for 2-3 years are also offered. Lifelong service support and supply of spares is generally provided.
What is the process for obtaining price quotations?
Suppliers can provide quotes based on specifications like silo size, sheet thickness, output rate, and options needed. It's best to get quotes from multiple vendors.
What factors impact the total cost of these machines?
Production capacity, silo size range, material thickness, customization needs, and optional accessories affect pricing. Location and shipping costs are also involved.
How much space is needed to install these machines?
The machine length itself is 8-12 meters typically. Additional space is needed for material loading and unloading, so plan for a clear working area of about 20m x 10m.
Are online operation manuals and part catalogs provided?
Yes, detailed user manuals for installation, operation, maintenance, and machine drawings are provided in digital format by most manufacturers.
What are the power requirements and utilities needed?
The typical power requirement is 10 to 15 kW. Electrical supply, compressed air and sufficient working lighting is required in the production area.