Ceiling T grid roll forming machines are used to produce T grid profiles for suspended ceiling systems. They form metal coil into the characteristic T shape through a series of progressive roll forming stations. Ceiling grids provide an exposed structure to support ceiling tiles or panels in commercial and residential buildings.
This comprehensive guide will cover all aspects of ceiling T grid roll forming machines including:
Overview of Ceiling T Grid Roll Forming Machine
A ceiling T grid roll forming machine takes flat metal coil as input and processes it through a series of roller dies to continuously form the strip into the final T shaped profile. The formed T grids are used as support systems for modular dropped ceilings.
The grid layout creates a frame to support ceiling tiles and provides access to the plenum space above the ceiling for electrical, plumbing and HVAC systems. T grid profiles provide an exposed and aesthetically pleasing ceiling with easy access to the space above.
Main Components
Uncoiler
Feeder
Roll forming stations
Hydraulic system
Cutoff device
Finishing stations
Working Principle
The uncoiler holds the coil of flat sheet metal that is fed into the roll former. The feeder has punching and notching units to create holes or slots in the strip before forming. In the roll forming section, the strip goes through a series of progressive dies and bending rolls that gradually shape it into the T profile with the web and flange. Hydraulic cylinders precisely control the rolls for accurate forming. After rolling, the cutoff device shears the formed grid to the desired length. Additional operations like punching, notching, branding and hardware insertion can then be done at finishing stations.
Key Features
High productivity and yield
Flexibility to make different T grid sizes
Precision roll forming process
Material savings compared to extrusion
Low maintenance and operation costs
Automated line with safety features
Main Applications
Ceiling T grid roll forming systems are ideal for:
Offices, retail spaces, hospitals
Residential and commercial buildings
Airports, hotels, institutions
Both new construction and renovation projects
Suitable Materials
Low carbon steel
Galvanized steel
Prepainted steel
Stainless steel
Aluminum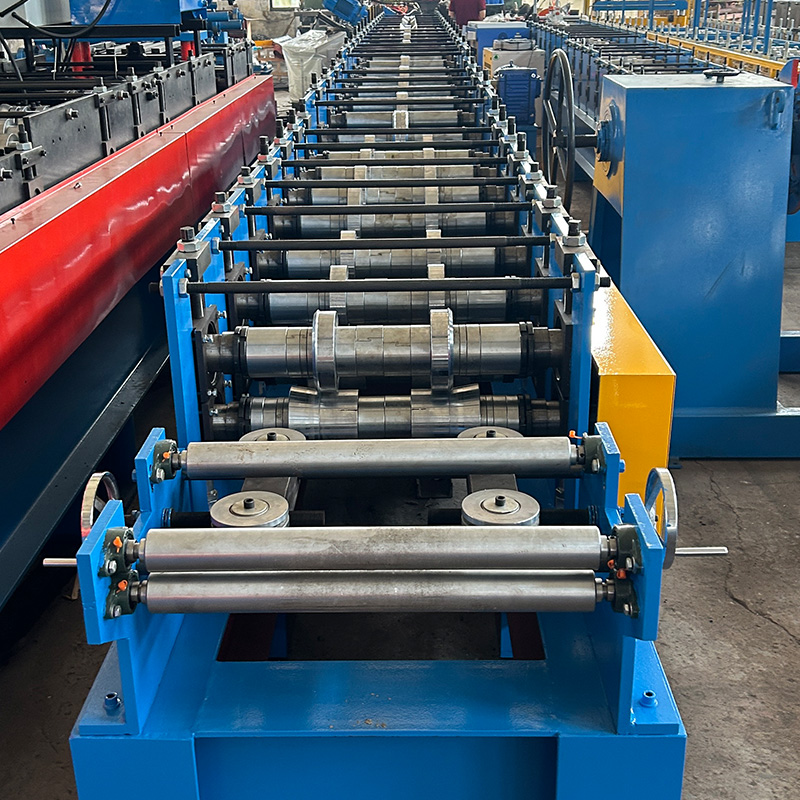 Product Classification
Ceiling T grid roll forming machines can be classified based on:
Automation Level
Manual – Rolling process is manual, material handling automated
Semi-automatic – Manual feeding but auto rolling and cutoff
Fully automatic – Automatic material flow and roll forming
Production Speed
Low speed – Up to 20 m/min
Medium speed – 20-40 m/min
High speed – Over 40 m/min
Roller Type
Pyramid – Common for high output rates
S Driven – Compact and precise for small batches
Number of Forming Stations
10-12 – Suitable for basic profiles
16-20 – For complex/heavy duty T grids
التخصيص
Standard – Fixed dimensions and specifications
Customized – Configurable forming, sizes and accessories
Main Components of T Grid Roll Forming Line
The main sub-systems and components include:
| Component | Function |
| --- | --- |
| Coil Payoff Reel & Stock Straightener | Holds coil, feeds strip, levels coil |
| Servo Feeder System | Feeds strip at constant speed |
| Punching Unit | Punch holes for cross tees |
| Forming Stations | Progressively form web and flange |
| Hydraulic System | Control roller adjustment |
| Automatic Cutoff | Cuts profile to length |
| Hardware Insertion | Inserts cross tee clips |
| Stacker | Collects finished grids |
Technical Specifications
T grid roll forming machine technical specifications vary based on production requirements:
| المعلمات | Typical Range |
| --- | --- |
| Roller Type | Pyramid or S-Driven |
| Forming Stations | 10 – 25 |
| مادة الأسطوانة | 45# High Carbon Steel |
| Roller Hardness | HRc50-HRc58 |
| Maximum Coil Width | 1200 – 1400 mm |
| Minimum Coil ID | 508 mm |
| Thickness Capacity | 0.3 – 1 mm |
| Speed | 10 – 45 m/min |
| مزود الطاقة | 220V/380V, 3 Phase, 50/60Hz |
| Line Length | 15 – 30 m |
| Line Height | 3.5 – 4 m |
Structural Design
The frame and layout employs:
Welded steel base frames
Gantry structure for rigidity
Hydraulic power pack
Ergonomic design for operation
Modular stations for flexibility
Minimum door height is 4m. The length depends on production speed and forming stations required.
Advanced Configurations
Additional capabilities can be added:
Decoiling System – For smooth coil holding and feeding
Pre-punching – For punching holes before forming
Automated Stacker – For automatic profile stacking
Programmable Logic Controller – For precision control
Flying Cutoff – High speed cutoff system
Servo Motor Drives – For accurate speed control
Vision Inspection System – For quality checking
Data Logging – For production data collection
Range of T Grid Profiles Produced
Standard top tee profiles that can be produced include:
| Profile | Dimensions (mm) |
| --- | --- |
| 15/16″ | 38.1 x 31.8 x 1.27 |
| 1-1/2″ | 38.1 x 38.1 x 0.457 |
| 9/16″ | 15.9 x 31.8 x 0.71 |
| 24mm | 24 x 38 x 0.5 |
| 600mm | 600 x 38 x 0.7 |
Custom profiles in different sizes, gauges and materials can also be produced by changing the roller dies and machine programming.
Choosing Supplier for T Grid Roll Forming Machine
Key factors in selecting ceiling T grid roll forming machine manufacturer:
| المعلمات | Considerations |
| --- | --- |
| خبرة | Number of years in business, projects delivered |
| Production Facilities | Factory size, production capacity |
| Technical Capability | R&D, design expertise |
| التخصيص | Ability to develop new profiles |
| Quality Control | Certifications, quality procedures |
| Service Support | Installation, training, maintenance |
| References | Client testimonials, site visits |
| Pricing | Price vs quality and features |
Reputable manufacturers with strong technical expertise and service support are recommended for machine quality and performance.
Purchase Cost Considerations
| Component | Price Range |
| --- | --- |
| Manual Line | $5000 to $8000 |
| Automatic Line | $8000 to $15000 |
| Additional stations | $500 to $1000 per station |
| Advanced options | $2000 upwards per item |
| Total For Basic Line | $8000 to $12000 |
| Total For Fully Automatic Line | $15000 to $30000 |
Cost depends on production speed, line automation, and special features. Additional costs include shipping, installation and training.
Operation and Maintenance
| Activity | تفاصيل |
| --- | --- |
| Material Loading | Use slings to mount coils on payoff reel, manually or with crane |
| Line Startup | Turn on hydraulic powerpack, control system, set speed |
| Roll Change | Replace rollers after prolonged use using hand tools |
| تشحيم | Apply grease to bearings through lines daily |
| Cleaning | Remove metal debris buildup on rolls periodically |
| Preventive Maintenance | Check roll alignment, hydraulics weekly |
| Safety Checks | Ensure safeguards like light curtains are working |
| تمرين | Train workers on proper machine operation, safety |
The hydraulic components require regular maintenance for flawless forming and durability. Workers must be trained on proper line procedures.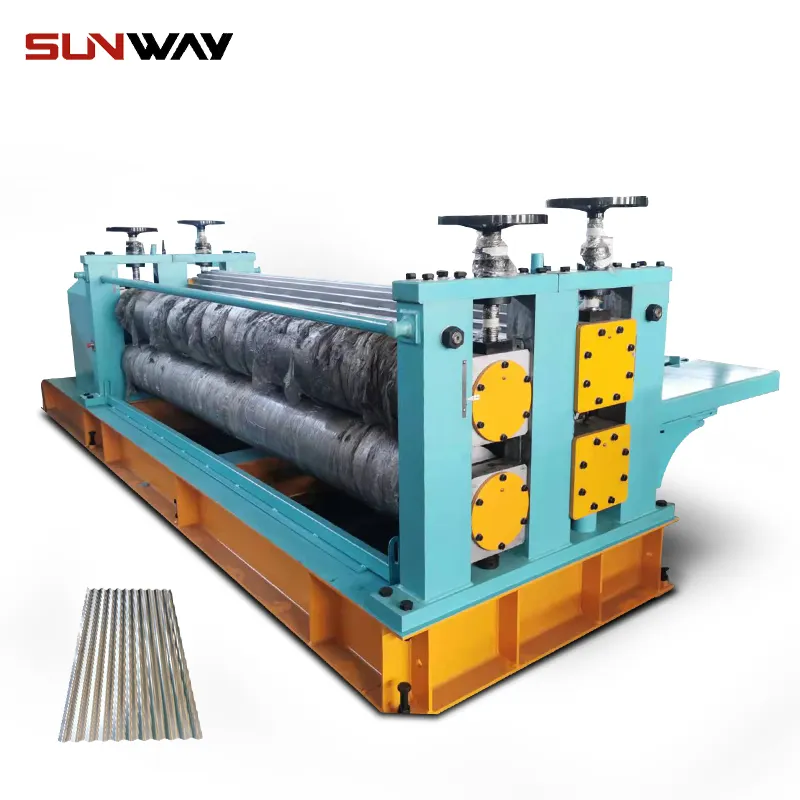 Choosing Between Roll Forming and Extrusion
| Method | تشكيل لفة | Extrusion |
| --- | --- | --- |
| Working Principle | Rolls gradually form profile | Extrudes profile through die |
| Locked Cross-Section | Not guaranteed | Guaranteed by process |
| Cycle Time | Slow | Very fast |
| Tooling Cost | Lower | Higher |
| Material Savings | Higher due to no voids | Lower due to voids |
| Strength | Comparable | Comparable |
| Product quality | Dimensional accuracy critical | Better tolerances |
| Equipment Cost | Lower | Higher capital cost |
| Scale of production | Any production volumes | Only very high volumes |
| Shape complexity | Limited | High complexity possible |
| Operating cost | Lower energy consumption | Higher energy use |
| Build rate | Slower | Faster for high volumes |
For most applications, roll forming offers the optimal balance of productivity, quality, and cost-efficiency.
Advantages of Ceiling T Grid Roll Forming
Cost-effective – Lower equipment and operating costs
Material savings – No voids unlike extrusion
Flexibility – Easy changeover between profiles
Simple operation – Lower skill requirement
Energy efficient – Lower power consumption
Lean production – Minimal material waste
Scalability – Adaptable for different volumes
Product quality – Good dimensional accuracy
Productivity – High hourly output rates
Limitations of Ceiling T Grid Roll Forming
Not suitable for complex asymmetric shapes
Initial tooling and setup takes time
Rollers require maintenance
Limited configuration options
Periodic roll replacement needed
Lower strength than extruded T grids
Limited thickness capacity
Speed lower than other processes
Low volume production not economical
Operator skill needed for coil handling
Proper production planning and machine selection helps minimize these limitations.
التعليمات
Q: What materials can be roll formed into T grids?
A: Common materials include low carbon steel, galvanized steel, prefinished steel, stainless steel and aluminum. Special alloys may require custom tooling.
Q: What thickness of coils can be processed?
A: Standard machines accommodate 0.3 – 1 mm thickness. Special units are available for thinner and thicker coils.
Q: How are T grid roll forming machines controlled?
A: They use a PLC for automatic control of all functions. Parameters like speed, cutoff length etc. can be input via the operator interface.
Q: What safety protection is provided?
A: Safety guards, light curtains, emergency stops around moving components prevent accident hazards.
Q: Does the process allow punching of holes for cross tees?
A: Yes, punching units can be integrated before the roll forming section for hole creation.
Q: How are ceiling tiles attached to the T grids?
A: Cross tee connectors are inserted into the holes/slots in the grid to support the ceiling panels.
Q: How to determine the correct machine capacity for production needs?
A: Consider current and future production volumes, T grid sizes, material thickness and budget. The supplier can recommend the ideal configuration.
Q: What is the typical production rate of these machines?
A: Production speed ranges from 10 to 45 meters per minute depending on model. Output is up to 300-400 meters per hour.
Q: How long does it take to change between different T grid profiles?
A: Roll changeover takes approximately 15-20 minutes for an experienced operator to complete.
Q: What is the installation process and requirements for the machine?
A: Machines are shipped pre-assembled in containers. They need a leveled concrete foundation, power supply, compressed air and minimum door height. Installation and commissioning is done by the manufacturer's technicians.
Q: What is the typical maintenance needed for the machine?
A: Maintenance involves lubricating bearings, cleaning debris from forming stations, replacing worn components and periodic training of operators on procedures.