Double stage roll forming machines are industrial equipment used to bend and form metal sheets into customized profiles and shapes. They utilize two sets of rolls arranged in a staggered inline configuration to incrementally bend the sheet in two stages, allowing more complex and accurate forms to be created.
Key features of double stage roll forming machines:
| Feature | Description |
| --- | --- |
| Two roll forming stages | Contains two sets of roller die stations arranged consecutively to bend the sheet in two steps |
| Advanced profiling | Complex shapes and profiles can be formed due to two-stage incremental bending |
| Accuracy | Precise calibration between the upper and lower rollers ensures high forming accuracy |
| Flexibility | Quick roll change systems allow fast profile changeovers |
| Efficiency | Automated inline process improves output and reduces labor |
| Cost-effective | Lower tooling costs compared to other bending methods |
Types of Double Stage Roll Forming Machines
There are two main types of double stage roll forming machines:
Horizontal Two-Stage Roll Formers
Sheet is fed horizontally through two inline roller stations
Compact footprint, flexible layouts
Lower forming power requirements
Suitable for short to medium length profiles
Vertical Two-Stage Roll Formers
Sheet is fed vertically through upper and lower roller beds
Larger footprint, higher forming forces
Handles longer profiles and sheets
Increased forming accuracy for complex shapes
Main Components
Double stage roll forming machines consist of:
Uncoiler: Feeds metal coil stock into the roll line
Straightener: Removes coil curvature and aligns the sheet
First stage roller dies: Initial incremental bending of sheet
Second stage roller dies: Finish bending sheet to final profile
Servo motor drives: Provide synchronized motion control
Punching units: Optional perforating, cutting, punching
Exit tables: Supports formed profile and straightens
Controller: Controls the sequential motion and die actuation
Design and Functional Standards
Double stage roll formers are designed to standards including:
ISO 9001 – Quality management
CE safety certification
ISO 12100 – Safety of machinery
Electromagnetic compatibility standards
Machines are built for heavy duty industrial operation with features including:
Steel welded framework construction
Hardened rollers and dies
Sealed lubricated bearings
Overload protection sensors
Guards meeting safety codes
Precision components ensure forming accuracy:
Roller parallelism ±0.02mm
Roller surface finish 1.6μm
High gearbox stability <2 arcmin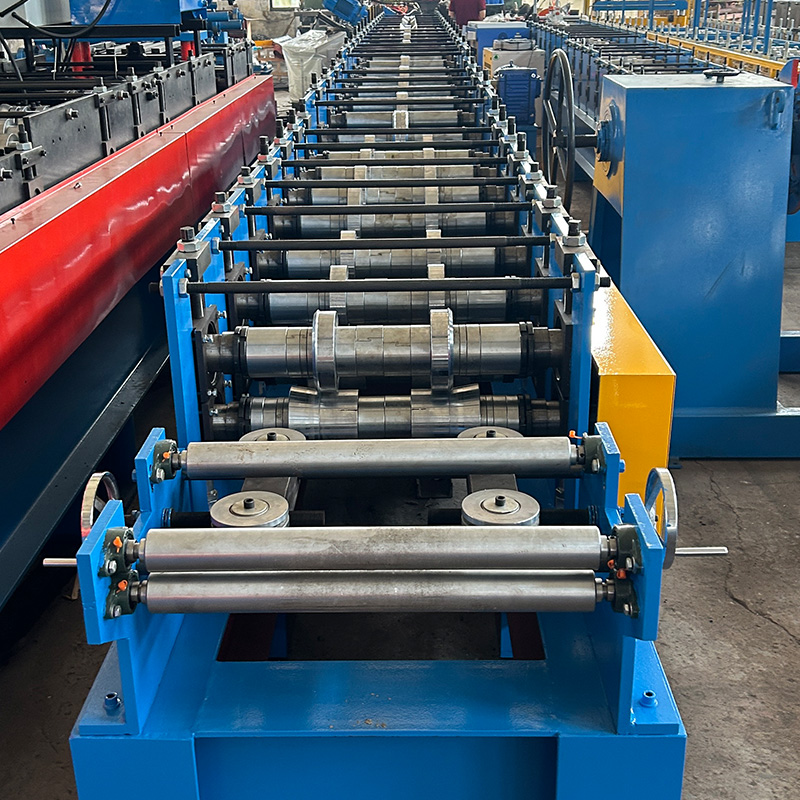 Applications of Double Stage Roll Forming
Double stage roll formers are ideal for producing:
| Profile applications | Industry usage |
| --- | --- |
| Metal roofing panels | Construction, infrastructure |
| Wall cladding | Construction, architecture |
| Structural frames | Construction, automotive |
| Rack and shelf | Warehousing, retail |
| Highway guardrails | Transportation infrastructure |
| Door frames | Construction, infrastructure |
| Solar panel frames | Renewable energy |
Benefits of using double stage roll forming:
Complex channel, box and frame geometries
Increased dimensional accuracy
Higher production speeds
Reduced tooling costs
Just-in-time production
Equipment Specifications
Double stage roll forming machines are available in standard and custom configurations:
| Specification | বিস্তারিত |
| --- | --- |
| Forming length | 1m – 10m standard (custom on request) |
| Width capacity | Up to 1650mm (65″) |
| Material thickness | 0.3mm – 3mm steel and aluminum |
| Roller diameter | ≥150mm hardened steel |
| Roller adjustment | ±0.02mm precision |
| Forming speed | 10 – 25 m/min standard (customizable) |
| Drive motors | servo, geared AC vector or variable frequency |
| Machine control | PLC and HMI touchscreen |
| Noise level | <80 dB with sound enclosure |
Machine Layout Styles
Compact layout – Tight footprint conserving space
Accessible layout – Open access for easy maintenance
Flexible layout – Modular sections for optional accessories
Custom layout – Tailored to product requirements
Material Handling Equipment
Coil loading systems – Power or manual reel loading
Coil car – Multi-ton coil racks for quick loading
ডিকয়লার – Pre-straighten and decoil metal coils
Looping pit – Allows speed differences between stages
Exit tables – Supports and straightens finished profiles
Conveyor system – Transports output to next operation
Additional Options
Punching – Cutouts, louvres, holes, slots
Embossing – Patterned impressions on surface
Quality inspection – Gauges for checking thickness, camber
Stacking – Automatic stacking and counting
Bending – Post-forming bends and shapes
Materials – Specialty metals like brass, copper
Installation Requirements
Rigid level floor to withstand machine forces
Minimum 4m x 2m space for small units
3 phase power supply with 30-50kVA capacity
Compressed air line (5-7 bar)
Exhaust systems for fumes
Site Preparation
Concrete foundation with anchors to secure machine
Services installation – trenches and conduits
Lifting gear – cranes, jacks to position machine
Lighting, access platforms and railings as needed
Operations and Control
Typical Production Sequence
Load metal coil on uncoiler
Sheet feeds into leveler and first stage rollers
Forming at first stage bends sheet incrementally
Sheet transfers to second stage with looping
Second stage completes bending to final profile
Formed stock exits to table or conveyor
Operator stacks finished pieces
Control Modes
Manual – Individual motor JOG functions
Semi-automatic – Auto run with manual prompts
Fully automatic – Executes entire sequence by program
Recipe memory – Stores programs for each profile
Operator Interface
Color touchscreen HMI
Graphical display with machine animations
Function buttons for manual control
Displays machine status, sensors, faults
Programming interface
Communication Interface
Industrial Ethernet or fieldbus
OPC server data exchange
Remote diagnostics, monitoring and control
Data logging of production
Networking to management systems
Maintenance Procedures
Regular maintenance activities:
| Task | Schedule |
| --- | --- |
| Inspect roll tooling | Daily |
| Monitor lubrication levels | Daily |
| Clean machine debris | Daily |
| Functional testing | Weekly |
| Check belt/chain tension | Weekly |
| Check hydraulic pressure | Weekly |
| Inspect electrical wiring | Monthly |
| Backup control programs | Monthly |
| Check roll parallelism | 6 months |
| Bearing lubrication | 6 months |
| Hydraulic fluid change | Annually |
| Calibrate sensors | Annually |
Maintenance Safety
Follow manufacturer lockout procedures before maintenance
Allow components to cool before servicing
Use appropriate lifts for heavy parts
Ensure pneumatic pressure is exhausted
Employ proper tools to avoid damage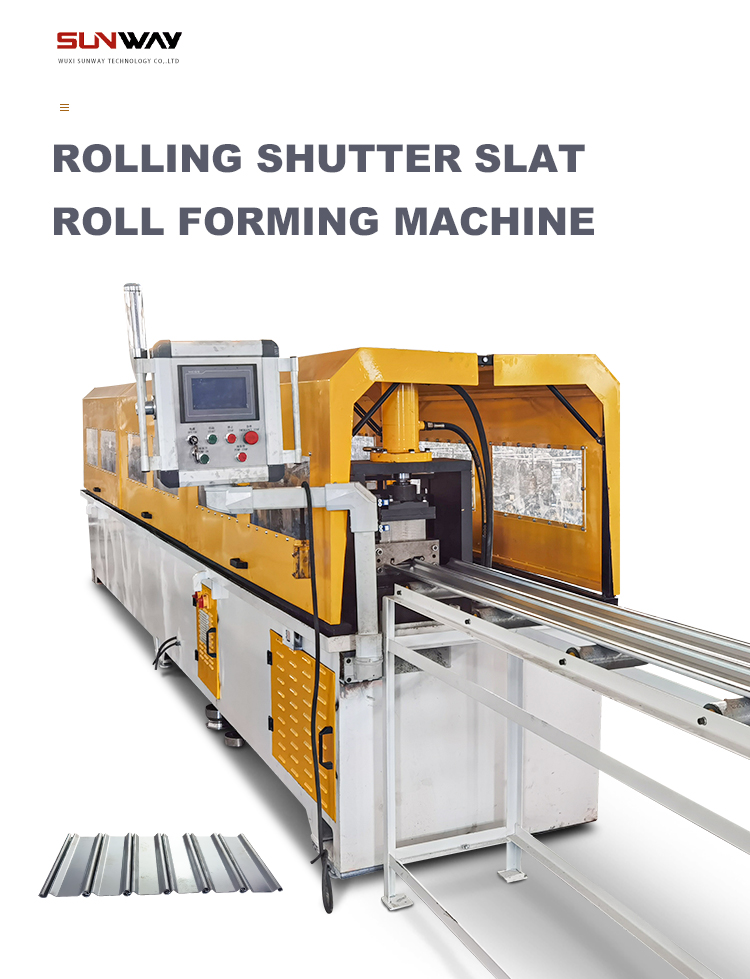 Roll Tooling Design and Management
Roll tooling consists of top and bottom contoured dies
Carbide inserts provide long service life
Progressive dies bend profile in stages
Quick change systems for fast die changeovers
Tooling inventory stored on racks
RFID tags for tool identification
Specialized tools for difficult alloys
Roll Design
3D CAD modeling and simulation
Iterative design approach
FEA analysis for stress levels
Validation through sample production
Tool Management System
Organized storage with identification
Computerized records of tools
Retrieval for production
Resharpening and refurbishment
Monitoring of tool life cycles
Buying Considerations for Double Stage Roll Forming Machines
Purchasing double stage roll forming machines requires consideration of:
| Purchase Factors | বিস্তারিত |
| --- | --- |
| Production needs | Profile types, volumes, sheet sizes |
| Product precision and speed | Tolerances, surface finish, throughput |
| Operation costs | Labor, maintenance, tooling factors |
| Production flexibility | Fast changeovers, growth potential |
| Available space | Machine footprint limitations |
| Control requirements | Level of automation, data interface |
| Safety standards | Guarding, electromagnetic compliance |
| Vendor reputation | Experience, installations, service |
| Pricing | Purchase, shipping, import duties |
| Warranties | Coverage periods, limitations |
Requesting Quotes
Prepare RFQ with product specifications required
Compare machine configurations and layout options
Review options for material handling and automation
Consider services – training, installation, spare parts
Evaluate vendors on expertise, quality, support capabilities
Key Suppliers
Some leading double stage roll forming machine manufacturers include:
Mazzella Companies
Formtek
স্যামকো মেশিনারি
Bradbury Group
Dimeco
Metform International
Form Process Engineering
Jouanel Industrie
Pricing varies widely based on configurations but typical range is $100,000 to $500,000.
Comparing Single and Double Stage Roll Forming Machines
Machine
Advantages
Disadvantages
Single Stage
Lower cost equipment
Simpler layout
Short to mid profiles
Limited profiling ability
Lower accuracy
Double Stage
ex shapes
High precision
Long part lengths
Slower production rate 
Higher machine cost 
Larger footprint
Double stage rollers have extended capabilities for difficult profiles but have higher capital and operating costs. Single stage machines are advantageous for simpler, shorter products.
Roll Forming Versus Press Brake Bending
Bending Method
Pros
Cons
রোল গঠন
Continuous production 
Labor efficiency
Consistent quality
Low tooling cost
Only linear profiles 
Lengthy machine 
Fixed initial investment
Press braking
Short production runs
End forming flexibility
3D part geometries
Batch operation
High tooling cost
Operator skill required
Roll formed parts excel in long production runs but press brakes allow short batch flexibility.
Limitations and Challenges of Double Stage Roll Forming
Some limitations include:
Only linear profiles can be produced
Lengthy equipment requiring large facility
Initial high cost of investment
Dedicated to high volume production
Design and debugging of tooling can be time consuming
Adjustments needed for thickness and hardness changes
Latest Innovations in Double Stage Roll Forming Technology
Electromechanical actuation for faster, more accurate die movements
Servo motor drives for dynamic speed and tension control
Intelligent assist systems to aid operators
Quick-change tooling systems
Inline correction of longitudinal bow and twist
Advanced safety designs with safeguarding robots
Internet-connected systems for monitoring and diagnostics
Vision systems for quality inspection and adaptive control
Laser-guided cobots for material handling automation
Roll Formed Products and Applications
Roll formed components are ubiquitous across industries including:
Construction: Roofing, siding, purlins, studs, floor joists, wall panels, ducting, drainage
Infrastructure: Guardrails, catwalks, breeze ways, panels, enclosures
Automotive: Frames, bumpers, rails, panels
Appliances: Housings, supports, racks, frames, brackets
Aerospace: Frame stringers, brackets, fittings, clips
Furniture: Legs, rails, enclosures, shelves, racks
Packaging: Rails, dividers, enclosures, pallets
Solar: Mounting racks, collectors, framing
FAQ
What are the advantages of double stage roll forming?
Double stage roll forming enables more complex shapes, higher precision, and improved material properties compared to single stage machines. The two bending stages allow more controlled stress relieving.
What should I consider when designing roll forming tooling?
Tooling design requires high precision modeling and FEA analysis to develop the progressive die stages. Prototype testing validates the tooling performance before final hardening and production use.
How long does a roll forming machine last?
With proper operation and maintenance, the lifespan of a double stage roll forming machine typically exceeds 20 years or more of continual use. Robust construction and mechanical design ensures longevity.
Can a double stage roll former make curved profiles?
No, roll forming only makes linear profiles since bending occurs longitudinally along a straight path. Post-forming equipment can make subsequent transverse bends to the profiles.
How are roll formed products cut to length?
Flywheel punching and cutting units on the exit side automatically shear profiles to length based on a photo sensor. Rotary scribing also pre-scores sheets for manual breakdown.
What safety precautions should be used with roll formers?
Guards, barriers, interlocks, E-stops, and compliance with standards prevents hazards. Lockout before maintenance prevents accidental operation. Proper forklift handling prevents damage or injury.
How do I choose the right supplier for my application?
Consider reputation, experience, design expertise, quality, and services when selecting a double stage roll forming machine vendor. Provide detailed specifications for your production needs.
উপসংহার
With their ability to produce complex, elongated profiles with good accuracy, double stage roll forming machines offer an efficient mass production solution for metal fabrication across many industries. Their inline automated process, flexible tooling, and incremental bending engender continuous outputs of formed components spanning up to 10 meters in length for both lightweight and heavy gauge materials. When properly engineered with precision components and robust construction, double stage roll formers provide years of reliable service for forming panel siding, racking, structural framing, metal enclosures, automotive components, and innumerable profiles across diverse applications.