Mini roll forming machines are an important type of equipment used to form metal sheets and coils into customized profiles and parts. This article provides a detailed overview of mini roll formers covering their key features, specifications, suppliers, applications, operation, and more.
Overview of Mini Roll Forming Machines
Mini roll forming machines, also known as coil lines or profile bending machines, are designed to produce metal profiles of different geometries and sizes from coil stock.
Here are the key details about these versatile metal forming systems:
What is it? A roll forming machine that converts flat sheet metal and coils into custom open and closed profiles by gradually bending the material through consecutive sets of rolls.
Key Components: Uncoiler, feeder, pre-cutter, roll forming stations, post-cutter, stacker.
Types: Standard and customized 4-14 roller roll formers for profiles up to 120mm wide.
Materials Used: Steel, stainless steel, aluminum sheets and coils up to 3mm thickness.
Applications: Angles, channels, square/rectangular tubes, roofing panels, racking systems, door frames etc.
Industries: Construction, infrastructure, logistics, transportation, agriculture, automotive, appliance manufacturing etc.
Benefits: High precision, consistency, speed, flexibility, cost-effectiveness for mass production.
Limitations: Limited profile size and thickness, lower tolerances than press brakes or laser cutting.
Mini roll formers strike the right balance between versatility, small footprint, easy operability and affordable pricing. Let's look at the key specifications and design aspects in detail.
Specifications of Mini Roll Forming Lines
The table below outlines the typical technical specifications of mini roll forming machines:
| Feature | Description |
| --- | --- |
| Forming Capacity | 50-120mm profile width, up to 3mm thickness |
| Roller Stations | 4-16 |
| গঠন গতি | 10-25 m/min |
| Main Drive Power | 3-7.5 kW |
| Voltage | 220-480V, 3 phase |
| Feed System | Chain or servo motor |
| Roll Exchange | Manual or Automatic |
| Coil Weight | Up to 3000 kg |
| Coil ID | 400-600 mm |
| Floor Space | 4×2 meters |
| Control | PLC with HMI touchscreen |
These roll formers are available in standard widths like 50mm, 75mm, 100mm, 120mm and custom widths. The number of roller stations can range from 4 for basic profiles to 16 or more for complex geometries.
Higher main drive power between 5.5-7.5 kW allows faster production speeds. Automated roll exchange and edge crimping systems help quick profile changeovers.
Key Aspects of Mini Roll Former Design
Some notable design elements that influence the performance of mini roll forming lines include:
বেলন উপাদান – High strength forged steel or adamite rollers.
Drives – Servo or regular motors for the coil, feeding, and forming sections.
Roller Bearings – Heavy duty roller bearings rated for millions of rotation cycles.
Roll Design – Hardened steel concave/convex rolls for optimal bending.
Roll Gap Adjustment – Motorized or manual adjustment of roll gaps.
Roll Support – Reinforced housings and roll supports prevent deflection.
Feed System – Rubberized grippers or caterpillar chain feeds for traction.
Decoilers – Powerful hydraulic, pneumatic or motorized decoilers.
Safety – Light curtains, E-stops, guards ensure operational safety.
ফ্রেম – Robust C-frame built from steel channels or I-beams to minimize vibration.
Better component quality and sturdy construction ensures high precision roll formed parts, faster metal processing, and reliability even under heavy loads.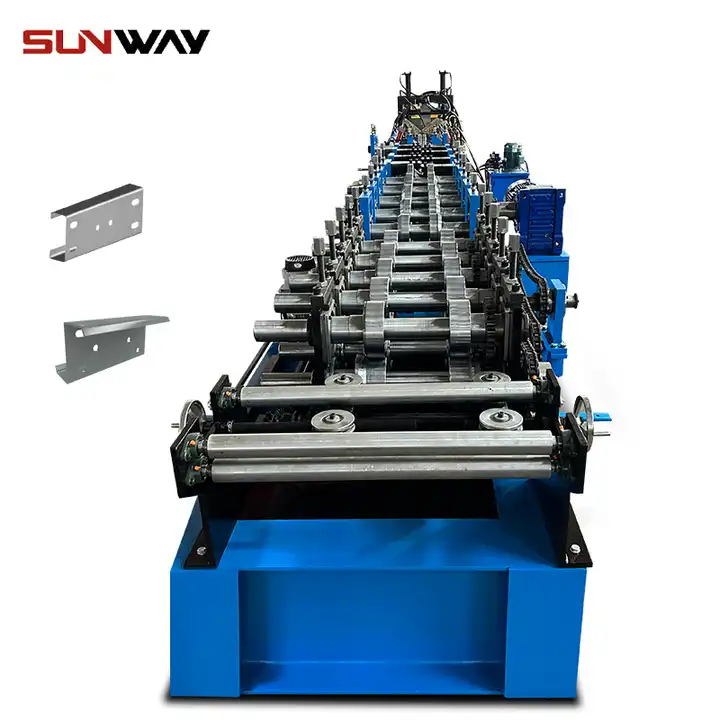 Types of Mini Roll Forming Machines
There are two main types of mini roll forming systems:
Standard Roll Formers
These simpler 4 or 6 roller machines can produce regular profiles like squares, rectangles, and basic angles in fixed widths like 50mm or 75mm.
Used for high volume production with minimal changeovers.
Limited flexibility – producing new profiles requires roll changing.
Typically manual operation with lower costs.
Customized Roll Forming Lines
These advanced roll formers have 10 or more sequencing roller stations that can be customized to produce complex custom profiles.
Highly flexible and adjustable for rapid profile changeovers.
Produces unlimited profile shapes including complex ribs, embossing etc.
Automated features for quick size changes and minimal downtime.
Ideal for frequent product variations and lower volume runs.
Higher machine cost due to customization.
Key Specifications of Mini Roll Forming Machines
Here are the critical specifications and parameters to consider when selecting a mini roll former:
Table – Key Specifications of Mini Roll Formers
| Specification | Description |
| --- | --- |
| Profile Width | 50mm to 120mm in standard increments. Custom widths possible. |
| Material Thickness | 0.5mm to 3mm MS sheets and coils. Up to 4mm for aluminum, brass, etc. |
| Roller Stations | Dictates profile complexity. 4 to 16 stations typical. |
| গঠন গতি | Higher speeds between 15-25 m/min increase productivity. |
| Main Drive Power | 5.5kW-7.5kW for optimum forming torque and speed. |
| Voltage | 400V or 480V, 3-phase power supply required. |
| Coil Diameter | 1000mm to 1500mm diameter coils ensure continuous production. |
| Coil Weight | Up to 3 metric tons coil weight capacity. |
| Decoiler Capacity | Hydraulic or motorized decoilers with 2-3 ton capacity. |
| Feed System | Caterpillar chain, gripper rolls, servo motor for stability. |
| Roll Design | Hardened concave/convex steel rolls in various diameters. |
| Roll Gap Adjustment | Manual or NC motorized adjustment for quick changeovers. |
| Roller Bearings | Heavy-duty roller bearings rated for millions of passes. |
| ফ্রেম | Robust C-frame in steel with precision machined beds for rolls. |
| Safety | Light curtains, E-stops, guards for operational safety. |
| Control | PLC with HMI touchscreen interface for easy operation. |
Consider the production volumes, material specs, and profile complexity to select the right roll former specifications.
Key Components of Mini Roll Forming Lines
Mini roll formers consist of several key sections engineered to operate in sync to form quality profiles continuously:
Table – Main Components of a Mini Roll Former
| Component | Description |
| --- | --- |
| ডিকয়লার | Unwinds the flat coil stock and feeds into line. Has powered unwinding system and coil holding mandrel. |
| Feeding Unit | Grips sheet using rollers/chains and feeds at constant speed into forming section. |
| Pre-cutter | Shears the coil to pre-cut strips before forming as per profile length. |
| স্টেশন গঠন | Series of pyramid style roller dies that gradually bend the strip through each station to form the profile. |
| Control Cabinet | Houses the PLC, HMI, drives and electrical components. Allows programming and monitoring. |
| Main Drive | Geared motor that powers the decoiler, feeding, forming sections in sync. |
| Post-cutter | Cuts the formed profile to desired length as per production requirements. |
| Stacker | Neatly stacks or collects the finished profiles. |
The smooth interaction between these sub-systems results in continuous, high speed and precision roll forming.
Working Principle of Mini Roll Forming Machines
Here are the key steps in the functioning of mini roll forming lines:
Decoiling – The metal coil sheet is held on a powered unwind mandrel. It gets unwound and released into the feed section.
Feeding – Gripper rolls/chains engage the strip and feed at a constant speed into the forming section.
প্রাক-কাটিং – The feed length is pre-cut to length of the final part by built-in shearing blades.
Forming – The pre-cut length moves through consecutive pyramid style roll stations. Each station progressively bends the strip to the desired profile shape.
পোস্ট-কাটিং – End cutters trim the profile to the final required length as per production needs.
Stacking – Formed parts are neatly stacked for easy handling and packaging.
The feeding speed, roll gaps and sequencing are programmed into the PLC which coordinates the process for continuous production. Advanced 3D simulation softwares are used to visualize the optimal roller sequencing and die layouts before manufacturing the rolls.
Applications and Profiles Produced on Mini Roll Formers
Here are some of the common profiles, parts, and applications roll formed on mini roll forming lines:
Table – Typical Profiles and Applications of Mini Roll Formers
| Profile Shape | Typical Applications |
| --- | --- |
| Square Tube | Furniture framing, shopfitting, signboards |
| Rectangular Tube | Doors, windows, gate grills |
| Angle Channel | Racks, shelves, roof trusses |
| Omega Profile | False ceilings, partition framing |
| Sigma Profile | Automotive parts, rail coaches |
| Step Tile Profile | Roofing sheets, wall cladding |
| Trapezoidal Profiles | Roofing, walling, and cladding |
| Door Frames | Metal door frames for housing, commercial buildings |
| Formed Panels | Appliance housings, elevator panels |
| Custom Profiles | Profile bending to customer specs |
The list of application areas is vast including construction, infrastructure, logistics, agriculture, automobile, appliance, office furniture and more.
Advantages and Benefits of Mini Roll Forming Lines
Here are some of the major advantages of using mini roll forming machines:
Flexibility – Ability to produce unlimited profiles by changing roller dies.
Efficiency – High production output up to 18,000 pieces per shift.
Consistency – Precision parts with close tolerances and repeatability.
Cost-effective – Lower cost than alternate processes like press brakes.
Labor savings – Automated production with minimal workforce needed.
Space efficient – Compact footprint saves factory floor space.
Versatility – Ability to run a wide range of materials and thicknesses.
Scalability – Easily increased output by running extra shifts.
Productivity – Continuous production with minimal downtime.
Durability – Robust machines built to operate 24/7.
Safety – Advanced safety mechanisms prevent workplace injuries.
Sustainability – Reduces material wastage.
Mini roll formers are an ideal solution for producing metal profiles and parts in medium to high quantities for various industries.
Limitations of Mini Roll Forming Machines
While mini roll forming lines offer many benefits, some limitations include:
Profile size – Limited to smaller profiles and widths under 120mm.
পুরুত্ব – Usually under 3mm thickness capacity.
Tolerances – Tighter tolerances difficult to hold compared to laser or press brake bending.
Elongation – Some elongation or stretching of material can occur.
Productivity – Lower output versus full-size roll formers built for very high volume production.
Lead time – Customized roll sets take 4-6 weeks to manufacture.
Changeovers – Frequent profile changeovers reduce production volumes.
Material options – Limited to processable metals like steel, aluminum etc. Not suited for composites, plastics etc.
Secondary operations – May require additional cutting, drilling, welding etc. for final parts.
Maintenance – Regular oiling, cleaning required to upkeep rolls and prevent jams.
Understanding these limitations helps select the right applications where mini roll formers provide the optimum production solution.
How to Choose A Mini Roll Forming MachineSupplier?
Here are the key considerations for choosing a reputable mini roll forming machine manufacturer:
Table – How to Select Your Mini Roll Forming Machine Supplier
| Parameter | What to Look For |
| --- | --- |
| Company Profile | Decades of roll forming experience. ISO certified. |
| Machine Quality | Use of premium components. High precision manufacturing. |
| Customization Skills | Capability for customized profiles and features. |
| Roll Tooling Expertise | In-house roll tooling design. Shortest lead times. |
| Range of Machines | Various sizes and capacities to upgrade later. |
| Production Facilities | State-of-the-art manufacturing infrastructure. |
| Testing Capabilities | Quality checks done on parameters like accuracy, speed etc. |
| Installation Support | On-site support for installation and commissioning. |
| প্রশিক্ষণ | Operator training for maximum productivity. |
| Documentation | Well documented instruction manuals. |
| After Sales Service | Quick turnaround for spare parts, support. |
| Cost | Competitive pricing and product value. |
Choose manufacturers who offer customized features, quick turnaround on tooling, proven reliability and responsive after-sales support.
Cost and Pricing of Mini Roll Forming Machines
The price of mini roll formers depends on the specifications, level of automation and customization. Here is an overview of the typical price ranges:
Table – Mini Roll Former Cost Considerations
| Capacity | Key Specs | Indicative Pricing Range |
| --- | --- | --- |
| 50mm Series | 4 rollers, manual | $4,000 – $7,000 |
| 75mm Series | 6 rollers, manual | $7,000 – $10,000 |
| 100mm Series | 10 rollers, semi-auto | $15,000 – $20,000 |
| 120mm Series | 12 rollers, automatic | $20,000 – $30,000 |
| Custom Series | 14+ rollers, CNC | $30,000 onwards |
Standard 50-75mm roll formers with basic specifications start under $10,000.
100-120mm series with more automation and control features cost $15,000 to $25,000.
Custom roll formers built to order with special features, tooling, automation, and controls can cost upwards of $30,000.
Additional costs include shipping, import duties, installation and training. Compare pricing but focus on long term production quality and cost per piece produced.
How to Operate and Maintain Mini Roll Forming Machines?
Here are some best practices for operating and maintaining your mini roll forming line optimally:
Table – Mini Roll Former Operation and Maintenance Guide
| Activity | Instructions | Frequency |
| --- | --- | --- |
| Line Setup | Programme profile parameters into the PLC. Reference the tooling layout drawings. | Before production start. |
| Material Loading | Ensure decoiler is tightly gripping the coil. Set the correct feed length. | Before each coil change. |
| Roll Adjustment | Adjust bottom roll gaps per tooling instructions. Re-check forming pressures. | Before each profile changeover. |
| Trial Run | Run machine at slow speed to test newly setup profile. Check for vibrations or issues. | After setup or adjustment. |
| Production Run | Gradually increase speed to optimal forming speed. Closely monitor first pieces produced. | Daily production. |
| In-process Inspection | Randomly check formed pieces for correct dimensions. Ensure stacker is aligning parts. | Periodically during production. |
| Tool Lubrication | Apply lithium grease on bearings, gears, chains. Oil the forming rolls. | Weekly. |
| Cleaning | Clean metal dust and powder from all sections using compressed air. | Weekly. |
| Bolt Tightening | Check and tighten any loosened bolts, clamps and connections using torque wrench. | Monthly. |
| Wear Inspection | Inspect roll bearings, gears, decoiler pads for wear. | Quarterly. |
| Part Replacement | Replace worn parts like bearings, decoiler pads, forming rolls etc. | As needed. |
Following standardized procedures and preventive maintenance schedules will maximize production and extend equipment lifetime.
Troubleshooting Common Issues in Mini Roll Forming Machines
Some potential issues and corrective actions for mini roll formers:
Table – Troubleshooting Tips for Mini Roll Forming Machines
Issue
Possible Causes
Corrective Action
Roller jamming
Excessive material thickness 
Feed length too long 
Rolls gaps too tight
Use material below 3mm 
Reduce feed length 
Increase roll gap
Strip slipping
Worn gripper rolls 
Oil/grease on rolls
Replace gripper rolls 
Clean rolls thoroughly
Profile distortion
Worn forming rolls 
Low forming pressure 
Misaligned rolls
Resurface or replace rolls 
Increase top roll pressure 
Re-align forming rolls
Repeatable defects
Damaged/scratched rolls 
Debris accumulation
Polish or replace scratched rolls 
Regular cleaning of metal fines
Excessive vibration
Loose foundation bolts 
Imbalanced/worn components
Tighten all base bolts 
Replace faulty bearings/gears
Uneven profiling
Improper roll gaps 
Worn roll bearings
Reset roll gaps step-by-step 
Replace worn bearings
Motor overheating
Low voltage supply 
Feeding too fast 
Loose electrical contacts
Check incoming power voltage 
Reduce feeding speed 
Tighten all electrical connections
Thorough inspection and paying attention to unusual noises or behavior can help identify and rectify problems early.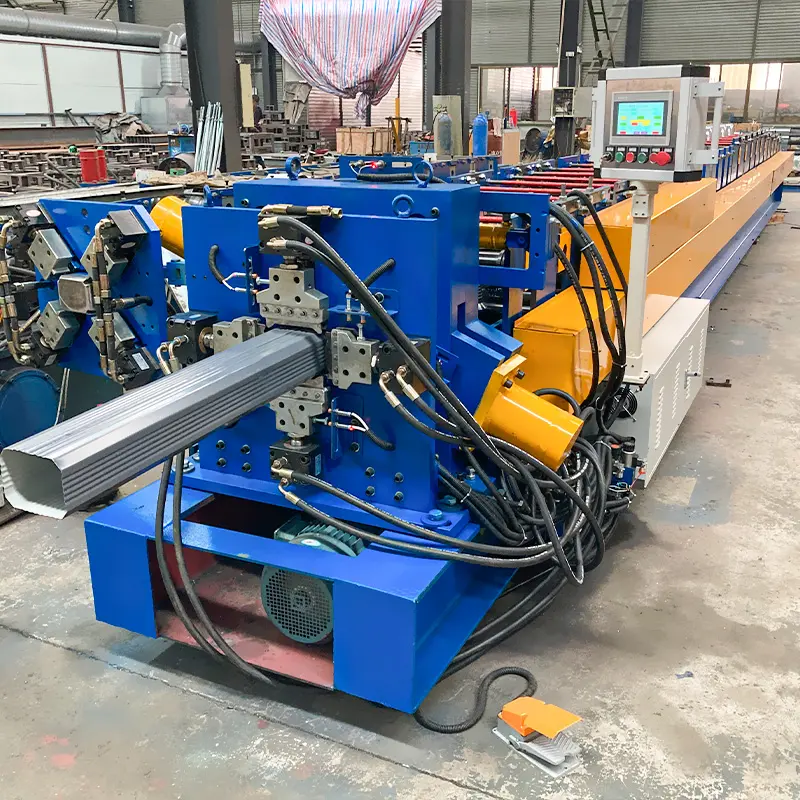 Safety Tips for Operating Mini Roll Formers
Working safely is critical when operating any metal fabrication machinery. Here are some key safety guidelines for roll forming equipment:
All operators must be fully trained and authorized to use the roll former.
The machine should be placed in a restricted area to prevent untrained access.
Safety guarding must be provided on all moving parts like gears, chain drives, rollers. Guards must be kept fully closed.
Emergency stop buttons should be installed near the machine within easy reach of operators.
Light curtains can be installed at the material entry and exit points to stop the machine if the operator approaches too close.
Machine panels and doors should have safety interlocks that disable operation when opened.
Roller areas should have finger guarding to prevent fingers from getting trapped between rollers.
Roll former area should be well illuminated to see all areas clearly.
Machine should be grounded properly using the earth lug provided.
Electrical wiring should be checked regularly and damaged wires replaced immediately.
Gear oils and other lubricants should be applied only with the power disconnected.
Hearing protection like ear plugs should be worn in case of loud noise generation.
Remove loose clothing, jewelry, long hair etc. which can get caught in moving parts.
Ensure the floor area is kept clear of oil, tools or other slip/fall hazards.
Comparative Analysis: Roll Forming vs. Press Brake Bending
Press brakes and roll forming offer two common alternatives for profile bending and fabrication. Here is a comparative look at the key differences:
Table – Roll Forming vs Press Brake Bending Comparison
| Parameter | রোল গঠন | Press Brake Bending |
| --- | --- | --- |
| Operating Principle | Material continuously formed through consecutive roll stations | Material stamped between upper and lower dies |
| Typical Products | Open profiles e.g. channels, angles | Enclosed profiles e.g. boxes, panels |
| Productivity | Higher throughput, continuous operation | Lower output, batch mode production |
| Labor Requirements | Lower due to automation | Higher due to manual material handling |
| Cycle Time | Much faster cycle times, higher speeds | Slower due to manual loading/unloading |
| Precision and Tolerances | Moderate precision and tolerances | High precision and tolerance control |
| Size Limitations | Smaller widths under 200mm | Wider forming up to 2000mm or more |
| Thickness Capacity | Thinner gauge material under 4mm | Can handle thicker material 10mm+ |
| Setup Time | Quicker changeovers between profiles | Slower die changeovers |
| Tooling Costs | Lower cost roll sets | Expensive precision ground dies |
| Ideal Production Volumes | Medium to high volumes | Low to medium production quantities |
| Initial Capital Cost | Lower machine price | Significantly higher press brake cost |
| Design Flexibility | Can make unlimited open profiles | Limited to pre-made enclosed die sets |
| Secondary Operations | May need deburring, finishing | Better finish on edges |
| Force Requirements | Lower force due to gradual bending | High force for instantaneous bending |
In summary, roll forming is ideal for high productivity and continuous forming of open profiles, while press brakes offer superior precision and control on medium production scale.
Profiling Software for Roll Form Design and Simulation
Sophisticated software programs are available for roll form design and simulation. Key capabilities include:
Creating 3D models of CAD profile designs desired by customer.
Virtually simulating the rolling process and sequencing of roll stands.
Checking for potential issues like cracking or springback.
Modeling correct material flow through the rolls.
Calculating rolling forces accurately.
Visualizing the flat pattern shape prior to bending.
Simulating correct location and rotation of every roller in 3D.
Checking for interferences between any tooling components.
Proofing the profile developing through the stations.
Optimizing the roll pass design.
Generating manufacturing drawings for roll production.
Creating setup documents with correct roller gaps for each station.
Estimating production time per piece.
Key benefits of simulation software:
Allows rapid design iterations at far lower cost than physical prototyping.
Removes guesswork from sequencing and tooling design.
Reduces tooling design time from weeks to days.
Avoid scrapped parts due to incorrect tooling setup.
Optimizes roll die geometry for uniform material flow.
Checks designs digitally instead of through trial and error.
Advanced FEA analysis ensures optimal roll pass design before production.
Latest Innovations in Roll Forming Technology
Some noteworthy innovations transforming modern roll forming include:
In-line punching and cutting – Cutting and hole punching integrated before the profiling stations increases efficiency and minimizes secondary steps.
Quick change forming heads – Modular heads allow quick exchange of different roll sets for rapid profile changes.
Servo-electric actuation – Servo motors and drives provide fast and precise speed control for superior accuracy.
In-line heat treatment – Induction pre-heating integrated improves forming of ultra high strength steels.
Force monitoring – Sensors monitor roller loads and automatically adjust pressures for quality output.
In-line welding/adhesive – Joining and filling operations integrated with the rolling process.
Advanced 3D simulation – More realistic modeling of the rolling process using FEA and cloud computing power.
Intelligent sensing – Vision systems for dimensional inspection and predictive maintenance.
IoT connectivity – Remote monitoring, troubleshooting, data analytics to minimize downtime.
Automated quality control – Machine vision for surface imperfection detection after rolling.
Customized mini-factories – Compact roll lines producing different profiles as per customer demand.
These trends are enabling roll formed components with higher complexity, quality and automation.
Roll Forming Safety Standards
Roll forming machinery must meet stringent safety standards for compliance and employee protection. Key standards include:
ISO 12100 on general safety principles for machinery design.
EN 1010 on safety requirements for roll formers and presses.
ANSI B11 on safeguarding of metal working machinery.
OSHA 1910 on US workplace machinery safety regulations.
CE marking compliance for EU safety rules.
Interlocking safeguards per ISO 14119 that prevent access to danger areas.
ISO 13857 on safe positioning and clearances for access and maintenance.
ISO 16090 on emergency stop devices.
ISO 4413 on safety rules for hydraulic powered machinery.
ISO 4414 for pneumatic system safety.
Electromagnetic compatibility standards for proper grounding and insulation.
ISO 13850 stipulating requirements for emergency stop buttons.
Proper guarding, safety interlocks, E-stops and grounding as per these codes are mandatory.
Roll Forming Industry Associations
Global industry associations providing knowledge, technology standards and networking platforms:
European RMI Association – Represents roll formers in Europe.
Metalforming Manufacturers Association – US industry association for roll forming and other metalworking technologies.
Japan Roll Forming Association – Association for Japanese roll forming industry.
APROFAC – Asia Pacific Rollforming Association Council.
Australasian Sheet Metal Association – Industry body for sheet metal fabricators in Australia and New Zealand.
They conduct conferences, publish industry knowledge, support workforce education and represent member interests. Being an active member helps gain insights into the latest technologies and industry best practices.
Training Requirements for Roll Forming Operators
Properly trained machine operators are key to maximizing productivity and quality. Typical training aspects:
Safety procedures – zero risk tolerance, emergency stops, protective equipment.
Machine controls overview – jog modes, speed, edge sensors, etc.
Material handling – loading and feeding coils, stacking profiles.
Roll change – removing and replacing forming rollers.
First article inspections – verifying output quality.
Measuring devices – micrometers, calipers, gauges.
Lubrication and preventive maintenance.
Troubleshooting common problems – jams, slippage, distortion etc.
Good housekeeping – cleaning fines, spilled oils etc.
Quality standards for finished profiles.
Usage of work instructions and technical manuals.
Proper material storage and handling.
Line balancing for maximum output.
Efficient stacking and bundling of finished pieces.
Effective training translates into higher machine utilization, lower scrap, safer work environment and longer equipment lifetime.
Career Opportunities in Roll Forming
Here are some promising career paths in the roll forming sector:
Machine Operators – Operating and adjusting roll forming machinery.
Fabricators – Fabricating roll formed profiles into enclosures, structures etc.
Maintenance Technicians – Troubleshooting and repairing roll form lines.
Tool Designers – Designing optimal roll pass sequences.
Process Engineers – Optimizing roll forming processes and quality.
Production Managers – Managing roll forming shop floor operations.
Quality Inspectors – Inspecting formed profiles and ensuring compliance.
Sales Engineers – Technical sales support for roll forming solutions.
CAD Designers – Modeling profiles and simulating processes.
Purchasing Managers – Procuring raw materials and machine inventory.
The field offers good prospects given the demand growth for roll formed parts across industries.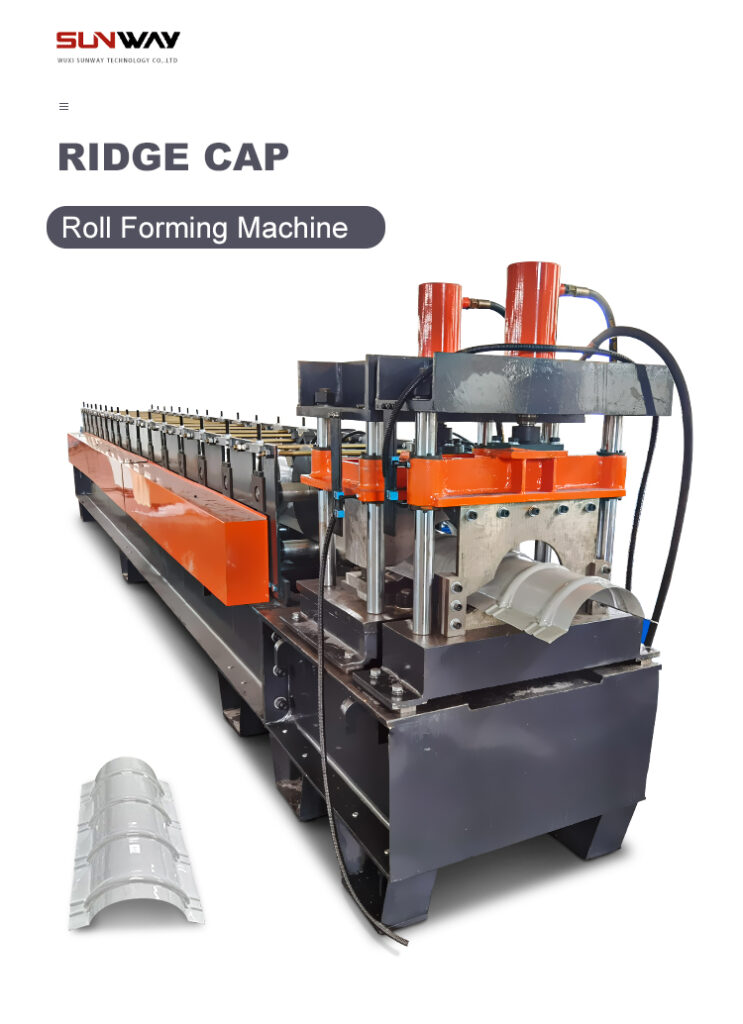 Roll Forming Machine Manufacturers
Some leading global manufacturers of roll forming machinery include:
Samco Machinery (UK)
LAPCO (Taiwan)
Gasparini (Italy)
Knuth (Germany)
Form Process Engineering (USA)
Bradbury (USA)
Dimeco (Netherlands)
Botou Xianfa (China)
Jouanel Industrie (France)
JIDET (India)
Zani Rollformers (Italy)
Shanghai Rollforming (China)
Metform (USA)
When sourcing roll forming equipment, partner with manufacturers having wide product range, proven reliability and responsive service.
Key Takeaways – Mini Roll Forming Machine Guide
Mini roll formers offer an ideal method for producing metal profiles up to 120mm width from coils and sheets.
They consist of sheet decoiling, feeding, pre-cutting, roll forming and post-cutting sections for continuous production.
Roll formers provide consistency, speed and cost advantages compared to alternate technologies.
Roll pass sequencing is optimized using advanced 3D simulation softwares.
Regular preventive maintenance and operator training are vital for maximum performance.
Safety guarding systems and training procedures need to be implemented diligently.
With the right machine selection and utilization practices, mini roll formers provide a versatile and profitable fabrication solution.
FAQs
Q: What are the typical maintenance costs for a mini roll forming machine?
A: Annual maintenance costs average around 2-4% of the machine cost based on usage intensity. This includes consumables like oils, greases, replacement parts for bearings, chains, gears, decoiler pads etc. plus technician labor charges. Proper operation and preventive care can minimize maintenance costs.
Q: What level of operator skill is needed for mini roll formers?
A: Mini roll formers are designed for easy operation. Machine setup is simplified through menu-driven PLC systems. Average operators can be fully trained on proper working of the machine in 1-2 weeks. Key skills needed are ability to interpret drawings, judge profile quality, basic troubleshooting and diligent safety practices.
Q: What is the production rate of mini roll forming machines?
A: Production rate depends on machine speed, profile complexity and operator skill. Typical output rates are:
Simple profiles – Up to 25 meters per minute
Complex shapes – 10 – 15 meters per minute
So approximately 15,000 to 20,000 linear feet can be produced in a regular 8 hour shift.
Q: What profiles and product types can be roll formed?
A: Roll forming is ideal for open profiles like channels, angles, square/rectangular tubes which can be continuously formed. Enclosed profiles like trays, panels etc. possible through special techniques like heat welding. A wide range of products are manufactured via roll forming including doors, panels, roofing, racks, rail coach parts, highway guard rails and more.
Q: What is the thickness capacity of small roll forming machines?
A: Standard roll formers can handle sheet thickness ranging from 0.5mm to about 3mm. Special roll formers are available to process thicker material up to 6mm by using more robust tooling. Aluminum and other softer metals can also be formed in thicker gauges. Maximum hardness levels that can be reliably handled is about 300 BHN.
Q: What are common roll former malfunctions and how to correct them?
A: Defects like twisting, flaring or splitting are caused by issues like worn bearings, uneven gaps, feed misalignment etc. and can be fixed by adjusting forming pressures, lubrication, material feed speed and realigning components. Regular inspection and maintenance minimizes such failures.
Q: What is the shipping weight of a typical mini roll former?
A: Shipping weight varies based on configuration, but typically ranges from 1000 – 2500 kg for a machine with 10 stations and 5 meter length. This includes crating, pallets, packing materials etc. Requires covered trailer, cargo ship, or ocean freight for transport.