Overview of Stam Roll Forming Machines
Stam roll forming machines are used to form metal sheets into customized profiles through a series of consecutive bending operations. They are versatile equipment capable of producing components for a wide range of applications from roofing and siding to racking systems, solar panel frames, highway products and more.
Roll forming offers several advantages over other metal forming processes:
Highly automated production of continuous profiles at fast speeds
Ability to form complex shapes with tight tolerances
Low tooling costs compared to other processes like stamping
Minimal material waste since profiles are formed from coiled flat sheets
Flexibility in production volume as roll sets can be changed quickly
Stam has been a pioneering name in roll forming technology for over 50 years. Their roll forming machines range from smaller units for low volume runs to high capacity lines producing over 100 meters of profile per minute.
Some of the key features of Stam roll forming equipment are:
Roll Forming Machines Guide
| Type | Description |
| --- | --- |
| Production Lines | High speed, high volume lines with multiple stands and loop control for continuous production |
| Compact Lines | Cost-effective lines with lower output volumes but quick changeover ability |
| Portable Roll Formers | Lightweight portable units easy to move between sites |
| Specialty Lines | Customized lines for specialized high-strength profiles or thick gauge material forming |
| Tooling | Complete range of standard and custom roll tooling, punches, dies, etc. |
Roll Former Characteristics
| Parameter | تفاصيل |
| --- | --- |
| Forming Stations | Up to 20 forming stands depending on profile complexity |
| سرعة التشكيل | Up to 100 m/min on high capacity lines |
| Material Thickness | Up to 8 mm for specialty heavy gauge lines |
| Material Width | Up to 2100 mm on largest production lines |
| Roll Design | Various profiles – round, square, rectangular, trapezoidal etc. |
| Automation | Loop control, programmable PLCs, quick die change systems |
| Options | Decoilers, straighteners, pre-punches, cutoff saws, stackers etc. |
Applications of Stam Roll Formers
| Industry | Typical Profiles Produced |
| --- | --- |
| Construction | Roofing sheets, wall panels, cornices, studs, purlins |
| Automotive | Window frames, mudguards, pillars, exhaust components |
| Appliances | Panels, housings, frames, door components |
| Furniture | Racks, frames, shelves, table legs |
| Agriculture | Silo panels, drainage profiles, cow mats |
| Infrastructure | Structural profiles, highway crash barriers, utility poles |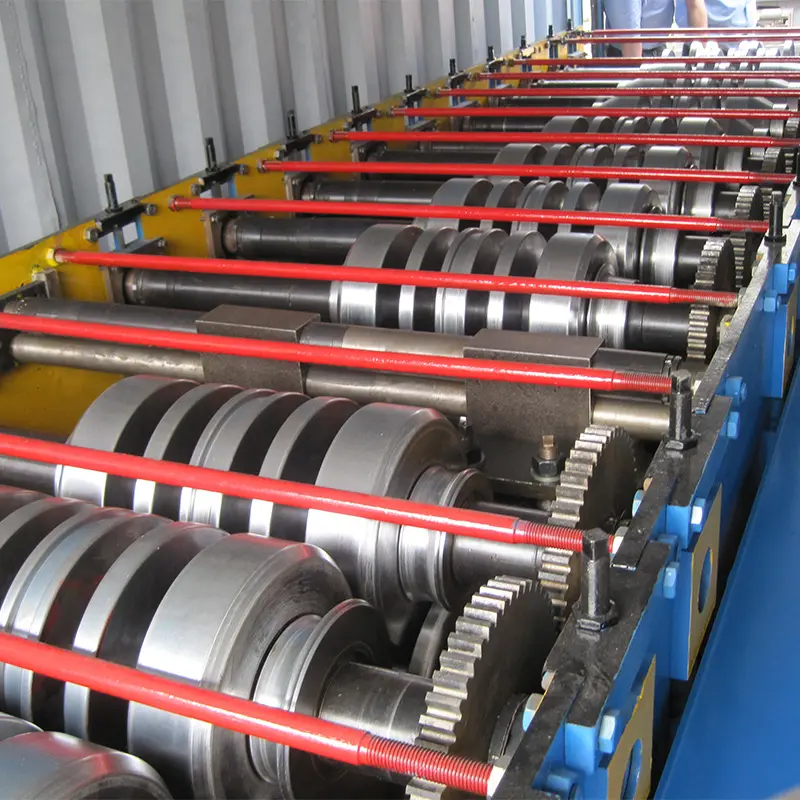 Specifications Overview
Roll forming technology involves gradual bending of strips or coils of sheet metal into desired cross-sectional shapes. This is done by passing the sheet through consecutive sets of contoured rolls. Each set incrementally forms the shape a little more until the final profile is achieved.
Common design standards and structural specifications of Stam roll forming machines include:
Number of roll stations – Typically between 6 to 20 depending on profile type
Roll station type – Breakdown stations for initial forming and sizing stations for final precision
Roll shaft diameter – Higher rigidity needed for heavy gauge forming so diameters up to 180 mm may be used
Roll adjustment design – Quick and precise roll gap settings are key for quality profiles
Roller bearings – Heavy duty bearings required for rolling high strength steels
Roll materials – Alloy steel or hardened steel rolls needed for long service life
Roll geometry – Sophisticated CNC grinders used to create precise roll contours
Roll parallelism – Maintaining parallelism between top and bottom rollers critical for control of material flow
Material feed system – Robust direct drives with electronic controls preferred over chain/sprocket drives
Strip guidance control – Multi-roller systems or edge guider rolls to maintain centering of strip
Horsepower capacity – Higher HP motors and gearboxes mandatory for fast cycle times and heavy gauge rolling
Frame and base – Stable C-frame in high tensile steel with concrete foundation for minimising vibrations
Safety features – Emergency stop buttons, roll guards, light curtains, access interlocks etc.
Guide for Choosing Stam Roll Forming Equipment
Selecting the appropriate Stam roll forming machine depends on assessing production requirements and choosing equipment capabilities accordingly:
| Factor | Description |
| --- | --- |
| Part volumes | High speed lines for over 50,000 pieces/year. Compact lines for 5,000-50,000 pieces/year |
| Material type | Mild steel up to stainless steel, aluminium, copper etc. Specialty alloy competency required |
| Material thickness | Thinner gauges can use smaller diameter rolls. Thicker gauges need heavier duty roll tooling |
| Part dimensions | Narrower widths need lesser forming stations than wider profiles |
| Profile complexity | Intricate shapes need more forming stations and may run at slower speeds |
| Quick changeover | Minimise setup time between jobs with quick change forming heads and rollout stands |
| Line automation | Higher automation for continuous high volume production. Semi-auto lines for low volume batch production |
| Total line cost | Consider TCO including ancillary equipment like decoilers, straighteners, cutoff saws etc. |
| Production environment | Cleanroom specification possible for electronics/medical applications |
| Safety | Additional safeguarding as per safety norms in respective countries |
| Service | Responsive aftersales support for maintenance and spare parts supply |
Roll Forming Machine Buyer's Guide
Some tips for customers planning to purchase Stam roll forming equipment:
Clearly define annual production volumes and product mix to be run on the machine
Calculate maximum material width, thickness, yield strength to determine machine capacity needed
Factor in any secondary operations like punching, notching, hole cutting to be done inline
Engage with technical sales engineers early on for design consultancy and project planning
Request reference lists of customers producing similar profiles to assess track record
Ask for actual line layout drawings based on space constraints at your factory
Review options for automation – PLCs, servo controls, sensors for monitoring
Specify ancillary equipment modules – decoilers, straighteners, inspection tables etc.
Consider aftersales service response time to minimize production downtime
Compare life cycle costs offered by various manufacturers
Negotiate for performance trials of machine at manufacturer's demo center
Ensure adequate training of operators is included in the machine purchase
Roll Forming Process Overview
| Stage | Description |
| --- | --- |
| Decoiling | Sheet coil mounted on powered decoiler. Adjustable tension control for various gauges |
| Feeding | Rollers or motorized feed tables used to feed metal sheet into first station |
| Forming | Sheet passes through consecutive forming stations to gradually attain profile |
| Cutoff | End cutoff device – rotating shear or saw cuts profile to required length |
| Exit table | Formed pieces placed on exit table for inspection and offline operations |
Standard Roll Forming Equipment Configuration
Decoiler or uncoiler unit
Feed or straightening rolls
Accumulator or loop control device
Forming stations with top/bottom contour roll sets
Punching or notching station if needed
Shear and cutoff machine for cutting to length
Exit table for collection of formed pieces
Electrical panel for controls and automation
Inline vs Batch Production Methods
| Inline Roll Forming | Batch Production |
| --- | --- |
| Continuously forms profiles from coil | Forms pre-cut sheet blanks |
| Higher production rates | Lower production rates |
| Needs fewer operators | Needs manual loading of blanks |
| Close tolerance control between pieces | More variability between pieces |
| Automated size cutoff | Manual cutting to size |
| Suited for long production runs | Better for lower volume runs |
| Compact layout | Work flow may be spread out |
Choosing Between New and Used Roll Forming Lines
| New Roll Forming Lines | Used Roll Forming Machines |
| --- | --- |
| Fully warranted equipment | No warranty coverage |
| Latest technology and safety features | May lack newer safety features |
| Customized to your product needs | Limitations in adjusting to different profiles |
| Predictable repair and maintenance costs | Higher risk of unanticipated breakdowns |
| Minimized workflow disruptions | More prone to downtime |
| Higher initial capital investment | Significant cost savings over new equipment |
| Ideal for high precision or critical applications | Acceptable for less precision applications |
| Reduced risk of retrofitting issues | May need some upgrades or refurbishing |
| Easier to get operational support from OEM | OEM support may not be available |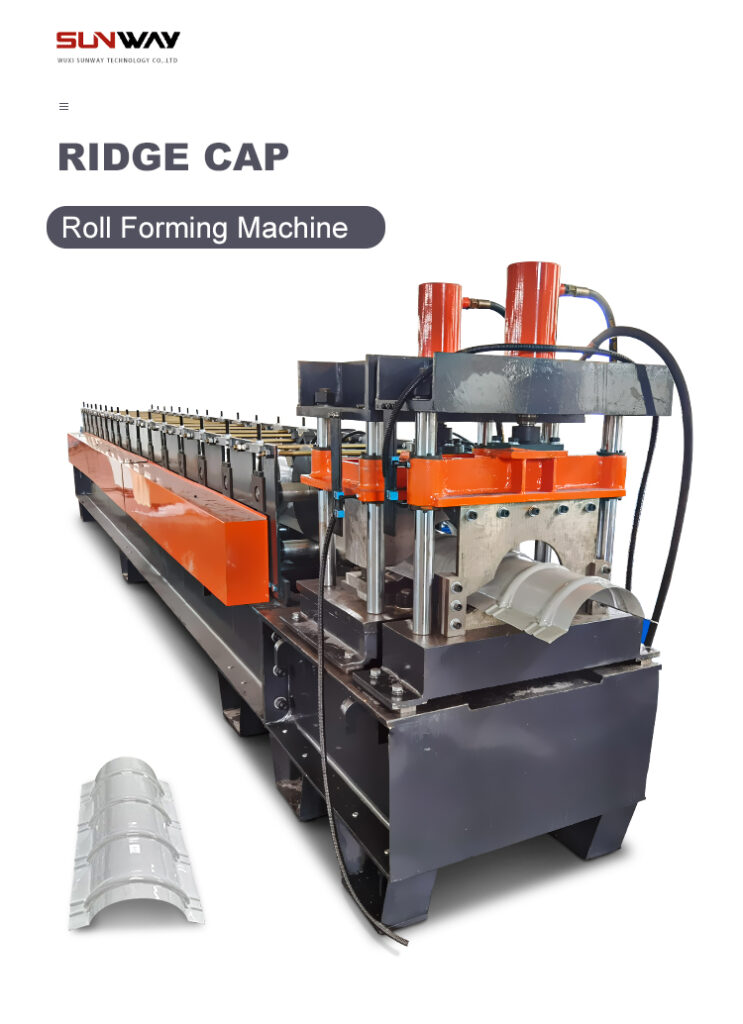 Operating Guide for Roll Forming Lines
| Activity | Description |
| --- | --- |
| Material loading | Use overhead crane or forklift to load coil on decoiler. Ensure steady rest at rear is set. |
| Decoiler setup | Position coil on mandrel and secure rear end. Set decoiler tension and straightener rolls pressure. |
| Forming setup | Install correct forming rolls in each station as per tooling layout drawings. Check parallelism and set gaps. |
| Trial running | Run initial pieces at slow speed while monitoring forming process. Check profile dimensions. |
| Full speed running | Ramp up to full operating speed once trial step is passed. Confirm part quality. |
| Roll maintenance | Periodically inspect roll surfaces for wear. Grind/rechrome rolls if surface defects appear. |
| تشحيم | Apply lubricating oil on forming rolls periodically to prevent corrosion and improve surface finish. |
| Safety | Ensure light curtains, access guards and emergency stops are functional at all times. Require hearing protection for operators. |
Roll Tooling Maintenance Guidelines
Visually inspect rolls once per shift for damage or wear
Measure roll diameters periodically to identify any uneven wear
Lightly grind roll surfaces if fine cracks or pitting observed
Re-chrome forming rolls if chroming has worn excessively
Replace rolls if severe indentations, galling or scoring is present
Check roll parallelism and re-adjust if tolerance exceeds 0.02 mm
Confirm roll materials match the sheet material specifications
Protect rolls from corrosion by oil coatings when line is idle
Troubleshooting Common Roll Forming Defects
| Defect | Possible Causes | Corrective Actions |
| --- | --- | --- |
| Profile distortion | Rolls out of parallelism, worn rolls, strip misalignment | Re-align rolls, replace badly worn rolls, adjust strip guidance |
| Surface marks | Roll surface damage, foreign particle ingress, unsuitable lubricant | Dress roll surface, improve filtrations, change lubricant |
| Profile springback | Elastic recovery of metal, excessive roll gaps | Increase bottom roll diameter, minimize roll gaps |
| Burrs on edges | Roll gaps too narrow, damage to roll edges | Open roll gaps slightly, file/dress damaged roll edges |
| Thickness variations | Non-uniform coil hardness or gauges, worn rolls | Improve coil quality control, timely roll grinding/replacement |
Cost Breakdown of Roll Forming Lines
| Component | Share of Total Cost |
| --- | --- |
| Forming stations with rolls | 25-30% |
| Decoiler and feed section | 15-20% |
| Cutoff saw and exit tables | 10-15% |
| Electricals and controls | 10-15% |
| Frames and enclosures | 10-15% |
| Design and installation | 10% |
| Ancillary equipment | 5-10% |
| Logistics and freight | 5% |
As can be seen, the forming rolls and stations account for the largest share of the total line cost. The frame, controls, and material handling equipment together account for almost half the expenditure. Customers should align their budget to the production volumes and level of automation needed.
Buying Criteria When Comparing Roll Forming Machine Suppliers
| Parameter | Preferred | Avoidable |
| --- | --- | --- |
| Years in business | 15+ years ideal | Under 5 years risky |
| Specialization | Dedicated roll forming machinery companies | Traders or resellers without technical expertise |
| Production scale | In-house manufacturing preferred | Traders or assemblers reliant on outsourced components |
| Design capabilities | Sophisticated 3D modeling analysis ideal | Manual or outdated design practices |
| Quality accreditation | ISO-certified | No quality systems certification |
| Customer base | References from established companies | References from small/unknown companies |
| Aftersales service | Quick response workshops near you | Manufacturers situated remotely overseas |
| Commercial terms | Willingness to offer trials and demonstrations | Pressure sales tactics without proper demonstrations |
As a strategic investment, customers would do well to partner with established roll forming machinery brands that offer the complete end-to-end solution.
التعليمات
Q: What types of profiles can be produced on Stam roll forming machines?
A: Stam roll formers can produce a wide variety of profiles from simple geometries like angles, rails, channels to complex shapes like solar panel frames, highway guardrails, engineered structural sections etc. Common applications include roofing and wall panels, racks, highway components, shelves, door and window sections etc.
Q: How fast is the roll forming process?
A: Production speeds vary based on part complexity. Typical speeds are 10-15 m/min for simpler profiles and 60-100 m/min for high speed lines producing basic C/U channels continuously. Specialty alloys may be limited to 30 m/min ranges.
Q: What size coils can be used for roll forming?
A: Many standard Stam roll forming lines accept 1500 to 2100 mm width coils with thicknesses from 0.5 up to 8 mm. Coil I.D. ranges from 508 mm to over 1500 mm while coil O.D. can go over 2100 mm on high capacity decoilers. Coil weight capacities are normally 10 to 30 tons.
Q: How does roll forming compare to press braking or bending sheet metal?
A: Roll forming is faster and more economical than brake pressing for producing linear parts in long lengths. It also enables close tolerance control across the full profile length. Press braking is better suited for short length components in small batches.
Q: What is the advantage of servo motor driven roll forming over mechanical drives?
A: Servo drive based Stam roll forming machines allow programming of speed variations at different stations to optimise forming. This avoids overloading by dynamically controlling tooling speeds, reducing cone/bow defects.
Q: What level of operator skill is needed for roll forming?
A: Stam roll forming lines are designed for quick setup by semi-skilled operators. CNC controls, recipe storage, and automatic features minimise manual intervention needed. Some training is still required for activities like roll change, maintenance, troubleshooting etc.
Q: How often are roll changes needed on a multi-profile roll forming line?
A: On typical Stam flexible roll forming lines used for the construction industry, roll changes may be needed once every 1-2 days when switching between profiles like roofing sheets, girts, studs etc. Quick change tooling and automated preset recall helps fast changeovers.
Q: What kind of testing or inspection is done on profiles coming off a roll former?
A: Inspection tables allow checking of critical dimensions like depth, width, straightness and angularity. Wall thickness gauges may be used to sample thickness at regular intervals. Visual inspection for surface defects is also done before packed for dispatch.
Q: Can a roll forming machine be used for prototyping and short production runs?
A: Yes, manual and semi-automatic Stam roll forming lines are well suited for small scale production. With quick roll changes and offline cutting, they offer an economical solution for prototyping and pilot batches for new custom profiles.
Q: Does Stam provide roll design software for developing new tooling profiles?
A: Stam offers ProfileRoll Design software to help customers develop and simulate new roll forming profiles. It optimizes the number of stands required and roll geometry to produce profiles within specified tolerances. The software models help reduce empirical guesswork and development time.
Q: What maintenance activities are required on roll forming machines?
A: Activities like roll grinding, roll chrome plating, bearing lubrication,belt tensioning, visual inspection of components for wear/damage, and keeping the machines clean are part of standard preventive maintenance. This is required at prescribed intervals for reliability.
Q: How long does it take to change between different profiles on the same machine?
A: On manual lines, roll change time can range from 20 to 90 minutes depending on the complexity. On fully automatic quick change lines with easy split forming heads, complete roll changes are accomplished in 15 minutes or less making frequent profile changes feasible.
Q: Can other metal fabrication operations like punching or cutting be integrated with roll forming?
A: Yes, it is common to have punching stations or end of line cutting processes integrated inline with roll forming for processing efficiency. Other secondary operations like stamping, shearing, milling can also be combined depending on the production process flow.