Roll forming is a metal fabricating process where sheet or coil stock metal is continuously bent and shaped with a series of rollers until the desired cross-sectional profile is obtained. Frame roll forming machines are used to create frame and structural components with complex long length profiles by progressive rolling, cutting and welding from metal coils.
Frame roll forming provides an efficient, economical and flexible way to manufacture metal framing with customized dimensions and geometries compared to other fabrication processes. This guide provides a detailed overview of various aspects of frame roll forming technology and machines.
Overview of Frame Roll Forming Machines
Roll forming machines progressively form metal sheet or coil stock into diverse longitudinally uniform customized cross-sections and long lengths using a series of passes through sequentially arranged roll stations.
Key attributes:
Highly customizable continuous production of long length metal framing from coils
Capability to form complex structural shapes with tight tolerances
Lower tooling costs compared to other processes like stamping or press braking
Minimal material waste
Consistent quality and mechanical properties along the length
High production rate for mass production applications
Frame roll forming involves specialized roll forming machines that can manufacture long structural sections from metal strips. Frame roll mills integrate very robust designs with features like servo roll adjustment, automatic material feeding, in-line welding and cutting systems specifically for high strength framing products.
Types of Frame Roll Forming Machines
There are two main types of frame roll forming mills:
Single Main Line Frame Roll Forming Machines
Designed for high volume production of one profile design
Limited flexibility – profile changes require roll change
Example structural sections: C, U, Z, top hat, door frame
Versatile Quick Change Frame Roll Mills
Enable fast profile changes with quick change cassette systems
Used for lower to medium production volumes with profile variations
Reduce roll change downtime from hours to minutes
Ideal for door/window frame builders, steel furniture etc.
Key Components of Frame Roll Forming Lines
A frame roll forming system comprises of diverse modular components for material handling, forming and downstream processes:
Decoiler or uncoiler – feeds raw material coil stock into the process
Servo feed roll system – provides accurate material positioning
Roll forming stands – progressively form the material through series of rolls
Punching unit – cutouts or notches for attachments
Shear and cutoff – cut profiles to required length
Welding machine – joins cut sections for long continuous frames
CNC bender – forms special end shapes if needed
Runout tables – accumulate and straighten finished products
Automatic stacker – neatly stacks finished pieces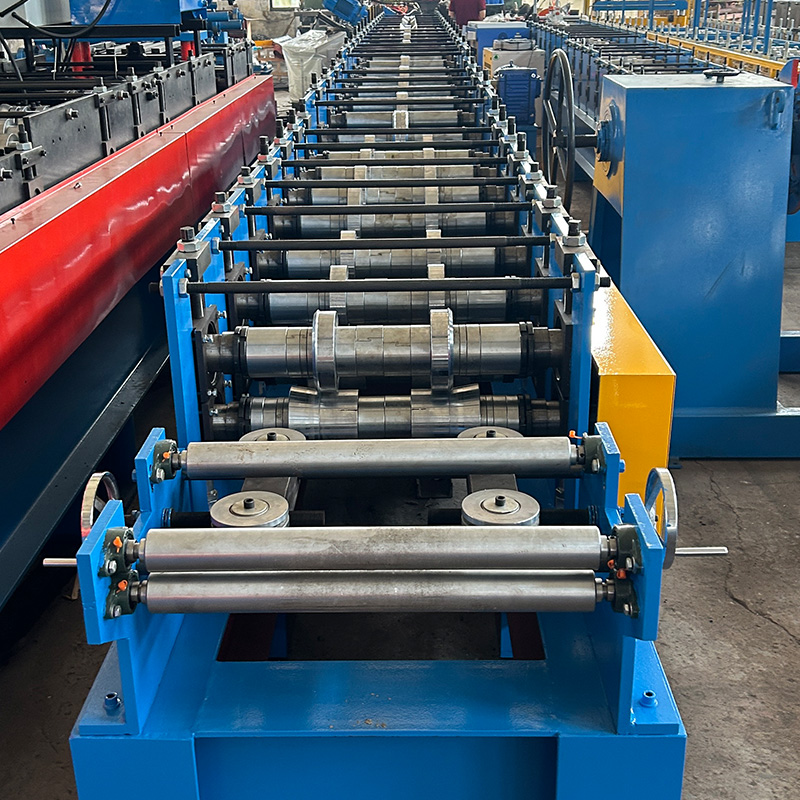 Frame Roll Forming Machine Specifications
The specification of a frame roll forming line varies based on the type of structural sections produced and required output. Some key parameters are:
| Parameter | Typical Specifications |
| --- | --- |
| Raw material | Metal coil strips: Steel, aluminum etc. |
| Strip thickness | 0.3 – 3 mm |
| Strip width | Up to 2.5 m |
| Finished section lengths | 6 – 15 m or custom |
| Section dimensions | 20 – 300 mm typical |
| Production rate | 10 – 35 m/min |
| Annual output | 500 tons – 10,000 tons |
Raw Material Requirements
Cold rolled steel and galvanized steel coils are commonly used
Aluminum coils for light weight framing
Stainless steel, copper for specialized needs
Coil I.D: 508 mm or 610 mm standard
Roll Tooling Specifications
Roll materials: D2, S7 tool steel or CPM10V for longevity
Roll diameters: 100 – 250 mm typical
Roll face length: Up to 1300 mm
Quick change cassettes: Enable fast profile changes
Line Layout Options
Horizontal – Material moves horizontally from decoiler to finished stacks
Vertical – Material feeds vertically from bottom to top
Compact layout – Minimizes floor space requirement
Customized layout – Tailored to factory space
نظام التحكم
Automates production sequence and monitors line
Controls like PLC, HMI, servo drives, sensors
Software features: Parameter storage, diagnostics
Key Applications of Frame Roll Forming Machines
Frame roll forming technology is ideal for manufacturing customized metal framing for diverse applications:
| فئة | Typical Applications |
| --- | --- |
| Building and construction | Wall studs, roof trusses, door jambs, runners, track, studs, rafters, architectural facade framing |
| Automotive | Chassis frames, pickup truck frames, trailers |
| Furniture | Metal office furniture frames, shelving, racking, storage |
| Appliances | Refrigerator, washer, dryer internal frames |
| Conveyors | Conveyor support frames |
| Solar | Ground mount, rooftop solar module framing |
This flexible process enables roll forming mills to cater to low, medium and high production volume requirements for metal framing components.
Choosing a Frame Roll Forming Machine Supplier
Selecting a suitable roll forming machine manufacturer is crucial to get equipment that meets the required production needs and quality standards. Here are key considerations for choosing a frame roll forming line supplier:
| Parameter | What to Look For |
| --- | --- |
| Expertise | Extensive experience in frame roll forming, proven track record |
| التخصيص | Capability to customize machines to fit product needs |
| Quality | Use of high quality components, international quality certification |
| Technology | Advanced features – quick change systems, precise servo control etc. |
| Services | Installation support, operator training, after-sales service |
| Reliability | Technologically reliable, minimum downtime |
| Reputation | Positive user reviews, satisfied long term clients |
| Pricing | Competitive pricing for feature set and production capacity |
| Lead time | Ability to deliver equipment per committed schedule |
Manufacturers who specialize in frame roll mills and have supplied customized lines with robust designs tend to be the best fit for buyers compared to general roll forming equipment suppliers.
Frame Roll Forming Machine Price Range
Roll forming equipment has a wide range of pricing levels based on its size, production output, level of automation and additional secondary processing capabilities.
Here is an overview of price ranges for new frame roll forming mills:
| Machine Type | Typical Price Range |
| --- | --- |
| Manual and semi-automatic lines | $40,000 – $100,000 |
| Automated medium output lines | $150,000 – $500,000 |
| High speed automated lines | $600,000 – $2,000,000 |
| Large wide line for chassis frames | Above $2,000,000 |
Key factors impacting cost:
Line speed and annual output requirement
Level of automation
Secondary processing – punching, cutting, stacking, welding
Material thickness and frame sizes
Additional customization needs
Used or pre-owned frame roll forming equipment is also available at 30-50% lower prices compared to new machines.
Buyers should evaluate total cost of ownership including maintenance costs, in addition to just the machine cost. Suppliers who provide spare parts locally can lower lifetime ownership costs.
How to Select the Right Frame Roll Forming Machine
Selecting optimal roll forming equipment requires matching the production needs to the machine capabilities:
| Factor | How It Impacts Selection |
| --- | --- |
| Products | Structural shapes, dimensions, thicknesses |
| Annual volume | Production rate, line speed needed |
| Changeover needs | Quick change vs. fixed tooling |
| Secondary processing | Cutting, punching, welding, stacking features |
| Budget | Dictates automation level, speed |
| Space available | Line layout fitting available floor space |
| Staff skill level | Level of automation simplicity needed |
| Growth plans | Scalability for future higher volumes |
Work closely with shortlisted suppliers to finalize the right specification customized for your production requirements for optimum equipment performance and value.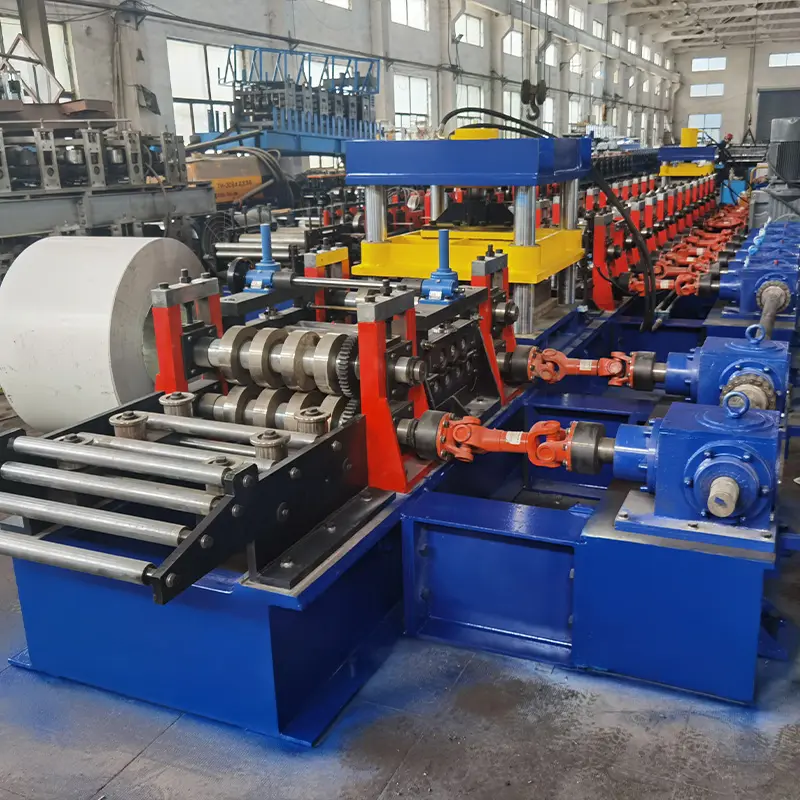 Installing and Operating Frame Roll Mills
Proper installation and operation procedures are vital for trouble-free functioning of frame roll forming lines. Here are some best practices:
Carefully transport and position equipment as per installation manual
Align and bolt down stands firmly to a level foundation
Verify and connect electrical, pneumatic and hydraulic systems
Load test and fine tune all machine settings
Train staff thoroughly on operation procedures
Run material trials and optimize roll sets for target profiles
Develop standardized operating procedures and checklists
Monitor equipment to identify any abnormalities
Follow recommended maintenance schedule
Use qualified technicians for servicing requirements
Ensure safety mechanisms and protocols are strictly followed
With trained operators and Preventive maintenance, frame roll forming lines can operate to their full potential with minimum downtime.
Key Maintenance Tips for Frame Roll Mills
Regular maintenance is crucial for continued trouble-free functioning of roll forming machines. Here are some key maintenance activities:
| Maintenance Task | تفاصيل | Frequency |
| --- | --- | --- |
| Inspection | Check for abnormalities in operation | Daily |
| Roll and guide cleaning | Remove metal dust, lubricate | Weekly |
| Roll replacement | Replace damaged/worn rolls | As needed |
| Sensor calibration | Realign/calibrate sensors | Every 6 months |
| تشحيم | Lubricate bearings, gears, chains | Monthly |
| Hydraulic system | Check oil, filters, pumps, valves | Periodically |
| Electrical system | Inspect wiring, controls, motors | Yearly |
| Test run | Validate machine operation without load | Monthly |
Proactive servicing of roll forming equipment as per manufacturer recommendations prevents unplanned outages and maximizes working life.
Advantages and Benefits of Frame Roll Forming
Roll forming into structural metal sections confers many advantages compared to other fabrication methods:
Benefits include:
Customized continuous framing production
Reduced material waste
Lower tooling investment
High dimensional accuracy and repeatability
Consistent quality along the profile length
High production rate and throughput
Minimal need for finishing operations
Scalability to handle higher volumes
Lower per piece fabrication cost
Just-in-time production
Roll formed metal frames are lighter, stronger and more uniform than other fabrication techniques. Frame roll forming machines enable optimal utilization of material properties.
Limitations and Considerations for Roll Forming
Despite the many benefits, frame roll forming has some inherent limitations:
Some considerations are:
High initial equipment investment
Fixed tooling restricts profile changes
Design limitations – restrictions on shapes, features
Not ideal for low volume or prototype production
Limited forming capability beyond simple bends
May still need additional fabrication steps
Dedicated storage space needed for long length outputs
Skilled staff needed for equipment operation
Significant make-ready time for production changeovers
The limitations can be mitigated by choosing flexible quick change roll mills, but design restrictions remain applicable. The process may not be optimal for some complex custom shapes produced in very low quantities.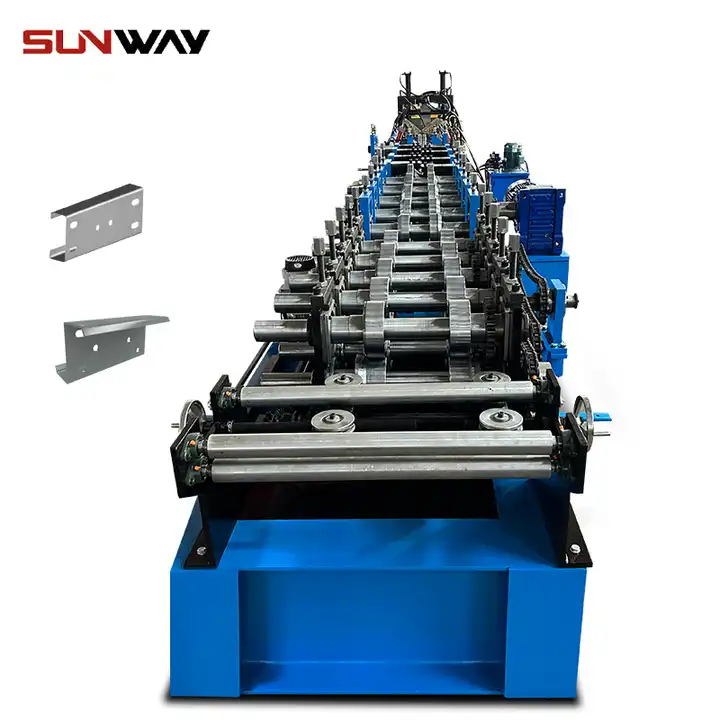 التعليمات
Here are answers to some common questions about frame roll forming:
| Question | Answer |
| --- | --- |
| What metals can be roll formed? | Most structural metals like steel, stainless steel, aluminium, brass, copper can be roll formed. Not suitable for castings/forgings. |
| What products can be made? | Metal studs, roof trusses, solar rails, door frames, furniture frames, chassis parts etc. Many long structural components. |
| How long are the finished pieces? | Sections up to 15 m long can be continuously formed and cut to required length as per application. |
| What tolerances are achievable? | Roll forming can achieve a dimensional tolerance of ±0.5 mm over 15 m sections. |
| What is the advantage over stamping? | Lower tooling cost, minimal material waste, flexibility, improved strengths, no shape limitations. |
| Is secondary processing required? | Some punching, cutting, hole adding may be needed but minimal compared to other methods. |
| How easy are profile changes? | Quick change cassette systems allow profile changes in minutes compared to hours for conventional roll changing process. |
| What skill level is needed? | Roll operators require 1-2 weeks training. Controls knowledge needed for set up personnel. |
| What safety aspects are important? | Machine safeguarding, emergency stops, trained personnel. Follow standard protocols. |
Roll forming provides a very efficient processing method for continuous production of customized metal framing. With due considerations for product design requirements, it provides key advantages over other fabrication alternatives.
استنتاج
Frame roll forming enables efficient mass production of high quality metal structural sections with fast, flexible profile customization. Matching the production objectives and section requirements to equipment capabilities is key for manufacturing success.
With accurate specifications, robust process design and reliable machines, frame roll forming delivers light weight and high strength components while minimizing material waste. Automated versatile roll mills optimize productivity and quality for metal framing producers. With proper maintenance and operation, frame roll forming lines provide consistent low cost fabrication to gain a competitive advantage.