roof panel roll forming machine are essential equipment for manufacturing metal roof panels and other building components. This comprehensive guide examines major roof panel roll former manufacturers, types of machines, key specifications, design considerations, and provides tips for selecting the right supplier.
Overview of Roof Panel Roll Forming Equipment
Roll forming is a continuous bending operation that forms metal coil substrate into custom profiles. Roof panel roll formers transform flat metal sheets into various roofing profiles like standing seam, corrugated, decking panels etc.
Here are the key things to know about these machines:
Produce long lengths of panels up to 300 feet non-stop from coiled steel, aluminum, etc.
Forming stations with roller dies progressively shape the strip into panel ribs and seams
Computerized controls allow quick die changeovers for different profiles
Offer high production volumes up to 16,000 sqft/hr for roofing and siding
Range from portable units to 100 ft long integrated production lines
Require downstream cutting, notching, punching, and other finishing processes
Roll formed roof panels provide many benefits compared to site-built structures:
Lighter weight, higher strength-to-weight ratio
Consistent quality with mechanical process
Lower material waste and labor costs
Quick installation and reduced construction time
Design flexibility – panels can be curved, tapered etc.
This makes roll formers a popular choice for prefabricated metal buildings, commercial roofs, walls, solar carports, and architectural structures.
Leading manufacturers offer standard catalog and custom roll forming equipment for roofing applications worldwide.
There are two primary categories of roll formers used for roof panel production:
Portable Roll Forming Machines
Compact and movable units with 2-10 forming stations
Manual or powered material feeds up to 10 feet long
Production volumes around 400-800 sqft/hr
Lower cost around $15,000-$60,000
Ideal for small orders, custom panels, onsite forming
High Production Roll Forming Lines
Integrated lines with 10-20+ forming heads
Automated feeds up to 100 ft long coils
Forming speeds of 15,000+ sqft/hr
Advanced 3D leveling and process controls
Cost range $100,000-$500,000
For high volume panel production in factories
In terms of configuration, main types are:
C-Frame – forming stations mounted on C-shaped frame
I-Beam – stations attached to I-beam conveyor structure
Pyramid – inclined stations on pyramid arrangement
Vertical – vertical stations for special profiles
Other styles like circular, wheel, and custom frames are also available.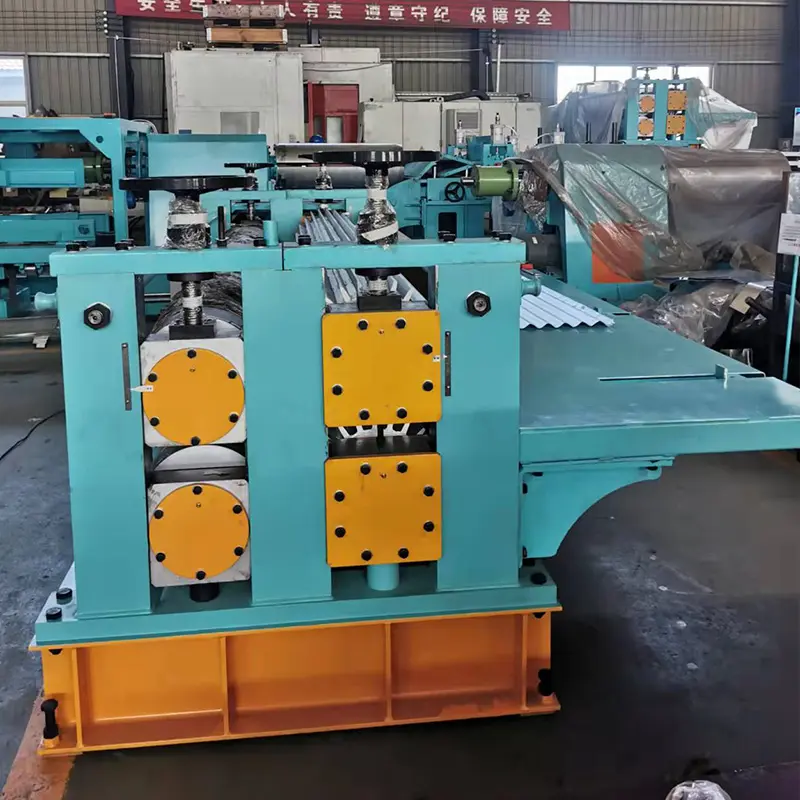 Applications of Roof Panel Roll Forming Machines
Roll formed roof panels are used in various building applications:
| Roofing System | Typical Panel Styles |
| --- | --- |
| Standing Seam | Vertical interlocking panels with raised seams |
| Corrugated | Sinusoidal or curved rib panels |
| 5V Crimp | Trapezoidal ribbed sheet with crimped seams |
| Decking | Fluted plank or diamond deck panels |
| Shingle | Interlocking asphalt or metal shingle replications |
| Composite Slate | Synthetic slate roofing panels |
Architectural and decorative roofing profiles are also possible for unique designs.
These panels are installed as full roofing systems or as accent roofing areas. Main roof types constructed using roll formed panels include:
Metal roofing for homes, garages, sheds
Commercial standing seam roofs
Retrofit roofing over existing structures
Agricultural buildings and livestock shelters
Solar panel/carport roofing structures
Curved or specialty roofing shapes
Roof panel roll forming capabilities allow architects extensive design flexibility for roof styling.
Roll formers have various configurations and options. Here are key specifications to consider when selecting roof panel roll forming equipment:
| Machine Dimension | تفاصيل |
| --- | --- |
| Length | 10 ft to 100 ft |
| Height | 8 ft to 12 ft for larger lines |
| Width | 4 ft to 10 ft depending on configuration |
| Weight | 4,000 lbs to 80,000 lbs |
| Forming Size | 16 in to 80 inch wide profiles |
| Forming Thickness | 18 ga to 3/16 inch (0.04 in to 0.19 in) sheets |
| سرعة التشكيل | 10 ft/min to 130 ft/min |
| Production Volume | 400 sqft/hr to 16,000 sqft/hr |
| Drive System | Hydraulic, Servo Electric, Helical Gear |
| Roll Stations | 4 to 24 forming heads |
| Material Feed | Manual or Powered unwinds |
| Controls | PLC, HMI, Computerized |
| Safety | Fully enclosed with guarding |
Special Options: Decoilers, pre-punches, notching, hemming, crimping, cutoff, stacker
Key factors determining production rate are line speed, profile width, and material gauge.
Design Considerations for Roof Panel Machines
Proper machine selection and layout is crucial for efficient roof panel manufacturing. Here are key design factors to consider:
Required profiles – Size, shape, and features of roof panel styles needed
Metal substrate – Grade, width, gauge, and coil packaging
Production volume – Feet per hour rate to match project demands
Product flow – Layout for inline notching, punching, stacking
Line speed – Balance of process steps for high output
Quality standards – Tooling and automation for consistency
Changeover time – Quick die change capability for flexibility
Space efficiency – Compact footprint to optimize facility
Budget – Total cost limitations and ROI goals
أ roll forming design software is a useful tool for machine design and simulation prior to manufacturing.
Careful planning of the overall process flow minimizes material handling and improves plant layout.
Selecting a Roof Panel Roll Former Manufacturer
Choosing a qualified roll former OEM is key to a successful roof panel production line. Here are tips for selecting a roof panel machine supplier:
Reputation – Proven record of expertise and reliability
خبرة – Years of service with many installations
Range – Diverse catalog of standard and custom machines
Quality – Strict tolerances and precision components
الدعم – responsive technical service team
Knowledge – Expertise in metal forming processes
تمرين – Operator training and educational resources
Global reach – Sales and support across regions
Financials – Stable company with solid financials
Cost – Competitive pricing and value options
Lead time – Swift order fulfillment and delivery
Reputable manufacturers like Mate Precision Technologies offer turnkey solutions from design through installation and provide continuous support throughout the machine lifetime.
Investing in advanced equipment from a proven producer ensures efficient, quality roof panel production.
Comparing Roof Panel Roll Forming Machine Manufacturers
There are numerous roll former manufacturers globally that supply roof panel equipment. Here is an overview comparing leading suppliers:
| شركة | Location | Roof Panel Models | Cost Range |
| --- | --- | --- | --- |
| Mate Precision Tech | USA | PYRAMID Series Up to 24 stations | $100k – $500k |
| Berridge | USA | CEE, ZEE, HIGH DECK | $250k – $750k |
| Metform | Canada | I-BEAM 12-20 stations | $150k – $400k |
| Dimeco | Netherlands | C-FRAME 10-16 stations | $200k – $600k |
| ZZN Force | China | CF Series 4-16 stations | $50k – $250k |
Key Differentiators:
Mate offers advanced 3D leveling and the widest product range including portable and custom roll formers
Berridge focuses on architectural panel profiles with specialty finishing
Metform features sturdy I-beam construction and customized North American solutions
Dimeco provides high-end European engineered equipment
ZZN Force supplies very low-cost Chinese lines with shorter warranty
Selection Criteria:
Range of standard and custom machines
Quality of components, tolerances, and end product
Technical support for service and maintenance
Cost considerations – initial price, shipping, lifetime value
Production speed required for roof panel output
Reliability and uptime from a reputable supplier
When investing in capital equipment, the upfront purchase cost is just one factor. Additional considerations include machine capabilities, quality, productivity, service life, and resale value. Partnering with an established manufacturer like Mate Precision Technologies optimizes long-term performance and return on investment.
Purchasing Tips for Roof Panel Roll Forming Equipment
Here are key tips for effectively purchasing roof panel roll formers:
Submit RFQ with required product specs and production volumes
Compare options from 5-6 shortlisted suppliers
Review catalog standard machines and custom capabilities
Consider both portable and permanent roll former styles
Evaluate line speed, width, and material thickness capabilities
Inspect build construction – C-frame, I-beam, pyramid, vertical configs
Require 2D/3D forming simulations from suppliers
Demand certified drawings before production begins
Schedule factory acceptance test of machines before shipping
Include installation supervision and training from OEM experts
Request spare parts package for critical wear components
Negotiate longer warranty period for increased coverage
Only accept CE, UL/CSA approved electrical components
Ensure local service and support is available post-installation
Carefully inspecting machine quality and validating performance with simulations and testing saves costly surprises down the road. Investing in high-precision, rugged equipment from the outset lowers lifetime maintenance costs and provides superior return on investment.
To maximize productivity and longevity of roof panel roll formers:
Perform scheduled preventive maintenance per OEM guidelines
Complete daily cleaning of rollers and forming stations
Lubricate bearings and moving components
Inspect drive chains and gears for proper tension
Verify hydraulic fluid levels and filtration
Check roll cylinder lift pins and slides for wear
Monitor rollers and dies closely for signs of damage
Replace worn or damaged components quickly to prevent scratching
Store spare tooling properly to avoid nicks and corrosion
Keep electronics enclosures clean and tightly sealed
Confirm electrical grounding and wiring is secure
Record hours of operation and product output
Comply with all safety procedures during operation and maintenance
Schedule annual in-depth service from OEM technicians
Advanced machines include diagnostics and prognostics to optimize maintenance. Taking steps to extend machine lifetime reduces overall operating costs.
How to Choose the Right Roof Panel Roll Forming Machine Supplier
Selecting the ideal roll forming machine partner involves:
Identifying reputable equipment manufacturers
Researching their capabilities, experience, and expertise
Comparing product range, quality, lifetime value
Requesting references from existing customers
Validating technical competencies and results
Examining roll former quality and construction firsthand
Reviewing factory acceptance test performance data
Evaluating ease of maintenance and operation
Checking availability of local parts inventory and service
Negotiating pricing, warranty terms, and lead time
Verifying CE, UL/CSA, ISO, and other certifications
Discussing post-installation training and support
The best suppliers become trusted long-term partners invested in your production success. Investing time upfront to validate suppliers saves headaches later on.
Pros and Cons of Roof Panel Roll Forming Machines
Advantages:
High production volumes up to 16,000 sqft/hr
Low material waste under 1%
Consistent quality with mechanical process
Ability to create custom profiles
Just-in-time production from coil feed
Reduced roof construction labor and time
Lighter and stronger panels compared to site built
Handles various metals – steel, aluminum, copper, etc.
Flexibility for changes in panel styling
Lower long term costs than other methods
Limitations:
Large capital investment required
Permanent fixed installations for roof factories
Skilled technicians needed to program, operate, and maintain
Changeover time required when switching profiles
Capability limited by machine width, speed, feeds
Potential for coil defects spoiling panels
Limited forming capability beyond 1:1 stretch ratio
Downstream processes like cutting, stacking needed
When requirements align with machine capabilities, roll formers provide fast and economical roof panel production.
FAQs
Q: What thickness metal sheets can roof panel roll formers process?
A: Standard machines form 18 ga to 3/16 in sheets. Extended ranges available for thinner/thicker metals.
**Q: How long are the roofing panels produced? **
A: Production lengths up to 300 ft non-stop from coiled steel feeds. Panels cut to specified lengths.
Q: What is the cost of roof panel roll forming equipment?
A: Prices range widely from $50,000 to over $500,000 depending on speed, size, features.
Q: What safety devices are included?
A: Fully enclosed guards, emergency stops, dual hand safety switches, and cutout circuits for protection.
Q: How quick are die changeovers when switching profiles?
A: About 15-30 minutes for skilled operators. Quick die change designs further reduce time.
Q: What types of metals can be roll formed into roof panels?
A: Galvanized steel, aluminum, copper, zinc, stainless steel. Some machines form titanium.
Q: Can I get custom roof panel profiles or tooling?
A: Yes, reputable suppliers offer customized profile design services and tooling.
Q: What determines the production speed or output?
A: Line speed, profile width, material thickness, and machine efficiency determine output rate.
Q: What are the power requirements?
A: Main electrical is typically 480 V, 3 phase, 50-60 Hz system. Others available upon request.
Q: Do roof panel machines require foundations?
A: Permanent roll lines require proper foundations. Portable machines can operate on flat surfaces.
Q: What factors affect roof panel roll former cost?
A: Speed, size, features, options, brand, quality, and order volume impact pricing most.