China cable tray roll forming machine is an advanced automated machine used for continuous production of cable trays. This comprehensive guide covers everything you need to know about cable tray roll forming equipment from China – their types, main parts, working principle, specifications, applications, advantages, manufacturers,costs and more.
Overview of China Cable Tray Roll Forming Machine
Cable tray roll forming machine adopts roll forming technology to produce cable trays continuously and efficiently. This equipment forms metal coil strips into required cable tray shapes by progressive roll forming through a series of rolling stations.
Here is a quick look at China cable tray roll forming machines:
| पैरामीटर | विवरण |
| --- | --- |
| Main Components | Uncoiler, feeding mechanism, roll forming stations, cutting device, hydraulic system etc |
| Roll Forming Stages | Decoiling, feeding, pre-bending, roll forming, cutting, output |
| Forming Capability | Various sizes and profiles of cable trays |
| Key Benefits | High speed, large output, good stability, easy operation |
| Main Applications | Cable tray production lines |
| Industries Served | Construction, infrastructure, power, telecom, IT, factories |
| Popular in Country | China, Southeast Asia, Middle East, Africa |
This versatile equipment is widely used by manufacturers of cable management systems due to its high efficiency and reliability in producing cable trays in bulk quantities.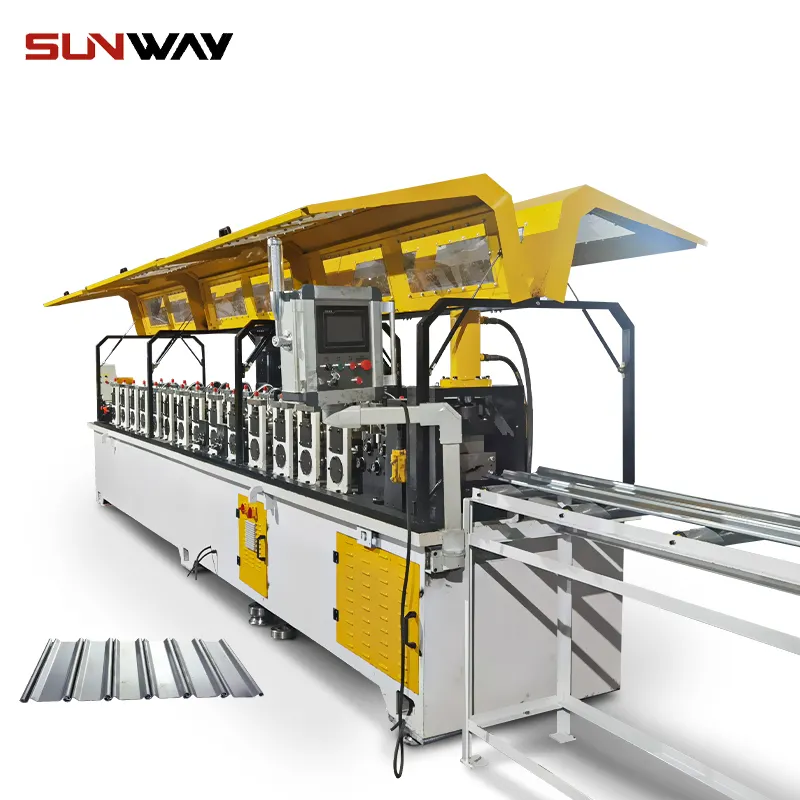 Working Principle of Cable Tray Roll Forming Machine
The working principle involves unwinding coil strips, followed by feeding and progressive bending through successive roll forming stands to shape the strips into desired cable tray profiles.
Uncoiling – The metal coil strip is loaded on an uncoiler and passed through a straightening mechanism to flatten it.
Feeding – The flattened strip is fed to the roll forming section through an automated feeding device.
रोल बनाना – As the strip passes through each roll station, it is gradually bent into the profile of the cable tray. The number of stands depends on the complexity of the shape.
Cutting – After the final forming, the continuously produced cable tray is cut into required lengths by a cutting machine.
Output – The finished cable trays slides onto the output conveyor and is collected at the end.
The roll forming process involves consecutive bends along the length to shape the metal coil into a longitudinally bent profile. The stations apply pressure consecutively to obtain the desired cross-section profile progressively.
केबल ट्रे रोल बनाने की मशीन के प्रकार
China manufacturers offer cable tray production lines in different configurations, automation levels and capacities:
Based on Automation
Manual – Stop after each tray to cut manually
Semi-Automatic – Auto-cut after set length with manual feeding
Fully Automatic – Automatic uncoiling to output with HMI
Based on Production Speed
Low Speed – 10-20m/min
Medium Speed – 20-40m/min
High Speed – 40-80m/min
Based on Forming Capability
Single-layer – Only base channel
Double-layer – Additional top channel
Special shapes – Omega, perforated, wire mesh, ladder type etc.
So customers can choose machinery as per their workflow, scale of production and product range.
Main Parts of Cable Tray Roll Forming Machine
China cable tray roll forming equipment consists of the following major components:
| Parts | Functions |
| --- | --- |
| Decoiler/Uncoiler | Holds metal coil strip, allows unwinding |
| Feeding device | Feeds strip at controlled speed |
| Guiding system | Guides strip through each forming stage |
| Roll forming stations | Bend and shape the strip progressively |
| Hydraulic system | Applies pressure for roll forming |
| Cutting machine | Cuts cable tray at required length |
| HMI and Control panel | Sets machine parameters and automation |
| Conveyors | Transport trays from start to end |
The right combination and sizing of the above parts based on production needs is key for optimal working of the entire roll forming line.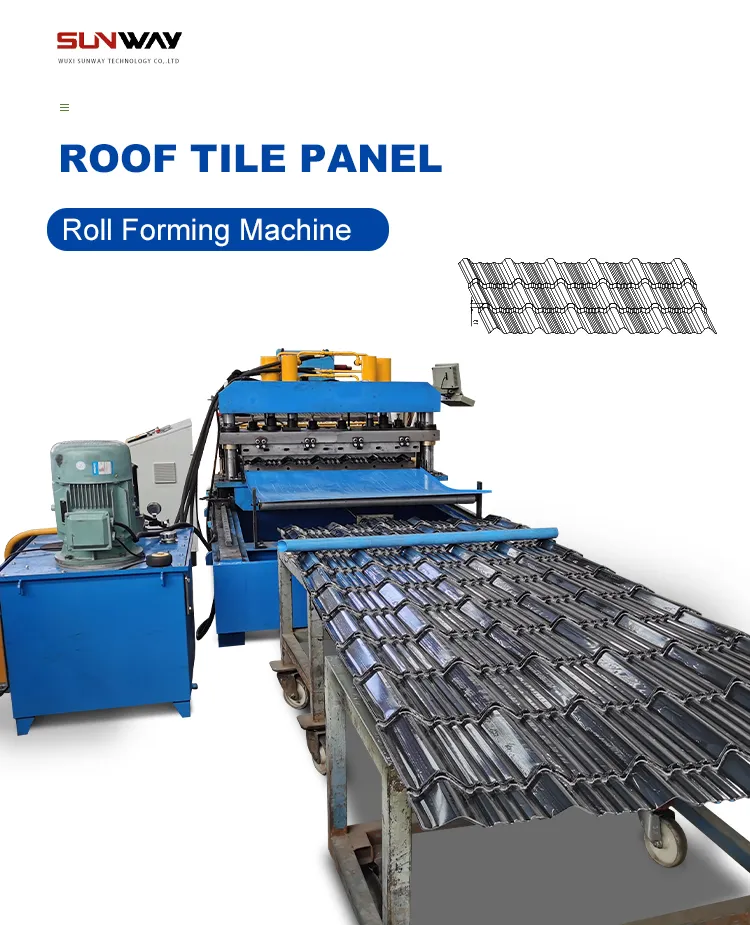 Specifications of Cable Tray Roll Forming Equipment
China manufacturers provide custom built cable tray production lines tailored to customer's requirements. The main specifications include:
| पैरामीटर | Typical Range |
| --- | --- |
| कुंडल चौड़ाई | 100mm – 1000mm |
| Strip Thickness | 0.8 – 3mm |
| बनाने की गति | 10 – 80 m/min |
| रोलर सामग्री | GCR15, 45#, 50CrVA |
| बिजली की आपूर्ति | 220V, 380V, 415V AC |
| Roll Stations | 6 – 16 |
| Final Tray Width | 50 – 600mm |
| Tray Height | 25 – 300mm |
| Length per Tray | 1000 – 6000mm |
| Length Accuracy | ±1mm |
| Hydraulic Pressure | 16MPa |
| Machine Dimension | 8000x1500x2000mm |
| Gross Weight | 3000 – 10000kg |
Customizations available as per production needs in terms of speed, size, accuracy, automation level etc.
Applications of Cable Tray Roll Forming Machines
China roll forming equipment is ideal for:
High volume production in cable tray manufacturing units
OEM manufacturers of cable management systems
Companies producing cable trays, cable ladders, wire mesh cable trays
Electrical contractors and MEP firms installing cable infrastructure
Industries like construction, infrastructure, power, telecom, IT/server rooms etc.
Suitable for factories looking for automated solution for mass production of cable carrying systems in different profiles. Enables fast production of cable trays in various sizes and shapes.
Benefits of China Cable Tray Roll Forming Equipment
China manufacturers provide feature-rich roll forming machinery for cable trays at relatively affordable pricing.
Benefits include:
High Production Speed – Up to 80m/min forming rate
Labor Cost Savings – Reduced manual work due to automation
Advanced Technology – Precision hydraulic system and controls
Material Savings – Low wastage compared to other processes
Flexibility – Quick changeover between sizes and profiles
Heavy Duty Built – Durable and stable performance
Low Maintenance – Requires less upkeep than other methods
Safety – Equipped with safety features and sensors
Cost Competitive – Priced competitively compared to European/American brands
Cable tray production lines from China provide fast, efficient and cost-effective solution for high volume manufacturing with good quality and technology.
Top manufacturers and exporters of cable tray roll forming equipment in China include:
| कंपनी | Location | Product Range |
| --- | --- | --- |
| Shanghai Uniontech Machinery | Shanghai | Single layer, double layer, special shapes |
| Jinan Formtek Machine | Jinan, Shandong | Manual to fully automatic lines |
| Hangzhou Oriroll Technology | Hangzhou, Zhejiang | omega, ladder, perforated trays |
| Wuxi Tengxiang Machinery | Wuxi, Jiangsu | Medium to high speed lines |
| Foshan YingLite Machinery | Foshan, Guangdong | Affordable smaller capacity machines |
| Wuxi Chengming Machinery | Wuxi, Jiangsu | Semi-auto and fully auto production lines |
These companies offer roll forming lines catering to wide ranging requirements – from manual stands alone to integrated high speed production lines.
Cost of Cable Tray Roll Forming Machines from China
Cost depends on:

Automation level – manual, semi or fully automatic
Production output – low, medium or high speed
Type of line – single layer, double layer, special profiles
Size and thickness handling capacity
Additional devices like decoiler, stacker etc.
Level of customization – standard or tailor-made
Brand and manufacturing expertise of supplier

Indicative price range:

Manual and semi-automatic – $5000 to $20000
Automatic single layer – $20000 to $50000
Automatic double layer – $30000 to $80000
High speed special profiles – $50000 to $100000

Additional costs:

Testing and installation
Shipping and customs
Spares and accessories
Sourcing cost-effective machinery without compromising quality requires good supplier evaluation and negotiation skills.
How to Choose Right Cable Tray Roll Forming Machine Manufacturer in China
Follow these tips for selecting reliable China machinery suppliers:
Review their industry experience and production expertise
Evaluate types of roll formers supplied earlier
Check clientele and get references from previous buyers
Ensure they offer customized solutions, not just standard equipment
Examine equipment quality and manufacturing infrastructure
Verify ability to produce high precision roll formed parts
Clarify after-sales service and technical support provided
Compare pricing of different suppliers for same specifications
Ensure compliance to safety standards and quality norms
Review company credentials like awards, certifications, ratings
Visit factory if possible to inspect first-hand before ordering
Choosing the right partner ensures you get high performance roll forming equipment for cable tray production.
How to Operate and Maintain Cable Tray Roll Forming Machine
Proper operation and maintenance guidelines must be followed:
Carefully read instruction manual before use
Ensure safety guards are in place before switching on
Select suitable metal coil strip as per machine capacity
Set parameters like feeding speed, cut length etc.
Use hand wheels to adjust rollers gradually to required positions
Start with lower speed and increase gradually after initial run
Apply lubricants on roller bearings, gearbox as prescribed
Monitor strip flow and tray forming to check for issues
Stop machine if excessive vibration or abnormal noise
Perform periodic cleaning and lubrication as suggested
Inspect wear on rollers and other parts frequently
Replace damaged or worn out components like bearings
Keep electrical, hydraulic and pneumatic systems in good condition
Undertake yearly service by authorized technician
Proper care ensures smooth functioning, avoids breakdowns and extends machine life.
Advantages of Cable Tray Roll Forming Machine
High production speed up to 80 m/min
Quick and easy size/profile changeover
Consistent dimensional accuracy as per standards
Allows mass production at low operational cost
Minimal wear and maintenance expenses
Better material savings than traditional fabrication
Safer working than manual cable tray manufacturing
Automated process requires less labor
Produces smooth edges and bends
Limitations of Cable Tray Roll Forming Machine
High initial purchase cost of automatic lines
Difficult profile shapes may require more stations
Not ideal for small to medium production scales
Trained technician needed for maintenance and repairs
Roller settings need adjustment for each profile changeover
Limited material size and thickness handling capacity
Cable Tray Roll Forming Machine Usage Tips
Select most suitable machine type based on production volume
Get technical advice from manufacturer for ideal line configuration
Ensure adequate space for safe operation and maintenance access
Train workers on recommended procedures and safety
Plan layout to receive input coils and offload formed trays efficiently
Consult manufacturer before attempting any new profile shape
Undertake trial runs and sample testing before starting full production
Perform regular cleaning, checks and preventive maintenance
Replace worn-out parts proactively for uninterrupted production
Proper selection, installation, training and maintenance leads to maximum line efficiency and output.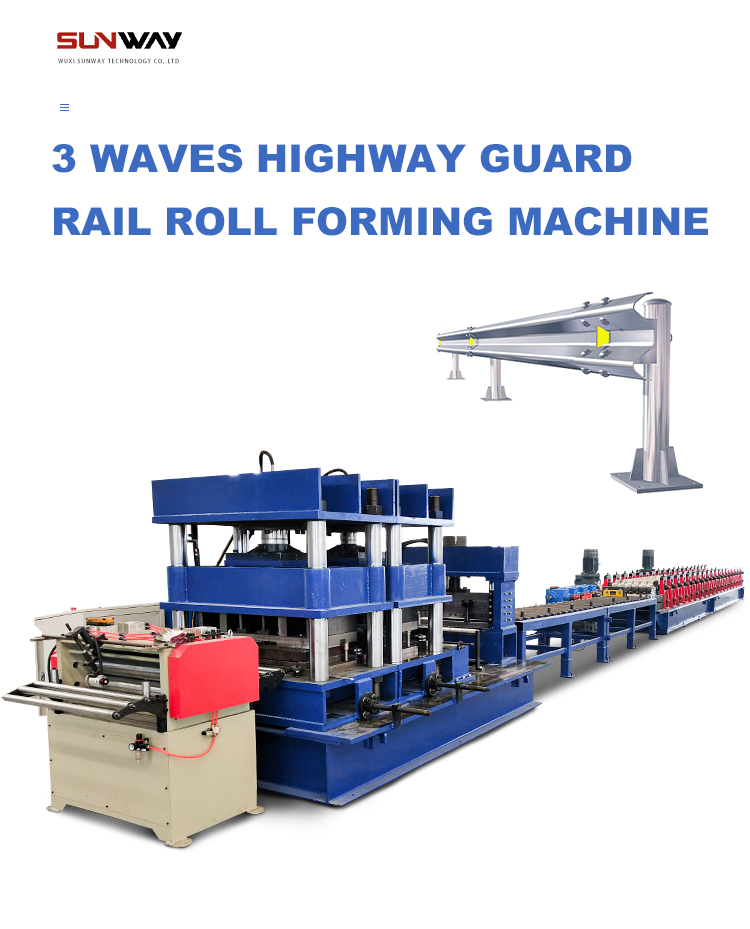 सामान्य प्रश्न
| Questions | Answers |
| --- | --- |
| What are the typical features of China cable tray roll forming machines? | China machines offer good speed, accuracy, durability at competitive prices. They include automatic feeding, cutting, stackers and have advanced controls. reputed manufacturers provide customized solutions also. |
| What are the benefits of automated roll forming lines? | Automated lines with uncoiler and stacker improve efficiency, minimize manual work and reduce labor cost. They enable high speed mass production. |
| What is the production capacity? | Production capacity depends on machine speed and ranges from 10-20 meters/min for manual lines up to 80 meters/min for high speed automated lines. |
| What safety measures are required? | Safety measures like emergency stop buttons, safety guards for moving parts, sensors and alarms should be in place. Workers should be provided safety training. |
| What is the typical price range? | Price typically varies from $5000 for manual machines to $80000 for high capacity automatic double layer roll forming lines. |
| What factors affect the total cost? | Speed, level of automation, coil width capacity, type of profiles produced, material thickness, number of forming stands and additional devices impact the pricing. |
| How to reduce machine maintenance? | Regular lubrication, cleaning and inspection as per manual along with replacement of worn parts increases uptime and reduces breakdowns. |
| Is it possible to get custom-made machines? | Yes, experienced suppliers can provide fully customized roll forming solutions tailored to your specific production requirements. |
| How much installation and training support is provided? | Suppliers should provide complete technical support for installation and on-site training of operators until they get fully accustomed to the machinery. |
निष्कर्ष
China cable tray roll forming machine offers an ideal solution for companies to efficiently manufacture quality cable trays in high volumes at optimal cost.
With proper supplier selection, configuration design and operational practices, this automated production line can significantly enhance manufacturing productivity and profitability.
The guide sums up everything related to types, working, specifications, applications, advantages, top suppliers, pricing, and tips for China cable tray roll forming machinery to help prospective buyers make the right procurement decision.