Cable tray roll forming machines are used to continuously form metal coil into cable trays and cable ladder systems. Cable trays provide a safe, organized way to route electrical cables and wires through various structures. This guide will provide a comprehensive overview of cable tray roll forming machine types, characteristics, applications, specifications, suppliers, installation, operation, maintenance, and more.
Overview of Cable Tray Roll Forming Machines
Cable tray roll forming machines take flat metal coil strips and progressively form them into the distinct U-shaped or C-shaped profile of cable trays through a series of rolling operations. The formed cable tray exits the machine continuously.
Roll forming utilizes a series of roller stations to gradually bend the metal coil into the desired shape through application of pressure. The different types of cable tray profiles like ladder type, solid bottom trays, perforated trays etc. can be formed by changing the roller dies.
Compared to other manufacturing processes like welding individual components, roll forming is a fast and efficient method for high volume production of cable trays. It delivers consistent quality output with dimensional accuracy.
Key advantages of cable tray roll forming machines:
Highly automated for efficient mass production of cable trays
Capable of forming different tray widths and profiles
Low operational costs due to quick changeover between profiles
Consistent and strong tray sections due to cold forming process
Minimal scrap generation compared to other processes
Lower overall manufacturing costs compared to alternate methods
Safer working conditions due to high level of automation
केबल ट्रे रोल बनाने की मशीन के प्रकार
Cable tray roll forming machines can be categorized based on configuration and forming capability:
| Machine Type | Description |
| --- | --- |
| Horizontal | Roller stations arranged horizontally for forming simple profiles |
| Vertical | Roller stations arranged vertically for specialty profiles |
| Double head | Two forming heads for higher output speeds |
| Custom | Tailor-made for specific cable tray designs |
Main Components of Cable Tray Roll Forming Machines
The main components of a standard cable tray roll forming machine are:
Uncoiler – Feeds metal coil strip into machine
Feeding mechanism – Controls feed speed into forming rollers
Forming stations – Progressively form coil into tray profile
Hydraulic system – Provides power for rollers and parts
Cable tray cutting device – Cuts formed trays to desired length
Electrical control system – Controls and automates machine operation
Structural frame – Supports mechanical parts of the system
Working Principle of Cable Tray Roll Forming
The working principle involves uncoiling of the flat metal strip and feeding it through a series series of roller stations. Each roller station has a set of machined roller dies that apply pressure to gradually bend the strip.
The roller dies are arranged to produce the desired cable tray shape and features like edge lips, center divider, rung spacing etc. The strip gets transformed from completely flat at the entry end to the final tray profile at the exit end.
The formed cable tray sections are then cut off at regular intervals by the cutting device. The cut lengths are collected for further finishing and welding if required.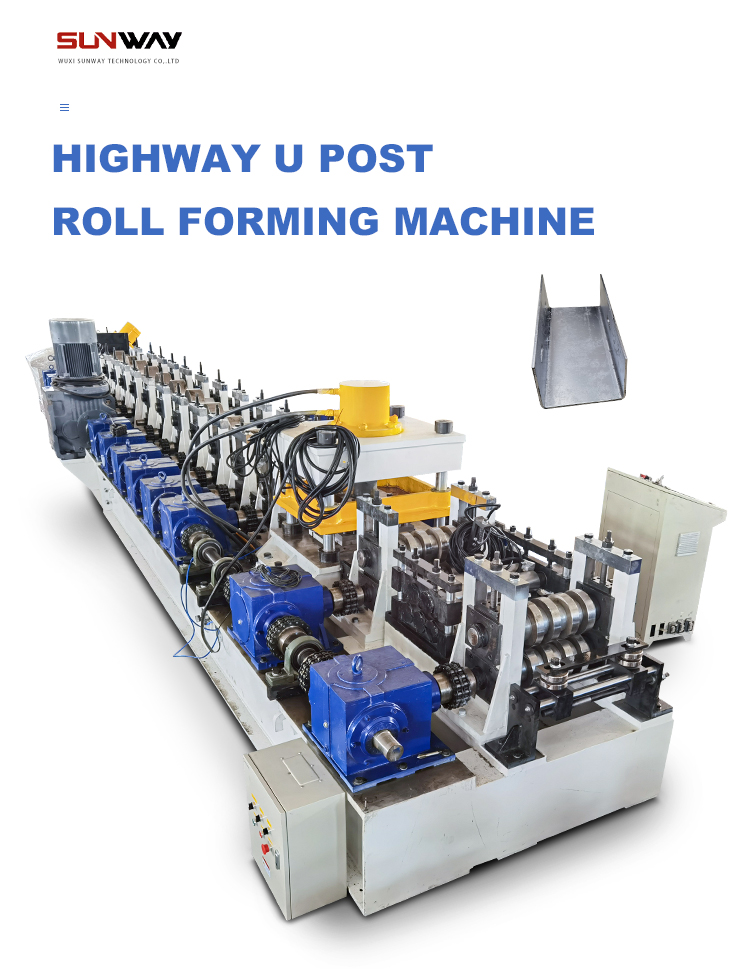 Applications of Cable Tray Roll Forming Machines
Cable tray roll forming machines are versatile metal working equipment suitable for:
| आवेदन | विवरण |
| --- | --- |
| Cable tray production | For electrical, industrial, commercial cable routing |
| Cable ladder manufacturing | Heavy-duty trays for demanding environments |
| Cellular raceway manufacturing | Enclosed cable channel system |
| Metal roofing production | For safety and fall protection |
| Scaffold decking | For construction platforms, temporary floors |
| Drainage channels | Rainwater runoff drainage systems |
| False ceilings | Decorative metal ceiling sheets |
| Window flashing | Water resistant metal flashing sheets |
The most common application is efficient mass production of cable trays for the electrical industry. The cable trays provide support and protection for cables in various settings like:
Power transmission and distribution systems
Telecommunication networks
Commercial buildings
Industrial facilities like factories, refineries etc.
Infrastructure projects
Data centers and computer rooms
Solar farms and wind energy plants
Specifications of Cable Tray Roll Forming Machines
Cable tray roll forming machines are available in different capacities and capabilities. The main specifications are outlined below:
| Specification | विवरण |
| --- | --- |
| Production speed | Up to 15 m/min for standard models |
| Working width | 300 mm to 1000 mm range |
| Material thickness | 0.8 mm to 3.0 mm |
| Power supply | 380V, 50Hz generally (can vary) |
| Maximum coil ID | Up to 600 mm generally |
| Roller stations | 8 to 16 typically |
| Roller material | Alloy steel or case hardened steel |
| Roller hardness | 50-55 HRC with nickel plating |
| Machine weight | 8000 kg to 15000 kg approx. |
| Machine size | Length 6000mm to 12000mm |
Higher end automated machines can achieve speeds up to 25 m/min and widths up to 1500mm. Customized machines can be built to suit specific production needs as well.
International Standards for Cable Trays
Cable trays manufactured by roll forming should conform to the technical and dimensional specifications outlined in relevant standards. Some key international standards include:
| Standard | विवरण |
| --- | --- |
| NEMA VE 1 | North American standard |
| IEC 61537 | International standard |
| BS 7671 | British wiring regulations |
| AS/NZS 3000 | Australian/New Zealand standard |
| SANS 10142 | South African standard |
These standards define parameters like minimum bending radii, loading capacity, rung spacing, cable spacing, material thickness, electrical conductivity etc. for different types of cable tray/ladder systems.
Design Considerations for Roll Forming Cable Trays
Some key design aspects for rolled cable trays:
Tray width – Based on number and diameter of cables to be carried
Rung spacing – 100 mm typical for easy cable laying
Edge lips – For extra strength and to prevent lateral cable movement
Tray ends – Tab design for joining alignment and welding
Drainage holes – Required for fluid drainage in outdoor trays
Support struts – Provided underneath long straight runs if needed
Pulling eye holes – For pulling cables along long tray lengths
Grounding clips – Used for grounding some tray types
Tooling trials are recommended to finalize profiles prior to mass production.
Suppliers of Cable Tray Roll Forming Machines
There are many equipment manufacturers specializing in cable tray roll forming machines. Some major international suppliers include:
| कंपनी | Location |
| --- | --- |
| MachineX Industry | China |
| Zhanjiang Huisheng | China |
| Jouanel Industries | फ्रांस |
| FOM Industrie | इटली |
| UE Machine | Taiwan |
| Anant Engineering Works | भारत |
| MMG Roll Forming Machinery | Turkey |
| रोल बनाने की मशीन | USA |
Pricing
Pricing for cable tray roll forming machines depends on factors like:
Production speed and width
Level of automation
Standard or custom design
Additional peripherals and options
Typical price range is $50,000 to $150,000. Larger and faster machines can cost over $250,000.
Installation and Operation of Cable Tray Roll Forming Machines
Proper installation and operation procedures are vital for optimum performance and output. Here are some guidelines:
Strong level foundation needed for stable and precise operation
Proper grounding required as per local electrical codes
Roller stations should be checked for parallelism
Power supply voltage must match machine rating
Hydraulic power pack oil level should be appropriate
Trial runs recommended before production to test settings
Adjust roller gaps, deforming forces, feed rate as needed
Use material quality recommended by manufacturer
Keep roller surfaces clean and lubricated
Periodic inspection of parts for wear and tear
The machine should be operated by trained technicians as per the manufacturer's instructions. Parameters are set digitally on the control panel for automatic operation.
Maintenance of Cable Tray Roll Forming Machines
Regular maintenance is necessary for reliability and uptime. Key aspects include:
Daily cleaning of roller surfaces
Checking roller wear and replacing if necessary
Inspecting machine parts for looseness or damage
Tightening loose bolts, nuts, and fasteners
Lubricating moving components like bearings
Checking and replacing hydraulic fluid/filters
Testing electrical wiring and devices
Major overhaul or refurbishment after years of use
Manufacturer maintenance schedules should be strictly followed. This minimizes unplanned downtime and extends machine lifespan.
How to Choose the Right Cable Tray Roll Forming Machine
Selecting the optimal roll forming machine requires matching production needs and capabilities.
Key factors to consider:
Required output – production speed, volume, tray sizes
Material type and thickness
Types of trays – ladder, solid bottom, perforated etc.
Level of automation needed
Available power supply
Budget constraints
Manufacturer reputation and service support
Optional accessories needed
Additional points:
Prioritize productivity and reliability
Seek manufacturers with extensive experience
Evaluate after-sales service and spare parts availability
Check lead time for delivery
Analyze life cycle costs, not just purchase price
Get references from existing users
Arrange on-site demos of shortlisted machines
Discuss requirements in detail with suppliers and get their recommendations before deciding.
Comparing Cable Tray Roll Forming with Other Methods
Pros of roll forming:
Higher production rates possible
Lower operational costs
Consistent quality with precision
Minimal scrap generation
Safer process due to automation
Single step forming and cutting
Adjustable for different tray sizes
Lower investment than alternate methods
Cons of roll forming:
Not suitable for low volume production
Size limitations based on machine capacity
New roller dies needed for profile changes
Significant initial machine investment
Technician expertise needed for operation
Versus welding:
Roll forming trays have better finish without heat marks and warping. It eliminates the need for grinding, increased labor, multiple workstations, and secondary finishing.
Versus press braking:
Roll forming allows longer tray lengths to be formed continuously. Press braking can only make tray pieces of up to 4 meter length.
Versus casting:
Casting can produce heavy duty trays over 2 meter width. But surface finish is lower and it cannot match the speed of roll forming.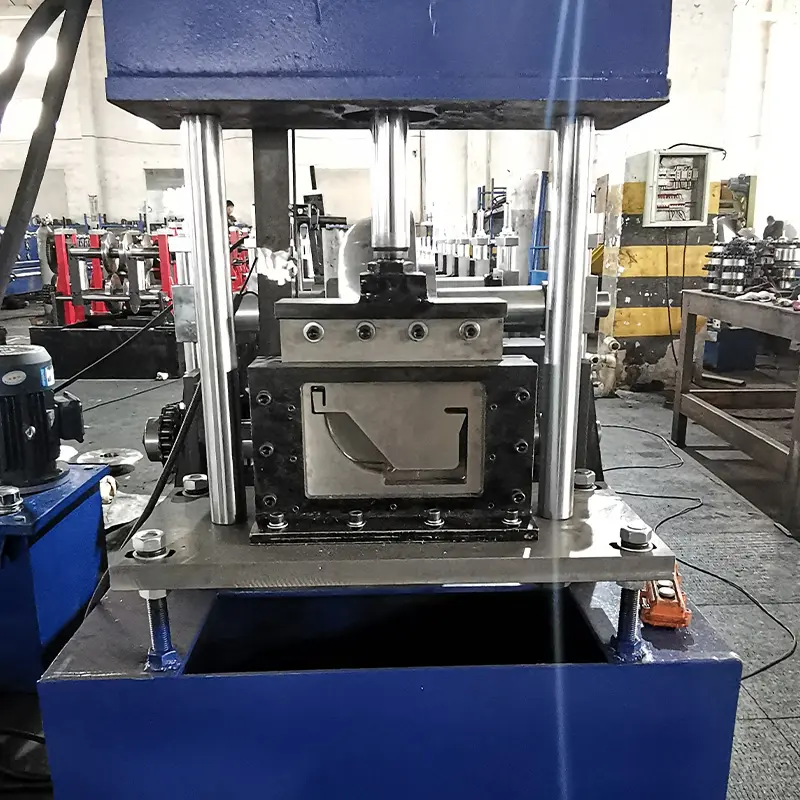 सामान्य प्रश्न
Q: What types of metal coils can be roll formed into cable trays?
A: Most commonly low carbon steel and stainless steel coils are used. Aluminum coils can also be roll formed.
Q: Can the same machine produce different tray widths?
A: Yes, by changing the roller dies and settings, a single machine can produce different tray sizes.
Q: What is the general tolerance on the dimensions of roll formed trays?
A: Dimensions are normally within +1mm to -1mm of design specs depending on machine precision.
Q: How to correct twisting of trays coming off the roll forming machine?
A: Twisting can be minimized by ensuring parallelism between roller stations, proper roller adjustment, consistent feed speed, and correct decoiler brake tensioning.
Q: What safety measures are required for roll forming operations?
A: Safety measures like guarding, emergency stops, light curtains, employee training etc. should be implemented as per local regulations.
Q: How much area is needed to install a cable tray roll forming machine?
A: Approximately 18-25 square meters is needed for the main equipment. More space required for the complete production line.
Q: Should cable trays be finished with paint or powder coating?
A: For indoor moist environments, powder coating provides good corrosion protection. Paint or galvanizing is more common for outdoor trays.
Q: What are some quality checks to perform on finished cable trays?
A: Dimensional accuracy, straightness, welding quality, surface defects, holes alignment, load testing as per standards.
निष्कर्ष
Cable tray roll forming machines offer efficiency, precision, speed, and flexibility for high volume manufacture of cable management products. When selected and operated correctly, they can provide years of reliable production with low operating costs. Companies should evaluate their specific production requirements and choose equipment from reputed manufacturers that can grow with future needs. With proper maintenance and trained operators, cable tray roll formers represent a smart investment for meeting industry demand.